ZEXAL II

Japanese

ゼアル Ⅱ

Rōmaji

Zearu Sekando

Japanese translated

ZEXAL Second

English

ZEXAL II

Appears in (anime)
Appears in (episode)

Yu-Gi-Oh! ZEXAL Episode 98: "Shadows End"

Preceded by
Followed by
ZEXAL II (ゼアル Ⅱ Zearu Sekando) is an upgrade of the original ZEXAL in the Yu-Gi-Oh! ZEXAL anime.
Design
Similar to the initial ZEXAL, Yuma and Astral are cloaked by an aura; Yuma with red mist and Astral with blue mist. They then come together, forming a red X from the Yu-Gi-Oh! ZEXAL logo as their souls combine into a new body. After commencing ZEXAL Morph, Yuma/Astral gains a black spandex-like suit with green designs resembling Astral's body markings and armor plating similar to "Number C39: Utopia Ray Victory".[1]
Yuma's hair grows longer towards his waist and turns orange but keeps the red forelocks, and gains a gold aura and eyes. Unlike the other ZEXAL forms, Yuma no longer wears a Duel Gazer; instead, his left eye becomes more luminous, acting as the necessary mechanical component.[1]
Abilities
Shining Draw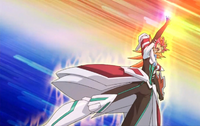 ZEXAL II retains the original ZEXAL's ability to peform a Shining Draw.[2]
Shining Evolution
ZEXAL II grants Yuma and Astral the ability to use "Shining Evolution" (Japanese: リ・コントラクト・ユニバース Ri Kontorakuto Yunibāsu, Re-Contract Universe), which allows them to modify/evolve the card they have drawn and bring out its "true form". During their Duel against Vector, they transformed "Rank-Up-Magic Limited Barian's Force" into "Rank-Up-Magic Numeron Force", whose name alludes to the powers of the Numeron Code.[1]
Upgrade
Later, ZEXAL was further evolved into ZEXAL III. However, the previous forms of ZEXAL are still accessible. During the final Duel against Don Thousand, all three were used in succession.[3]
References
↑ 1.0 1.1 1.2 Yu-Gi-Oh! ZEXAL Episode 98: "Shadows End"
↑ Yu-Gi-Oh! ZEXAL Episode 111: "A World of Chaos: Part 2"
↑ Yu-Gi-Oh! ZEXAL Episode 140: "Our Feelings are as One! The Dragon of Creation, Numeron Dragon"
Anime
Manga
Arcs
Video games
Duel Terms
Items
Technology
Abilities
Tournaments
Groups
Characters' Decks
Other