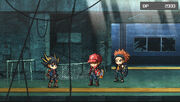 Yusei's hideout (遊星のアジト) is an abandoned subway in Satellite, where Yusei Fudo resided prior to the union of Satellite and New Domino City.
Yusei's friends Rally Dawson, Nervin, Tank and Blitz frequently hung out at the hideout too.
Ad blocker interference detected!
Wikia is a free-to-use site that makes money from advertising. We have a modified experience for viewers using ad blockers

Wikia is not accessible if you've made further modifications. Remove the custom ad blocker rule(s) and the page will load as expected.