Yu-Gi-Oh: The Abridged Series main and recurring characters
Page Help

33
63,659pages on
this wiki
This is a listing of main characters from the Yu-Gi-Oh! parody Yu-Gi-Oh: The Abridged Series.
As expected in a parody, the characters for the series have similar personalities to their original counterparts; however some aspects are greatly exaggerated, as seen below.
For a listing of minor characters, see: Yu-Gi-Oh: The Abridged Series minor characters.
Protagonists
Edit
Yugi, unlike his canonical counterpart who is pure of heart, kind and selfless, is portrayed as a self-centered, egotistical jerk who is rarely concerned with anything apart from maintaining his status as protagonist, often whining when others get screen time, and showing little care for his friends. It is not uncommon to see him ditching his friends (or attempting to), and often scorns them.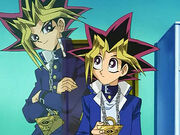 He is rather sarcastic and at times mocks the show's plot, noting when Bakura "explains" how he became a Battle City finalist that they must be as stupid as Tristan to believe that story, or, when Shadi says that the Egyptian gods are alive, stating that that means every other religion is fake and the hokey Egyptian one is the real one, or when he pointed out that Marik's vendetta against the Pharaoh makes absolutely no sense and questions why he felt a dead guy is responsible for Marik's crappy childhood.
He holds a grudge against anyone who wrongs him (as shown after Weevil throws Exodia into the ocean, Joey for throwing a piece of his puzzle, and Kaiba for cheating in their rematch duel). During one part, he couldn't decide who to root for during Kaiba's duel with Pegasus, just because Kaiba had cheated (in spite the fact that what Pegasus had done up to that point was a whole lot worse, and he also says that Kaiba cheating at a card game is worse than how Pegasus stole his grandpa's soul). He develops a grudge against Tea after she tells him she prefers Yami.
He constantly taunts Joey (not too different from the anime) and seems to consider him a very poor friend, as when he learned during the duel with Joey that Marik had arranged that he'd drown as opposed to being sent to the Shadow Realm (poking fun at the fact that that duel was the only one for which the dub did not censor the consequences, as no one suffered it), he states that Joey's friendship is not worth dying for and that even Tristan is a better friend (which Tristan gloated about). However, he does defend him in episode 50 when Johnson tries to convict Joey.
He has problems with Yami being the main character, saying that he gets everything and Yugi himself gets nothing. While there isn't much to say, he does hate Bakura and can never remember his name, although in episode 23 he admits he's starting to respect Bakura for being helpful, until he falls and hurts his "sensitive little bottom" then Yugi tells him to forget what he just said. He also doesn't consider having Yami fight for him cheating, at one point yelling at his friends (and Yami) for saying so. He also can't tell whether he's a main character and doesn't agree that having "Yugi" in the title name (Yu-Gi-Oh!, as it's often spelled) makes him one.
He is apparently so cute that he's been mistaken for a baby panda, even by Yami ("You mean you're not a baby panda!? Wow you're good").
He is annoyed by the fact that he hasn't hit puberty and is short. He also frequently threatens his grandpa, and generally couldn't care less about what happens to him. His favorite catchphrase is "Super Special Awesome," and as shown in episode 41, he talks to his cards when he is alone (and suggests making out with his Dark Magician Girl, which Shadi overheard).
Yugi does have a caring side, though this does not appear very often. Similar to the original series, he saves Arkana from being attacked by the Dark Energy Disc (which 4Kids apparently forgot to censor). He also speaks to Kaiba on the Kaibacorp blimp after his duel with Bakura, arguing with him to put the blimp down so that Bakura can get medical attention. He even volunteered to send his own soul to the Shadow Realm in place of Joey's when Joey is mind-controlled by Marik, though he promptly reverses this statement after he realizes that death is the consequence of losing that duel.
The credits in the Yu-Gi-Oh! Abridged Movie state that he will finally hit puberty at age 23, and will still live with Grandpa.
Others see him as special and his hair is often commented on in duels. When Joey when asks his secret to his hair, he says "Loreal, because I'm worth it." Yami Bakura later makes the same joke about his hair when asked by Marik about exchanging beauty tips, even remarking "I think we already made that joke."
He, like Kaiba, hates his own father (and states that he and Kaiba aren't so different) as heard in episode 47.
In Yu-Gi-Oh: The Other Abridged Movie, he claims to constantly see a strange, blue-haired girl following him. Unfortunately, Joey and Tristan don't believe him, thinking that he's gone crazy.
In the Bonds Beyond Time abridged movie, we learn that Yugi will die a virgin and his last words will be "Oh god I've wasted my life."
Unlike his counterpart of the original series, who serves as the serious, wise, determined, and protective darker half of Yugi, Yami Yugi is a lot more obnoxious and careless in this series. Like Yugi, he tends to be sarcastic and disbelieving of the plot lines of the episodes. He often uses Egyptian terms for surprised exclamations ("Holy Ra", "Sweet mother of Osiris!", "You son of a Sphinx!", "Holy Mumra!", "Tell it to Anubis!") He has been referred to as Atem, Yami, Nosferatu, Pharaoh, The Artist Formerly Known as Pharaoh, Yugi's Sexy Alter Ego, and Dan Green throughout the series.
There are occasions where he is stated to be gay. In the episode with the Gay Clown, he says, "If you're a ghost, then I'm straight!". Also in Episode 23, he asks to spend time in front of the mirror to apply makeup, to which Yugi responds that he is "such a slut". He has also defended his ambiguous sexuality in Episode 2 when he thought Pegasus was saying they have something in common by being pedophiles.
Despite Téa's feelings for him, he displays little interest in her (even calling her a whore on occasion). However, after Téa admits to finding brainwashing people fun, Yami agrees, saying they have more in common than he thought. In Episode 36, Téa seems to arouse Yami when she's a brainwashed Steve ("Tea has been Steved! This is terrible, and yet strangely erotic").
Similarly to the original series, Yami Yugi does seem to have an innate intuition on how to defeat opponents when playing card games. However, this intuition may have nothing to do with card games. For example, Yami defeats Pegasus by summoning "Little Kuriboh impostors," taking advantage of Pegasus's weakness for "Yu-Gi-Oh! The Abriged Series." In Season 2, he immediately recognizes the Rare Hunter's strategy of summoning Exodia, but his reason is that "if I were a generic villain with no genuine backstory, that's what I'd be doing too." Against "Steve" Arkana, he more or less defeats Arkana by ruining every plot twist in movie history, though thankfully the vast majority of these spoilers are cut out for the benefit of the viewers.
A common running gag is that, regardless of being the main duelist of the series, he sees Duel Monsters as a card game that shouldn't be taken so seriously and also mocks the strange plays he made during Duelist Kingdom, claiming to cheat.
Although nobody knows his real name, everyone seems to instinctively know he's a Pharaoh from the start. In the Fake series end, he states his real name to be Dan Green (Yugi and Yami's voice actor in the actual series). LittleKuriboh still uses the name Dan Green in a couple of short videos using a stuffed doll of Yami.
In Episode 40, he showed his true uncaring side by attempting to kill Ryou Bakura with Slifer the Executive Producer (much to Odion's, who was impersonating Marik, surprise). Although this probably just reflects how most of the characters felt about Ryou. He asked Bakura "Any last words before Slifer toasts your ass?", to which Bakura replied "I want my mommy." Yami said that would do, then attacked him. Yami also likes to apparently Mind Crush people, even using one against Joey in his duel before Pegasus. In the original series he did Mind Crush people with his shadow magic, but he didn't do it for fun. It was a punishment he would use against bullies that would attempt to hurt his friends beforehand.
In the Abridged series he also doesn't care much for his friends, except maybe Yugi. In one scene he even called them "ungrateful brats." However, he did refer to Joey as his only other "friend" when he and Yugi were stuck in the virtual swamp in the Virtual World. Actually, the abridged Yami behaved a lot like the Anime Kaiba who lived by similar principles.
Yami seems to have a problem with bizarre archetypes. He questions why Jean Claude Magnum's deck was full of ninjas and, in a cameo in "Atop the Fourth Wall", why the comic "Bimbos in Time" had so many bimbos in it.
During the "Leather Pants" Special, he claims that his powers come from his leather shoes. As noted in the 'Yugi VS Jaden' Special, he also sees "there is nothing girly about the Dark Magician Girl" and feels that "only real men use Watapon." and that he is so conceited that all of his opponents could swear he cheated during the duel.
In Season 0 abridged, Yami is much more malevolent and sinister, as shown when he feeds Ushio to giant man-eating worms because he bullied Yugi, as well as laughing evilly. He also declares that he took Kaiba's BFF'S (Big F*cking Freaks) kidneys because he thought that Kaiba stole his grandfather's Blue Eyes White Dragon. He also (bizarrely) is aware of how the characters behave in future seasons, as he found Kaiba's incessantly friendly personality unnerving and even asked why he didn't say, "Screw the rules I have money," in response to "That's against the rules isn't it?" This could be an exagerration of how Yami acted before Yugi taught him about kindness and mercy in the original series. During his Shadow Game with Jirou the Yellow Spider, Yami revealed that he pitched the idea for the Shadow Game that he was about to conduct to Mattel, only for it to be rejected because the rules "were confusing and dangerous." He also has dated the Devil, but Yami claimed he never returned his calls because he was "too creepy."
Joey is the male personification of a "dumb blonde". In other words, the parody makes him out to be incredibly stupid. For example, while playing Duel Monsters with Yugi in Bakura's flashback in Episode 11, he exclaimed "Checkmate! I sunk your battleship!" Despite this, however, he seems to be very able at building good decks. In episode 2, Joey's deck was so good, Yugi decided to steal it and told him that it was worthless and it needed a few changes. In Episode 17, he even defeated Bandit Keith by copying his "in America" stunt by playing Copycat. He also apparently hates blonde people (ironic given the fact that he himself is blonde), and he doesn't seem to realize when people are insulting him such as when Kaiba states that Joey couldn't duel his way out of the paper bag and Joey retaliates by saying "Hey, you can't insult my friend Tristan like that!." He reveals in the first episode that he has a Brooklyn accent, which he considers inappropriate.
Another significant difference is that Joey bears no compassion towards his sister. This is shown as early as Episode 3, when he receives a video from Serenity about her blindness, but is more upset that it wasn't from Pegasus to take his soul. Also, though he entered the Duelist Kingdom tournament in order to win the prize money; unlike the original, however, he wants the money for himself (and at one point having a monologue to her about "winning the prize money for speaking lessons, so she'll learn how to talk good, like what I do!"), rather than to fund the operation for Serenity and spends most of it forgetting she's alive or blowing off her condition. In Episode 14, when reminded about his sister, he figured he could just use the money to buy a new one. This was debunked rather comically in Episode 19 when he mimicked Kaiba: "Screw my sister, I have money!" In Episode 25, it seems that Joey is excited that his sister is going to be able to see again. In reply, Tristan asks if Joey spent the prize money from Duelist Kingdom on her operation. Joey stated, "Nah. My mom's paying for the operation. I spent the prize money on children's trading cards." Though he does show some compassion towards her in Episode 27 by promising not to let bad things happen to her,but when the operation fails, he goes and steals her trading cards. Though in Episode 39 he declares that he will now stop neglecting her and treat her with the respect he gives his friends (ironically they show up shortly after and Joey calls for security on them). In episode 47 he attempts to comfort her when she is afraid that her character will be written out of the show, though the only justification he could think was giving Tristan and Duke a reason to be there which she thought was terrible.
After his recent defeat from Kaiba, Joey has begun to have some "erotic dreams" about Kaiba in which he himself wears a dog suit, something that he actually seems to enjoy. While he denies it ever happened, in Episode 43 he admits it to Mai. As noted in the credits of the Abridged Movie, he eventually came to terms with his furriness and makes regular appearances at Anthrocon.
Among his gags is the constant "Nyeah!" sound he exclaims when shocked, startled, in pain, etc., but apparently he can't hear himself saying it, as Joey has no idea what Bakura was talking about when he asked him in Episode 40. In Episode 28, he began using the catchphrase "Brooklyn Rage" to show his anger, but Yami tells him that it will never be a popular catchphrase and tells him to stop. It is known that Joey's 4Kids VA Wayne Grayson likes the phrase and has repeated it at various anime conventions. In Episode 31 Joey claimed he had "rage of the Brooklyn variety" putting a new spin on the Brooklyn Rage catchphrase. In Episode 50, he states that he has "a rage which is centered in the western-most county of Long Island, New York. Also known as Brooklyn."
In Episode 12, it is also revealed that he is apparently a fan of both Firefly, a TV show by Joss Whedon (creator of Buffy the Vampire Slayer TV series), and Serenity, its subsequent movie continuation. It is known that Abigail (Safty on Youtube), LittleKuriboh's wife, is a fan of the show. The fact that when Yugi reminds him of his love of Serenity, which Joey took to mean Joss Whedon's movie and not his sister, highlights his disregard for his sister.
It is vaguely implied that he actually caused the death of 'Tristan Taylor's voice' at the end of Episode 8. Whilst he explains that he was "with Tristan's voice when he passed away", he looks himself like he has seen better days, and also gives a somewhat fantastic explanation that Tristan's voice died after running with scissors while drunk, and in the 'Reconstruction' of the event, he reacts to Tristan's voice's death with an obviously nonchalant "Oh no, he's dead."
In Cr@psule Monsters, Joey doesn't seem to remember anything that he and the rest of the gang had encountered before then, not even Mai Valentine. He also tries to claim they're not ripping off Pokémon even though he's riding Baby Dragon and keeps comparing it to Charizard.
In the Other Abridged Movie, Joey develops a passion for getting into fights with other people, claiming to be much more satisfying than card games (clearly a reference to his Shadow Game series counterpart, who was a rebellious man that always got into fights and showed great strength at them). He also calls his fighting style Brooklyn Karate, names his fighting moves like "Surprise Buttsex" (grabbing his opponents from the back) and Joey Punch, although Surprise Buttsex is also a way to show suggestive affection (Yami Yugi claims that Buttsex with him is never a surprise).
Ever since he defeated Weevil in Episode 31, Joey claims he's going to pick off all the minor season one characters in the Battle City Tournament one by one claiming that's how he rolls (a reference to how most of his opponents in Battle City are minor season one characters). He even goes as far as wanting to duel Kaiba, calling him a minor season one character, which makes Kaiba want to kill him.
In Episode 34, Joey is in a censored fight with Marik's henchmen and ends up getting captured. He claims, in this episode, to love 4Kids fight sequences because you can be as violent as you want as long as no one is watching. During his imprisonment he was fooled into signing a "Name Change" contract that legally changed his name to Steve. He is then mind-controlled by Marik.
In Episode 38, Joey admits he has fallen in love with Mai's breasts, though he adds that "They're about as real as a 3-dollar bill." In Episode 43 he actively prevents himself from starting a relationship with her but tries to save her from both Mega Ultra Chicken and Melvin (though Yami saves them both from Mega Ultra Chicken's attack and Melvin scares Joey into leaving).
He does, in fact, care slightly for Bakura, as seen in Episode 40, as he is disgusted when Yami almost kills Bakura and then blames it on Marik, stating that he'll tell everyone what Yami did, all of which he says in an outraged tone ("He didn't make you do anything you asshole! You almost killed Bakura, and now I'm going to tell everyone!"). He is then interrupted by Yami, who says that "Joey has tickets to see Miley Cyrus in his pocket". Joey points out that this is a lie just as Duke Devlin and Tristan tackle him, the latter stealing Joey's pants. As heard, "Tristan! Gimme back my pants!" Yami then says it "works every time". Though at the same time he questions what Bakura is doing in his hallucination in Episode 42 when he sees all his friends.
In episode 50, he passionately defends the Yugioh abridged series from Johnson's attempt to get it banned for copyright infringement. It is also revealed that he once punched Yami for eating his sandwich, he knows that Bandit Keith is really Canadian and not American, dated Duke's fat cheerleader (she claims she never saw him again afterwards, but Joey sites that he's just been busy), and that Baby Pharaoh doesn't like him for some reason.
Like her show counterpart, Téa seems to be very into the ideals of friendship, though doesn't blab about them as often (when she does, though, it seems to annoy everyone, especially Yami). She is a lot crueler than on the regular Yu-Gi-Oh! anime, criticizing Joey for having no chance of winning Duelist Kingdom as he is a comic relief character in Episode 5 (though she seems to dislike Bakura and Tristan more, wanting to ditch them in episode 18 and then telling Joey they can't let Tristan breed in Episode 22).
She is obviously in love with Yugi (Yami), and in many occasions have acted very jealous when other people "flirt" with him. However in the Abridged Movie Trailer, she admitted she was only using Yugi to get to Yami Yugi, but in the film she blatantly comes onto Yugi on multiple occasions, and seems to be genuine about it and in episode 46 she gets annoyed that Yugi (regular) is not making out with her and when Yugi asks if Téa heard something, she asserts "The only thing I can hear is the sound of you not making out with me!". She officially admits to loving Yami in Episode 21, and since then, Yugi has been much less friendly to her, calling Téa "Jezebel" in Episode 21 and "slut" in Episode 22, where she also was fawning over Duke Devlin for most of the episode. She fawned over Marik in a similar fashion in Episodes 34 and 39, saying Marik would fit "perfectly between my thighs...I mean within our circle of friends". In that episode she also gave Duke Devlin a spanking which seems to imply her character is getting kinkier as the show is going on.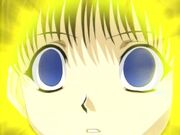 She's also a kleptomaniac, having attempted to steal her friends' wallets on two separate occasions, including the marker used in Episode 1 (and also wanted to snoop through Pegasus' room in Episode 19). Among others, she has a Happy Feet penguin, a Sailor Moon, Bubbles, and Jigglypuff cards in her deck. She has compared the plot line (Episodes 9, 19 and the Abridged Movie) to bad fanfics. Despite her hatred for all Yu-Gi-Oh related fanfics, it's revealed that in Episode 23 she writes Harry Potter fanfics and is a Harry/Hedwig-shipper.
She despises Mai Valentine, likely due to her liking Yugi, despite the fact that Tea likes Yami. Among others, she has referred to Mai as "Mai Skankentine", and "Skankity Slut Slut". When Mai tried flirting with Yugi in one episode, Tea responded by saying "Back off bitch, he's mine" in a deep, demonic voice.
Due to the fact LittleKuriboh is male, Téa's voice sounds high-pitched and slightly strangled; however this also creates a humorous effect.
Her friendship speeches apparently have started to have a brainwashing effect on people unfortunate enough to get caught in one, as shown in Episode 25 when she got Johnny Steps caught in one for a couple of hours, he left saying "must... go... get... friends" in a monotonic voice. She also boasts that "friendship is the most powerful force in the world! It's even stronger than Chuck Norris!", to which Joey responded, "Blasphemy!". She seems to enjoy the effects of her speeches and cannot resist the urge to speak one. Tea also admits to being a total spaz which allows her to be really good at DDR (though her life goal is to become a table dancer in New York, something she may have done after the events of the Abridged Movie). In the second episode of Cr@psule Monsters, she nicknames her monster "Friendly McFrienderson III."
In the Abridged Movie, Téa is regarded with contempt; when she attempts to jump into the Pyramid of Light to be with Yugi, Pegasus tells Mokuba and Solomon to "just let her jump". When she appears in front of Yugi, Joey and Tristan, they sarcastically remark "Oh, good," and in a similar fashion, "Oh, no" when she falls. Anubis even describes her as the most annoying character in Yu-Gi-Oh and plans to kill her to do the fans a favor. (unfortunately, he fails.)
In Cr@psule Monsters, Téa is the only character who seems to remember everything about the past events in the main series, whereas everyone else has forgotten about every other character, the Duelist Kingdom tournament and even Duel Monsters itself (except for Yugi, who remembers everything but the card game). Tristan claims that she's living too much in the past in the beginning of the second Cr@psule episode and seems to have finally stopped referencing the card game. She and Tristan both believed in the candy Alex Brisbane mentioned and somehow acquired monsters used to fight other creatures. ("Friendly's" power seems mainly to just be healing people with friendship/magical powers).
In Episode 49, the first time the series strayed from the original plot, her body is taken over by Crump. To prove this, at the end of the episode, her face fades from high-pitched, but then tries to reach it as Crumps is in control. As well, after she asks Yugi a question, it closes in on her left eye dramatically, and shows Crump laughing evilly before shouting "PENGUINS!"
While being possessed by Crump, Tèa becomes extremely lecherous and makes several attempts at demanding sex with the other main characters ("Dammit Yugi! TOUCH MY BOOBS!"). She also shares Crump's fetish for penguins, but at a more subtle level. She was returned to normal later when Crump was kicked out of her head by the lingering soul of Marik, who was possessing her before Crump. When the group returned to the real world, it is implied that remnants of Crump's influence remained in Téa's mind, seen when Tristan asked Téa if she felt different after being possessed by Crump. She responded with "there's nothing wrong with my penguins," followed by "there's nothing penguins with my brain," then finally "there's nothing penguins with my penguins."
Like Joey, he provides much of the comedy in the series, mostly due to his clogged sounding voice (similar to Bullwinkle's), a fact that he remarks in the first episode (in episode 2, Yami states that Tristan is voiced by Barney the Dinosaur). For Episode 8 and the first half of episode 9, he was given a new voice, similar to what happened in the original series; however this new voice was apparently killed by Bakura's "evil side" in episode 9, and the old one was revived (Yami stated that he did it because the old voice was much easier to make fun of than the new one). He also claims on five separate occasions that his voice gives him "super-strength", once while fighting Kemo (who then claims his hair lets him defy gravity), once in a cave while being chased by a giant 'boulder', once when assaulting one of Pegasus' guards while wearing a suit of armor, once while fighting a zombie, and once while fighting Duke Devlin (then tripping and falling over the edge of the blimp). In one occasion he claimed that his voice "knows kung-fu" when knocking out Bakura in episode 18 with a karate chop. In episode 15 it's revealed Kemo's hair is Tristan's father, and it has been mentioned Tristan's true strength is in his hair (in a synopsis for one of the Abridged episodes). The parody portrays Tristan as childish and downright stupid(as much, if not more so, than Joey) to the point where no one takes him seriously. For example, he was the only one who believed Kaiba's ghost was real in episode 7. He also believes that Yami Bakura is Spider Man, and is excited that he is friends with Spider Man. Another running gag with him is the several complaints about being a minor character and trying to have an adventure while the major characters are sleeping (episode 16). In episode 49 it is revealed that his middle name is Timothy.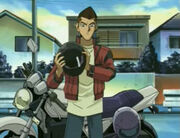 Another running gag is his surprised exclamation of "Holy **** on a **** sandwich!", first started in episode 6. It has since been reused and added upon twice to include "with **** on top" in episode 16 and "and a side helping of ****" in episode 20. However, it was only stated in its first incarnation in the Abridged Movie. Yami Bakura said this line also in episode 40.
In episode 3, when Téa says she needed to go to the bathroom Tristan responds by saying "In another few hours the sun will rise." a phrase which Tristan actually said in the same scene of the original series. This phrase has made reoccurring appearances over the course of the series and always in appears completely random and irrelevant to the situation, most notably in episode 41 when he and Duke Devlin are hanging off the side of a blimp he says "Duke, no matter what happens to us, I want you to remember one thing: in another few hours, the sun will rise!" when Duke asks him what that was supposed to mean he says "I don't know, but it's true!".
In episode 48 it is shown that he believes Axe Body Spray to be actually be the weapon, saying "girls love the smell of Axe" while holding an axe, to which Duke responds "That's a body spray you dork."
Tristan also loves Joey's sister Serenity. At the end of episode 3 Joey mentions his sister and Tristan says "If she's going blind, I might actually have a chance with her." He has called her "darling", "jailbait", and "fine ass" on many occasions, and in the Serenity commentary special tried many ways to get her on a date with him (including changing the comments to say that Serenity should date him, and even threatens to kill the president in order to impress Serenity). Despite not knowing what sex is, Tristan does want to sleep with Serenity (as mentioned in episode 25), although he has also shown a bit of attraction to Téa in that regard (in episode 15 he mentions she should take off her clothes and in episode 16 states the only way they can survive is if they have sex. He also claims they did it when acquiring their personal monsters in Cr@psule monsters two, going as far as to call his Pikachu-like creature "Tristan Jr."). Yugi and Téa bullied Tristan for loving Serenity. Tristan however did not seem to understand that they had known it all the time and decides to kill them all (which he still hasn't done, since the two are still alive).
Episode 8 is dedicated to the memory of "Tristan Taylor's voice" (who allegedly died after running with scissors while drunk, according to Joey).
In Cr@psule Monsters, Tristan is oblivious to the fact there is a Duel Monsters card game, or anything or anyone else the gang had encountered before then. He also made the first direct Pokémon reference in Episode 2 which made him and Téa get attacked by a Kraken (though despite about to die he claimed the spin-off was still better then Yu-Gi-Oh GX).
Tristan somewhat predicted the game plot of Yu-Gi-Oh! 5D's as he stated "Because in the future, card games will be played on motorbikes"; which Yugi thought was ridiculous. It is interesting to note that the second voice actor for Tristan in the real series is the same voice actor for Yusei Fudo, the main character of Yu-Gi-Oh! 5D's. In general, Tristan seems to be the most aware of the series' weaknesses and true nature. He made an interesting prediction in episode 21 when he suggests that the characters "exist in a fictional universe created by some Japanese guy who likes card games", which Téa believes to be the dumbest thing he has ever said. Also, in The Abridged Movie, when the gang is being attacked by a mob angry about the show's quality, Tristan admits that the show "does kinda suck." In addition, in episode 9, when the episode ends with a still frame, Tristan responds, "Oh no! The animation budget ran out!"
Apparently, Tristan is a Christian. In episode 9, when Joey is resurrected with Monster Reborn, Tristan compares this act to the believed acts of Jesus. In the Christmas Special, when Yugi says Christmas is all about card games, Tristan responds that he thought it was about Jesus. Yugi dismisses this, saying that Tristan says "the darnedest things".
Tristan tends to get movies/novels mixed up, he mistakes Lord of the Flies for The Lord of the Rings, and Star Wars for Star Trek.
It is also mentioned that Tristan has the ability to break necks with his mind as demonstrated on Weevil Underwood in Episode 31.
In the Third Anniversary video he is seen constantly trying to get Duke to play games like Pin-the-tail-on-the-donkey or Twister with him, however Duke is too busy hitting on Mai and Serenity.
He apparently has two imaginary friends, Zack and Cody, from the Disney series The Suite Life of Zack & Cody and The Suite Life on Deck. In Episode 40, he is led to believe the "Kaibacorp Doomship" is in space, and believes some monsters are aliens. He also claims in this episode that he was abducted by aliens as a child (which Tea says "That explains so much and yet so little"). It is also apparent that Tristan is extremely convinced that Duke Devlin is a witch. Whenever Duke is introduced, he calls him a witch. Plus, in the episode in which Duke is introduced, he keeps saying "Burn the witch!", "He turned me into a newt!... I got better.", parodying Monty Python's Holy Grail.
In episode 51, he sacrifices himself in a Star Wars like manner to protect Serenity (who responds Star Wars like as well) and is now possessed by Nezbitt. Tristan is now in a Robot Monkey body with the main cast, who insult him without knowing it's Tristan in the robot monkey body. He was later "revived" when the gang returned to the real world.
Recurring Protagonists
Edit
She has a voice of a drag queen and cleavage that appears to be the focus of much of the male members of the cast, especially Joey Wheeler; even she seems to be obsessed with them, as she cries out "My breasts are in danger!" when she is attacked. Her large breasts also seem to have the power to confuse others, similar to the Jedi mind trick from Star Wars; this was used on Kemo. Mai and Téa also have a running rivalry, since currently they are the only two female cast members that are regularly shown. She apparently has terrible handwriting.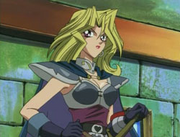 In Episode 17, she is mocked for being a terrible duelist as she had lost to Joey and Panik and surrendered to Téa. This is cemented when she surrenders to Yugi, even though it is clear that her Harpie's Pet Dragon could easily destroy Yugi's Kuriboh. This became a running gag as Mai admitted to be surprised Kaiba let her in the Battle City Tournament in episode 28 even though she never won any card games (canonicly, she has only won three duels on screen, against Jean-Claude Magnum in Battle City and against Pegasus and Joey in the Doma Arc). Joey even claimed she slept with Kaiba when she got four locator cards in episode 31. In one episode Mai claims that Yugi is quite cute, to which Téa replied in a deep, demonic voice "Back off bitch, he's mine." After Yugi lost to Kaiba, Mai had heard that Yugi had lost his will to live, and apparently rushed to the site. She proclaimed that she "just loves broken men". Mai flirted with Yugi in Episode 21 (after Yugi found out that Téa only likes Yami and not him) in a The Graduate reference.
In Episode 38, she says she has a love interest in Joey Wheeler, but Joey is just in love with her breasts.
In Season 2 Mai had not been seen since Episode 26 until Kaiba announces the start of the Battle City Tournament. "Did somebody say 'old characters'?" Mai confirms she is competing in the tournament although she questions why Kaiba would let her in even though she keeps losing.
Mai did not appear but once in the Abridged Movie, claiming "my breasts are too big for this movie." However, she does appear in the credits, saying that she posed for Playboy, and it was the "hottest selling issue ever."
There are many statements referring to her breasts and her flirtatious attitude, particularly from Joey, Tea, Yugi, Mai and the generic henchmen. Even Ghost Nappa from Dragon Ball Z Abridged appeared after the stinger of Episode 40 and asked what was up with almost everyone's hair (save Odion, Mai, Seto, and Mokuba) and he asked Mai what was up with her breasts. Additionally, her worst nightmare is being trapped in a world where everyone's breasts are bigger then hers (especially Tristan's).
In one episode of Season 2, Mai says something to Yugi, who does not hear her because he was "distracted by her chesticles."
Ryou Bakura was a companion of Yugi in season one at Duelist Kingdom. He has the Millennium Ring which was given as a present by his father, who also installed a "Gay-dar" - a radar for finding gay people - in the ring. He is British, which becomes a running gag. Bakura's British nationality is often exaggerated and joked about, with many characters teasing him over it, as shown in episode where Yugi remarks "Is everyone from Britain a total spaz, Bakura?" to which he replies "Pretty much." This is an ironic sense of humor, since LittleKuriboh is British himself. Several of the characters refer to him as 'Limey'. Téa remarks in episode four that her 'Limey senses are tingling' when she senses that Bakura is nearby. He also refers to himself as 'Limey Man' on more than one occasion. He often says 'I'm not Gay, just British', whereas Yami Bakura says 'I'm not British, just Gay'. He is also one of the most abused characters on the show (the other being Mokuba), possible for being British.
He is often called a 'minor character' by the main cast despite hosting the longest running antagonist in his millenium ring.
It isn't revealed until Episode 40 that Bakura's first name is Ryo,and from Episodes 28-30, Bakura would die in a different way each time.
For more information, scroll down to 'Yami Bakura'.
Duke appeared in episode 22. instead of saying angry, he says "You guys are making me sexy. You won't like me when I'm sexy." His voice is based on Snake from "The Simpsons", and almost every time he is speaking onscreen "SexyBack" by Justin Timberlake plays in the background. Yugi says they can be friends if he gets rid of "that annoying theme music," to which Duke replied with "What theme music?", suggesting that he either can't hear the music or that the music has always followed him around so he thinks it's normal. He contradicts this in episode 48, in which he says that he "can barely hear his theme music". He likes to talk about how sexy he is, and tries to convince people that Dungeon Dice Monsters is not like Duel Monsters, despite the similar rules and exact same monsters. When asked why it's different, he simply responds, "My game uses dice." In the end, everybody tells him that they hate his game (they consider it more boring than Duel Monsters).
Pegasus funds Dungeon Dice Monsters apparently because it would make his card game "look exciting by comparison". Tristan thinks he's a witch, having seen him perform magic tricks, and can be heard constantly shouting "Burn the witch!", a reference to Monty Python and the Holy Grail.
Duke reappears in episode 36, still having "SexyBack" play whenever he speaks, or is around. He saves Tristan and Serenity from a mob of Steves, throwing a dice at one, prompting him to say that it "barely hurt". Tristan leaves Serenity with him to beat the Steves up. He comes across Mai, who scolds him for not seeing the red light, to which he replies "I thought it was just because I am surrounded by hos", leaving Mai in awe. Tristan still refers to him as a witch at this point, asking him if he brought his broomstick with him while escaping the Steves. Men apparently propose to him all the time, (although Tristian claims that he was kidding). After reappearing in 36 Duke became part of Yugi's group of friends something he asked to be right before the start of season 2, even though he didn't fulfill his promise of losing the sexyback music.
Apparently his hand has a habit of touching other people's butts, as in Episode 40. It has been mentioned that Duke is the fourth Jonas brother, likely a joke at his expense due to the many fangirls he has. Duke also seems to break the fourth wall (like everyone else) such as in Episode 41 when he panics at the concept of dying and saying, "I can't believe I'm gonna' die in a show about f*cking card games"
In Episode 47, he claims that waking up next to a blonde and a brunette (Joey & Tristan) is just another morning for him, as well as as replying to the question "do you want aliens to probe uranus?" with "maybe".
Episode 48 reveals that he has a disease where he dies if he doesn't have half naked girls applied to his body at regular intervals, this is notably shown by his theme music slowing down and losing its beat.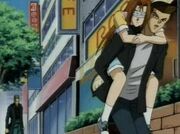 Serenity has a high pitched-sounding voice, similar to Guilmon from Digimon Tamers. In Episode 3, the doctors have spent so much time trying to figure out what was wrong with her voice, that they forgot to treat her eyesight.
In all the flashbacks, she gets called a "dumb broad" by Joey.
She sometimes thinks that Joey cares more about card games than her, and although she's right, she figured he "was just being silly".
Even though she loves her brother, she did feel a pang of hatred towards Joey after he told her he spent all the prize money on trading cards, saying that she would never forgive him.
While Tristan is in the hospital with her, Serenity didn't seem to realize that he was trying to seduce her. "Don't worry about me, I'm just extremely gullible and naive." She also believed all the lies he told her that she told Joey on the phone.
While Joey is having his first match she talks about being in love with Tristan as he is always there for her, only this goes out the window with Tristan coming in the room having gone to the toilet, after this she goes silent. She is also proposed to by Tristan over the Internet only for her to call him a "lonely-deranged freak". By the time of episode 34 she clearly appears to be sick of Tristan. She also had to deal with a kid who had a seizure and thought he was Ash from Pokémon in Episode 31, thinking that she was Misty. Serenity lied to him about having cancer to shut him up.
Serenity's biggest appearance in the Abridged series was in her own comment special. There, she needed people to help her read the comments (still blind with bandages covering her eyes), and shooed away Tristan and Yugi away when it suggested to her that they were trying to hit on her, although one of the comments stated that she ought to go out with Yugi. She hints at fancying Yami Bakura due to his "hot accent". But is disappointed to find that he had dinner plans (with Marik).
Despite the fact the operation intended to heal her eyesight failed, in episode 34 it is revealed that her blindness was only going to be temporary, and she was pleased to learn the writers wanted her to become a main character. She removes her bandages and regains her eyesight in Episode 36, finally traveling with Yugi and his friends from that episode onwards.
Serenity also likes ponies quite a bit, with My Little Pony playing when the camera shifts to her in a theme song battle in Episode 51.
Also in Episode 51, Serenity is saved from Nezbitt by Tristan, and she confesses she loves him emotionally while she loves Duke physically. She has since been with the main group.
In Episode 54 it was revealed that Serenity was the one who caused Noah's accident in the car accident that was shown in episode 3.
Yugi's grandfather owns the card shop he and Yugi live in, and suffers from bouts of senility, frequently forgetting where he is and what is going on. He apparently lives in the basement of his own card shop and is often treated quite badly by Yugi. He frequently ponders his own death, calling the people in the obituary 'lucky bastards'. Solomon's body however, simply refuses to die. To date, Solomon has survived multiple assaults (Episodes 1, Abridged Movie), having his soul sucked from his body and placed in a coma-like state for an extended period (Episodes 2 to 19), extended periods of dehydration and exposure (referenced in Episode 20), constant animosity from his own grandson and assorted friends, and a harpoon injury from Mako Tsunami (Episode 33). Solomon has fought back on occasion though. After Yugi claims that "Santa" should go to hell for always giving him trading cards (when that's what Grandpa always gives him for Christmas), Solomon threatens Yugi that he'll kill him in his sleep, freaking out Yugi some.
In the past Solomon seems to have been a highly experienced "Egyptologist", duelist, and general adventurer type. In Cr@psule Monsters 2, he's alive and well, exploring somewhere between Japan and India (and definitely not the scenery from Duelist Kingdom in season 1). It could be assumed that his bouts of memory loss, eccentricity, and general stupidity may be attributed to one too many head wounds, some sort of exotic disease, or an Egyptian curse.
Solomon has similarly colored eyes as Yugi, is short, and in Cr@psule Monsters 2, his hair seems to naturally spike up in an absurd fashion. In the second Christmas Special it is hinted that he is most likely Yugi's paternal grandfather.
Solomon seems to have a forbidden love with the Black Luster Soldier poster.
According to Kaiba, Mokuba tends to be kidnapped on a weekly basis (a recent montage of these kidnappings brought the total up to 2,042 with another since then). So frequent are his kidnappings, that Kaiba doesn't run to his rescue anymore, preferring to just walk briskly. To this end, he feels he should consider putting a leash on him. Most of the characters who know Mokuba just assume that seeing he's been kidnapped so many times he's just used to it, quite to the contrary (Mokuba: "It feels like I'm dying inside!"). Despite feeling this way, in episode 52, Mokuba does manage to make the best of things when he his once again kidnapped, this time by Noah. Mokuba manages to con Noah into giving him doughnuts (albeit week-old ones), watching his favorite show and staying up late. Mokuba called it the best kidnapping ever.
Mokuba loves his brother very much but Kaiba doesn't seem to show the same affection (Younger Mokuba: I love you, big brother! / Younger Seto: kthx). Mokuba's father is Ghost Nappa.
In Episode 21, upon encountering Princess Edina, he says that it is the most traumatizing event in his life. He apparently knows how to drive some vehicles and acts as Kaiba's chauffeur, but lacks skill. This was shown at the end of Episode 24 where he crashes Kaiba's limo and Episode 26 where his helicopter flying causes Kaiba to lose a finger.
In Yu-Gi-Oh! The Abridged Movie, Mokuba asks every one he meets "Can I be in the movie too?" and they all reply "Shut up Mokuba!", even when that's not what he said. During the credits, he is credited as "Not In The Movie". Mokuba also admits to being a fan of "Zorc and Pals" as well as SpongeBob SquarePants and is actually very fast when stealing things (something he feels his brother endorses). His absence in the "Other Abridged Movie" is noted by Kaiba after Yugi beats him in a duel, possibly implying that he may have been kidnapped again.
In episode 28 Kaiba's doctor, after running some tests, concluded that Mokuba is going through "Japanese puberty", in which Mokuba thinks he is a Pokémon but seems uncertain about which one as he is constantly changing his cry from Bulbasaur to Charmander to Mr. Mime. In 'Who's That Mokémon?' Mokuba also had Buneary's cry and was shown with Buneary ears. By episode 29, he is back to normal, but Japanese puberty still transformed him. In Episode 40, Ghost Nappa, making a cameo from TeamFourStar's Dragonball Z Abridged, thought that he was a rare Shiny Pokémon, and vowed to catch him with his Master Ball.
In episode 30, he replies to Yugi's Grandpa (who says to shut up) "No! You shut up!" Ironically, Tea and Solomon state how rude Mokuba was, even though several characters tell Mokuba to shut up countless times, and that everyone tells Grandpa to shut up in episode 31. He has also always wanted a pet rabbit but his brother never buys him one. Kaiba finally did buy him a scorpion even though he said he was going to buy Mokuba a tarantula. Kaiba also pointed out the reason Mokuba never had any friends in Episode 32 is because they always need to be rescued which may be a reason he had bullies pick on Mokuba when he was younger in episode 29.
Mokuba is more independent in season 2 as he uses an "Epic Mokuba Maneuver" to stop the Roba brothers in episode 29, and he rescues himself from being kidnapped by Marik's Steve Squad which results for the first time in Seto actually being proud to call him his little brother.
He also thinks that babies come from a store "just like everything else", a fact that his brother has been quick to confirm every time he's asked.
Mokuba seems to be aware of his cartoon status, which is made clear when he falls through the trees from Pegasus' tower, and states that he's glad he's a cartoon.
Mokuba also claims to have a "Mokuba-Mobile," as stated in Episodes 43 and 44. Both Kaiba and Yugi deny this by saying "There isn't a Mokuba-Mobile." In episode 44, before Mokuba appears on the deck of the blimp, a Batman-esque sound clip plays.
According to the Cybernetic Ghost of Christmas Past from the Future in Kaiba's Real Father_The Conclusion, his real father is Ghost Nappa.
Shockingly, his personality is the exact opposite in Season 0, plotting to steal Yugi's grandpa's Blue-Eyes White Dragon. He and Kaiba have seemingly swapped personalities, as when Kaiba declares that he loves Mokuba, he replies, "Shut up, Seto."
Thus far, he has appeared in Episode 19, Episode 41 and in a flash back of Ishizu Ishtar in Episode 45. His voice and personality are based upon Borat. He frequently greets people with "Jagshamesh! My name is Shadi!", and claims that in his home country of Egypt, "we no longer use slave to build pyramid. Now we make women do it instead! Is nice?" and he is an anti-Semite.
He is the keeper of the Millennium Items, and tells Pegasus in a flashback in Episode 19 that his chamber in which he keeps the Items is constantly invaded by Jewish people who are trying to steal them. He gives Pegasus the Millennium Eye since he is not Jewish. He also perceives Yugi as being a Jew after sensing the theft of Pegasus' Eye by Yami Bakura. He probes Yugi's mind using his Millennium Key and thinks if Yugi lived in Egypt, he would be stoned to death for keeping such an untidy soul-room.
He has also never seen the movie Labyrinth (dance magic, dance), and is confused with the randomly placed staircases and alcoves and nearly killed on several occasions by various traps set in Yami Yugi's section of Yugi's mind. When Yugi saves him from the Dark Magician, he realizes that Yugi may be the 'chosen one,' proclaiming him to be "not as Jewish" as he first thought. He apologizes for 'screwing with his head' and leaves Yugi alone and disappears, uttering "Chenquieh" as a farewell (a reference to Borat who says Jin Qie/farewell in Slavic). He also says "Wa wa wi wa!" whenever he shows astonishment.
Shadi finally reappears in Episode 41, where he explains that he is the protector of the fourth wall (believing that if it falls that "man will become like the animal, animal will become like the dirt and dirt will become like the Jew"), and tells Yugi about the creation of the Egyptian God cards. He also admits to Pegasus that he is "-how you say?- kind of a dick."
In episode 45 during Ishizu Ishtar's flashback of when she and Marik were children, Shadi keeps showing up to warn the two of something bad going to happen but always just after it happens, when Ishizu asks why he warns them after they already did it he responds by saying "I am a ghost!"
He is also referenced in episode one of Cr@psule Monsters, when Yugi is asking Tea who else is in this spin-off. Tea says "Well, Shadi shows up later." to which Yugi responds sarcastically "Oh great. Shadi. I'm excited."
The earrings Shadi wears are also donuts, as he states in episode 19.
Ishizu first appears in episode 24. She claims her Millennium Necklace gives her the power to predict the future and to break the fourth wall, despite the fact it is blatantly obvious every character has this power. She rather carelessly gets the Egyptian God Cards stolen from her. She also lends Obelisk the Tormentor to Kaiba without considering that he would just keep the card rather than giving it back. Kaiba finally decides that she's not good at predicting the future when she predicts that in ten years Kaiba will open a dueling school and look exactly the same as he does now. In episode 26, she explains to Yami about his destiny, apparently "spoiling all of season 2" in the process, but it's not enough to please Yami, who wanted a flashback. However, the flashbacks she shows him turn out to be nothing more than two moments in his life where Yami was crying for a nipple: as a baby, and as the pharaoh during the Thief King's raid, although Ishizu admitted the latter was just her "screwing with him".
She also appears in Episode 32, claiming the giant rock is the only one that understands her and goes off and hides (senses) when she hears Bakura coming, not wanting to get involved in the actual plot. There might a be a possibility that she's a lesbian, according to Bakura's gaydar until its batteries ran out. However, the gaydar could have been pointing to the rock, implying that the Eygptian civilization was gay.
In the Yu-Gi-Oh! Abridged Third Anniversary Video, she and Espa Roba have a prediction war over whether or not Yu-Gi-Oh Abridged would be canceled after LittleKuriboh finished Season 2, but she dismisses his prediction as a fruitless attempt at creating hype. One of the Roba brothers offers to sell Ishizu the baby.
In episode 44, when Kaiba asks her why she doesn't have a catchphrase, she responds with "Because shut up." However, this is very confusing as the intent could have been either to show that she had a catchphrase or that she simply couldn't think of a good answer.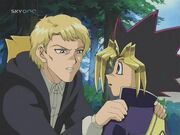 Alex Brisbane only appears in Cr@psule Monsters. He tries to convince the others that he is not a villain by saying multiple times that he is not a villain. He tricks the gang to step on the Capsule Monsters map by telling them that there is candy in the map. Once Yugi and his friends disappear into the map, he exclaims "I knew he'd step on the map. My evil plan is going perfectly. But I'm definitely not a villain." Unfortunately, we were never able to see whether or not he truly was a villain, since LittleKuriboh decided to leave us hanging. He later appears in Marik's Evil Council of Doom 5 where he apparently joins Dartz's council. However, despite Dartz's statement that he applied for the position, he again denies being a villain multiple times, saying there must have been a mistake. A frustrated Dartz then makes him the group's janitor.
Anti-Heroes
Edit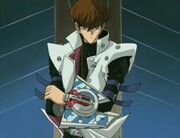 As in the original series, Kaiba is sarcastic, offensive, and all around not very nice, and this was just for Episode 1 (In Episode 24 he does admit he's an asshole, just like his past self). He evidently likes to "screw the rules" due to his large fortune (one of his most popular phrases from the series is "Screw the rules, I have money!") Kaiba uses the phrase 'Sick Bastard'. He is unable or unwilling to help the protagonists, such as calling an ambulance in Episode 1 or fighting Anubis in the Abridged Movie. He explains this by "being obscenely rich", and can't be expected to do it [himself].
The spot in his heart for Mokuba seems to be gone, for whenever his brother talks he replies "Shut up Mokuba". However, this might be due more to his abridged personality more than anything, as Kaiba never seems more annoyed than usual at the more irritating bits of his brother's antics. As in the original series, the card he wears is an oversized locket, with a picture of Mokuba inside. It seems that Kaiba has two motivations in life: money, and his little brother. But money does come first.
Also he admitted that he flags YouTube to compensate for his small penis size, but this remark was most likely a jab from LittleKuriboh to the people who flagged his videos on YouTube, resulting in his ban.
He disappears for several episodes due the fact he was written out of the show, but returns to help Yugi defeat his "ghost" in Episode 7 (although unlike the original, he isn't much help at all). He may also be addicted to drugs that affect his memory; in Episode 11 he thinks he used to have green hair when he first dueled Yugi (using clips from the first Japanese series. His catchphrase appears here as "Screw the rules, I have green hair!"), and in episode 44 when a robot from the future (The Cybernetic Ghost of Christmas Past From the Future) tells him to use his Blue Eyes instead of Obelisk, which again he believes to be caused by drug use ("Man, I really need to cut down on the drugs.). He also comments that he has "Leet haxor skills" (Or 1337 h4x0r 5k1775), apparently having learned all his hacking skills from watching old episodes of Star Trek(as his computer comments on his typing the same keys repeatedly). He also stated that the "Blue Screen of Death" was his mortal enemy in the same episode.
It is hinted that Yami's Mind Crush in episode 1 may have given Kaiba brain damage, as he states in episode 35 that he can't remember the events of episode 1, also claiming that he might have given him brain damage. This is revisited in episode 56, where he seems to be unable to hear or say the word "Exodia" without saying, "Ah! Exodia! It's not possible! No one's ever been able to summon him!" While the first two are in astonishment at Gozaboru summoning Exodia Necross, after Kaiba declares that he will destroy the pieces of Exodia in Gozaburo's Graveyard he suddenly exclaim, "Ah! Exodia! It's impossible! No one's ever been able to destroy him!" causing Gozaboru to ask him if he's alright; suggesting that Kaiba suffers from either brain damage or Post-Traumatic Stress Disorder.
Abridged Kaiba also has an even more distinct obsession with dragons than his counterpart. He claims that, while he plays chess, the game bores him because it doesn't include expensive holograms or dragons. However, In Episode 48, it is revealed that he was the chess prince, a fact that he is extremely proud of. He was once even told by Yami that he has a dragon fetish. He also mentions having a hard on for technology. He also ranks Reign of Fire as one of his all-time disappointments in life. He is apparently easily impressed by giant rocks. He also holds the ability to frequently break the fourth wall without any explanation and does so more than most characters. He also disregards anything involving Yu-Gi-Oh! GX and is appalled by the idea that he only appears in 3 episodes of said series (mentioned by Bakura to be one episode). He also is highly skeptical of Ishizu Ishtar's prediction that in 10 years during Yu-Gi-Oh! GX he will have opened a Duel Academy and not have aged a day.
Also like in the series Kaiba seems to be against the magical powers some of the cast has. In episode 6 he thought his duel disks could defeat Yugi's magical powers and in 24 he mentions he's the most skeptical person on Earth. He does seem more accepting of the magic than the actual Kaiba, even though he still believes Ishizu's powers to see the future are lame and full of crap.
Recently, Kaiba has attempted to play Duel Monsters with a training program (which was a parody of GLaDOS from Portal), claiming that actually learning how to play the game would help him defeat Yugi since, as a main character, he is immune to defeat. However, the training program claimed the game was so ridiculously complicated that it has decided to take Kaiba's policy and screw the rules. Throughout episode 26, he has been advertising Kaiba Corp. products, specifically the new DUEL DISK SYSTEM, which is accompanied by a jingle, and an echo. Through this episode, after he advertises products, he says the word, "Trademark." He has also announced the coming of the Battle City tournament, which will follow the real Duel Monsters rules, something which Yami believes is the first real plot twist in the series. Episode 26 ends with him losing a finger. He is terrified of Dark Zebra, and had Obelisk the Tormentor kill it for him but mentioned how Dark Zebra would haunt his nightmares forever. He is quick to have his finger replaced by a replica, he is also horrified to find out that Mokuba is going through Japanese puberty and thinks he is a Pokemon and even Kaiba got confused about it when he once called him Charmander. He has also created a harem of robot women so he can get them to fall in love with him only for him to later shun them with his cold heart. He has acknowledged that he is like the anime version of Scrooge McDuck, except less fluffy (surprisingly, in agreement with Mokuba). He also reveals that he prefers window seats on all vehicles.
In the other Abridged Movie, he is shown spying Yugi with cameras installed all over Japan (since he is rich, he can never be too paranoid) in order to always be one step ahead, even in private moments like the shower (Yami is confused when Kaiba mentions that he won't be watching him take a shower). He starts a tournament to defeat Yugi again and to do so, he orders Kemo and an anime version of Ving Rhames to kidnap Gary and force him to enter. Before facing Yugi in the tournament, he defeats Rex Raptor who then goes to dye his hair. During the duel against Yugi, he summons three Blue Eyes White Dragon in one turn again. When Yugi asks him in the same fashion as in the episode one about what he did, Kaiba tells him to stop asking about it. After losing, he decides to sue the people who made Eye of Judgment for the PlayStation 3 (stating that it's an obvious rip off of Duel Monsters) and asking where Mokuba is.
Lately, he was been informed by Mokuba in "Seto Kaiba's Real Father" that his 'real father' had contacted them via a blackmail letter (with the writer demanding his share of KaibaCorp's money), but in the concluding video "Kaiba's Real Father - Conclusion" he attempted to uncover his father's identity and to make him pay. This led him to Pegasus (because "every time something f*cked up happens, you show up and start explaining things!"). Pegasus agrees to tell Kaiba who he would need to see to find out who his real father given that he did something dirty in return (which was watch the Spice Girls movie). Kaiba later ends up meeting the Cybernetic Ghost of Christmas Past From the Future (whom Kaiba met in a delusion during episode 44) who informs him that Kaiba has no father and he is actually a 5000 year old cybernetic organism built by the Egyptian Slaves under the command of invading alien force leader Frieza from Dragon Ball Z abridged. He was made to resemble the Egyptians previous leader Priest Seto who became Pharaoh after Atem died. This makes Mokuba query that if Seto was a robot and didn't have a father, who was his father, in which the Cybernetic Ghost of Christmas Past answers "Ghost Nappa", which Seto and Mokuba had earlier stated that knowing their luck it would turn out to be something like that.
Kaiba is also extremely misogynistic, having little to no regard for the female sex. He created a harem of female robots, (revealed in episode 30) but reveals it was only so he could "shun them with his cold indifference". Grandpa, Tristan, Bakura, and even Kaiba's own computer have mentioned that he needs to get laid...big time. Also, when asked by Mokuba where babies come from, he impatiently answers "you buy them in a store, just like everything else." Though he was curious about his "totally hot dragon girlfriend from the future" that the Ghost told him about in episode 44 and even asked if they had sex ("Yes!") and whether it was good ("No!").
Kaiba has had a boner twice (seemingly from technology, as he stated in episode 15), once before riding on a helicopter to go find a God Card and once while watching Bakura and Yami duel on the blimp. At the start of the duel, he says that he'll stand there and pretend he doesn't have a boner and later in the episode, doesn't care what the duelists do, as long as no one looks at his crotch.
It has been stated that whenever Kaiba smiles a puppy dies. In Episode 42 he smiles twice and manages to kill 9101(19101 if you count the parody of the abridged series) puppies; killing 100 when Odion summons Mega Ultra Chicken and 9001(its over 9000)when Melvin informs the main characters that he got Team4star banned. He also practically begs Mai to summon Mega Ultra Chicken in episode 43. Kaiba has said that he never takes off his clothes stating that they made him look good. He also has a really embarrassing birthmark that's covered by his clothes.
As revealed in Seto Kaiba's Real Father Part 2, he is a robot designed for building pyramids, created in Egypt (Apparently, this explains why he is emotionless and lacks genitalia and his birthmark that says "Made in Egypt"). Due to the fact that the Cybernetic Ghost of Christmas Past From the Future's stories seem to be random and made-up, this may or may not be true.
In Season 0 abridged, Kaiba's personality is much different. He is open and friendly, yet still has some of his selfishness, as he orders his bodyguards to beat up Joey, Tristan, and Yugi, declaring that while he likes them a lot, he just likes money more. He also plays a Shadow Game (feeling it enhances the game playing experience) with Yami just for fun, and at one point offers him a hug. Also, after he summons a bunch of monsters in one turn, he actually tries to explain how that is, in fact, within the rules! Kaiba's new personality frightens Yami so much that the Pharoah uses his dark powers to banish Kaiba to "a place where he cannot hug him."
In Kaiba's own words, "Pegasus is ruthless. Camp, yet ruthless". This description is accurate - from his eccentric style of overdress to his foppish, borderline-effeminate style of speech to his incredibly pretty-boy looks (Pegasus disagreed with Marik who called himself the girliest male Yu-Gi-Oh character). Like this, Pegasus fits the analysis perfectly. He has a habit of declaring everything "fabulous," and he also seems to have a liking for the Spice Girls (Croquet complains about having to see the film Spice World over and over again). He also enjoys sponge baths. It is at first hinted that Pegasus is gay, due to Bakura's gaydar pointing toward his castle. In episode 16, however, he remarks that he "can't have people thinking he's straight", for reasons unknown, and in episode 18 it was revealed that Croquet used to be in a relationship with another henchman. LittleKuriboh later confirmed that the gaydar was pointing to Croquet, not Pegasus, who is indeed straight.
Like in the original series, Pegasus originally had a wife named Cecilia and used Duelist Kingdom as part of his plan to resurrect her. The reason she is not alive, however, is because she apparently has an odd habit of exploding in front of Pegasus. Cecilia is the second most beautiful person he had ever laid his eyes on (Pegasus himself being the first). According to his notes, Pegasus wanted to use KaibaCorp's technology and the Millennium Items to bring her back (Téa noting fanfics make more sense than that) and being more "confused" than evil in the Marik's Evil Council of Doom short.
In episode 19, after his defeat at the hands of Yugi, he loses a Shadow Game to Yami Bakura, which involved "Ancient Egyptian Laser Beams." Yami Bakura then proceeds to extract his Millennium Eye, although he runs into trouble as he ends up pulling the wrong eye out. Pegasus is last seen being carried by Croquet, who claims that Pegasus is feeling under the weather, although Yugi believes that he is dead (even though he is alive in the anime series and is shown later in the Abridged Movie) and Tristan even adds, "He died as he lived, draped in the arms of another man," possibly not convinced on Pegasus' sexuality (or at least still believing the events of episode 16 to be a dream). Because of Yami's LittleKuriboh impostors, Pegasus will never be able to watch the Yu-Gi-Oh! Abridged series again.
Pegasus was mentioned once again by Shadi in Episode 41. He was seeking to exploit Egypt's third-world country status, and came dangerously close to breaking the fourth wall doing it. Shadi showed him the Pharaoh's tomb which he was as happy as "[a] woman after being given shiny new cage to sleep in" as said by Shadi. He made this into a children's card game. Croquet reported that everybody involved with making the cards died, especially "Chad from accounting". He made the cards himself, comparing it to "stealing from the Egyptian Gods' deviantArt account". That night, he had a dream where Shadi said if the Egyptian God cards fall in the wrong hands the fourth wall will be destroyed. He then hid the cards with the help of Ishizu.
In the Abridged Movie, Pegasus acts more camp and gay then before, even going far as flirting with Kaiba and asking to make love with him. LittleKuriboh said that he does this in an attempt to psych Kaiba out. Apparently he likes Priscilla: Queen of the Desert and that his favorite dream is starring in it. Even his snoring is girly, saying "Ooooh" when doing it.
In the second Council of Doom, Pegasus begins to show more of his sexual ambiguity by applying make-up, including eyeliner. He also appears to be a pedophile as he wants to show Rebecca his "funny bunny", although he may again just be trying to fool with his image.
Bandit Keith is obsessed with America. Throughout his appearances, he will finish almost every sentence with the words "In America", usually after a brief pause, and makes references to America or being American (though he did utter that phrase once in the actual dub). His favorite movie is Pearl Harbor. He used to hang around with Bonz, Sid and Zygor, before they blasphemed against Armageddon and other Michael Bay movies. He also believes that Hulk Hogan is the greatest American hero of all time, which is why he modeled himself after him.
He tried to get Joey out of the Duelist Kingdom tournament by stealing his entry card, however Mai gives Joey her card. He is later defeated by Joey, who used the Copycat card to copy Bandit Keith's catch phrase. Keith then snaps and is carried out of the tournament, singing the Star Spangled Banner. When he returned to confront Pegasus, Pegasus had a trap door open conveniently placed under Keith's feet, a maneuver Pegasus claims he learned from Excel Saga. Bandit Keith is last seen in Duelist Kingdom screaming as he fell into the sea, pausing only for a second to say "...in America" before hitting the water.
He appears once more in episode 23, stealing Yugi's Millennium Puzzle and challenging him to a card game under Marik's control. Marik chose Bandit Keith since Americans are very easy to brainwash, making Keith think he was the President. After failing to obtain the Millennium Puzzle, Marik punishes him with the French national anthem, as France (according to Keith) is the exact opposite of America. During this torture Bandit Keith reveals that he is actually from Canada. After escaping the warehouse he set on fire under Marik's control, he then returns back to his home (in Canada). He may also have a fear of French people, notably hinted when he ran out of the burning building. It was later revealed, in one of the "Marik's Evil Council of Doom" videos, that Marik was able to take control of Bandit Keith because his middle name is Steve.
In the 3rd Anniversary, it is mentioned that Bandit Keith no longer uses that term "in America". He then starts using the term "In Canada"
He reappears in Episode 50 as the first witness against Joey Wheeler. When asked if he would "tell the truth, the whole truth, and nothing but the truth" he states that he'll "tell the only truth that matters... The American truth." He has apparently begun to use the "In America" catchphrase again, but also shown waving a Canadian flag. He was testifying against Joey for "shamelessly copying my catchphrase... In America!"
In episode 52 he was seen having become a hideous drunk.
He also made a cameo in a game review of Party Mania made by "The SpoonyOne" as he called himself as "The Gate Keither", and was also threatening to send Spoony into "THE BLACK HOLE". He makes cameos in other Spoony videos either as "The Gate Keither" or himself, in the DOA movie review Keith appears when Spoony starts criticizing Tina Armstrong, saying that she is his girlfriend, before leaving Bandit Keith says that "Film Brain sucks because french people are stupid" and he also sings American Women for a couple of seconds.
Rex and Weevil appeared several times in Season 1. They're an obvious parody of Beavis and Butt-head (partially noting the fact that the usual Beavis and Butt-head intro is shown at the beginning of episode 4). Weevil is Beavis (the more hyperactive one who transformed into Cornholio in episode 4) and Rex is Butt-head (the more calm and marginally more intelligent of the two); the opposite of their real personalities. He also tends to mislead/insult Weevil a lot as seen in their comment special and when watching Silent Hill. Both tend to laugh stupidly at regular intervals, as well as try to make sexual innuendos out of everything they or someone else says (i.e. "You said 'region'!"). All in all, they're both incredibly idiotic, which, considering how unintelligent they are in the dub, only adds to the parody's humour. Weevil also repeats the word "fire!" in various episodes, a reference to Beavis' pyromania and the fact that all uses of the word "fire" were eventually banned on Beavis and Butt-head; however, Weevil says "fire" in a more flatter voice than Beavis. It's later revealed that Weevil somehow saved Kaiba from The Salesman. Rex apparently has a very short memory span, as he claims not to remember that Joey won his Red-Eyes from him (though he may have just been playing dumb as Joey brought it up as a counter when Rex was taunting him about not having his Red-Eyes). In the Other Abridged Movie, after losing to Kaiba he goes and dyes his hair.
According to Marik's Evil Council of Doom, Weevil enjoys Furbies and according to Yugi Gives An Apology, Raptor is one of the characters people want to see (which irritates Bakura who was thinking he might get more screen time).
They have appeared in their own videos in which they watch Silent Hill in a manner that parodies Mystery Science Theater 3000.
Odion first appeared for a short time by the end of episode 23, making a gag with the classic "Pinky and the Brain" dialogue, taking Pinky's voice and personality. This voice was not used in later appearances, instead his personality was changed to a "plain and one dimensional" character (as stated by Marik), being emotionless and serious all the time and by following Marik's instructions too literally, even causing Marik to get mad at him. He normally says "Yes, Master Marik" only. He also likes Gummi Bears and when Marik threatened him to get rid of his collection was the only moment when Odion actually answered Marik (calling him an asshole). In episode 42, he gets his own flashback explaining some of his and Marik's history (mostly Marik) during which he didn't think the tombkeepers initiation was so bad and questions why watching Disney films is a part of it; afterwards he comments, "Jeez, even in my own flashbacks I'm a minor character!"
Odion apparently thinks of Marik as the worst boss ever, and he's trying his best to drag Marik's name in the dirt when he's impersonating him. He agrees to what Joey says about Marik being an asshole, in which Marik yells at Odion in front of everyone. He seems to enjoy being scolded.
His obsession with Gummi Bears can be further seen when he prays for them in episode 40, summoning them in episode 42, and instantly waking from the whip injuries inflicted by Hank Ishtar simply upon their mention in episode 45's flashback.
The former CEO of the Kaiba Corporation and the adoptive father of Seto and Mokuba. Despite his position and well-mannered behavior, he acts immature for his age and is prone to fits of rage, including one which cost the ear of one of his employees. He makes his debut in episode 48 where he visits the orphanage Seto and Mokuba lived as kids in order built Kaiba Land over it. He is later challenged by Seto into a game of chess upon threatening to call him a chicken. Gozaburo ends up losing the match, to which he calls the game stupid.
Now having Seto and Mokuba as his new step-sons, he makes every attempt at turning Seto as cold-hearted as himself, mostly to make him the new vessel for Noah's virtual form. He also rejects Seto's initial designs for the duel disk system in favor of making weapons of mass destruction. He would lose his company to Seto after Hobson gives his share to him. He also seems to have forgot that Noah is his biological son, immediatley dismissing him as a new man servant he ordered when they are seen with eachover. This is further shown in Episode 56, where he not only continues to dismiss Noah as his biological son, but seems to consider Seto his biological son, though strangely, he yells at Noah previously in the same episode for not sending him a Father's Day card for the past seven years.
He is voiced by Antfish, creator of Jojo's Bizarre Adventure Abridged.
Main Antagonists
Edit
Bakura's parents originally wanted to name him Florence. Yami Bakura claims that the reason he's evil may stem from that and them continually making him wear women's clothes.
Ryo Bakura's father discovered the Millennium Ring while searching for blue hair dye. He fitted it with a gaydar and gave it to Ryo, for being "so bloody effeminate". Tristan mentioned that Yami Bakura's ring is "so evil, that if Jason Voorhees and Freddy Krueger got married and had a baby, the ring would be the baby". Ryo's use of the gaydar has led other characters to believe he his gay; however, he denies being gay, and insists that he is simply British. Florence, on the other hand, claims to be gay rather than British, he also mentions that he likes cross-dressing and once accidentally mentions wanting a sex change operation.
Tristan believes Yami Bakura is Spiderman.
At the beginning of Duelist Kingdom, Bakura stalked the gang in an attempt to become a main character. Most main characters don't recognize him and claim to barely know him.
Bakura asks everyone to show their favorite cards. He pulls out a card with the picture of Sephiroth from Final Fantasy VII, implying he's evil. According to Yami Bakura, he wants to turn the show into his own series, "Zorc & Pals".
Bakura faked a case of "Wanker's Cramp," described as "the most deadly of British diseases," as part of one of Marik's evil plans. He is sometimes portrayed as being physically attracted to Marik and to have feelings for him.
In "Sails Away", Marik tries to get him to sing (Marik saying that he would give Bakura a dollar, two dollars, killing Yugi, making Bakura the President of the Evil Council, and the President of the World) but declined every time, until Marik asked "What if I said I loved you?". Also in episode 40 he said to Marik "You know it's a good thing you're pretty. Otherwise I'd have to suffocate you".
When Yami demands to know Yami Bakura's real name, he admits his name is also Bakura and when Yami cites this as confusing and unlikely replies, "Just wait until season 5 when there's three of me running around, even the fans have trouble keeping up with that one" referencing the fact that in season five there are three separate characters with the name Bakura: Ryo Bakura, Yami Bakura (actually the spirit of Zorc Necrophades with amnesia), and Thief King Bakura.
Bakura was left in a coma after his second Duel with Yugi. Yugi and his friends actually wanted to land the blimp to get Bakura to safety, but Kaiba refused it.
In Marik's Evil Council of Doom and Marik's Evil Council of Doom #2, he has been called "Fluffy", a Human Furbie, and "Kitty", as a reference to his fluffy white hair. Also in Marik's Evil Council of Doom 3, it is hinted that he helped make Marik's evil plan, so that he may be called "Kitten" instead of "Kitty". Bakura is also a Lost fan, as shown when he is with Steve Lumis and Steve Umbra (who both watch Lost) talking about the show.
In Episodes 45 and 46, Bakura is shown having his own red lightsaber.
He does have some anti-hero in him as he faced Melvin in a lightsaber match and then a duel to save the Abridged Series from being canceled before he got the screentime he was promised. He teamed with Marik to do so but in the end Melvin won using Mega Ultra Chicken (the Winged Dragon of Ra), making Bakura fade in the darkness as the fourth wall collapsed. Bakura accepted his defeat by stating he enjoyed the show while it lasted and made the bass rhythm for 'Stand by Me.' His final words were "Tell my fangirls... I love them". However he did this for his own evil reasons.
It is interesting to note that aside from Bakura's very hard attempts to inform everyone of his homosexuality, he is one of the most sane, rational characters in the series second probably to Yugi and Yami, and by far the most rational of all the villains. This is particularly evident in later episodes when he is put aside Marik and Marik's Evil Council of Doom videos, where he seems to be the only one to realize the potential incompetence and idiocy of their schemes.
Aside from Marik in the council, he is the most prominent voice, consistently giving fairly rational suggestions that are usually ignored by the other villains. In Marik's Evil Council of Doom 4, Bakura is shown that he dreams that Melvin takes him up as his boyfriend, being voted as "Villain of the Year", for Zorc and Pals to be renewed, and for "Florence" to be considered a manly name, and of course to top it all off for Yugi to be successfully killed off-screen by Melvin using a chainsaw. In Marik's Evil Council of Doom 5, Florence defected to Dartz's Evil Council because Dartz offered him a job and he would be actually be paid to do evil, rather than chat about it; Florence also felt that he was "surrounded by fools" and that Marik was the biggest fool of them all. After Florence left, Marik forbade his Evil Council of speaking about him, calling him "He who shall not be named."
In Concrete Giraffes, Slender Man states that he and Florence used to be college roommates, claiming they had wild adventures; however, besides that fact, Florence is unable to remember any of those experiences.
In LK's "Marik plays bloodlines" Bakura often grudingly offers comments in the background while Marik is playing a video-game, in which his apparent attraction towards Marik become more pronounced. In bloodlines 6, Marik accuses Bakura of staring at him instead of reading, as he claims he's doing. Bakura's flustered response tells this is most likely true. Later on Marik yells at the screen that doors WILL slam very hard, in which Bakura replies that he would like Marik to slam HIM very hard, a comment Marik chooses to ignore. In episode 7 Marik reveals that, apparently, Bakura wanted to take him to a romantic movie (The Notebook) which Bakura denies, telling he just wanted to replace the original film with 'Cannibal Holocaust'...though in his view this, too, that is a 'romantic' movie. When Marik was finding similiar examples of best-buddies such as him and Bakura, Bakura offered the Tsubasa Chronicles pairing Kurogane and Fai, which Marik vehemently denies has nothing to do with anything. At the end of episode 7, Marik comments on how he is afraid that Mel Gibson would be watching him sleep, upon which Bakura asks if he's afraid of someone watching him sleeping. Marik confirms, and asks Bakura why he wants to know that, the latter replying: "No reason at all...", heavily implying that that is exactly what he does at night.
Faithful to his dub counterpart, he is a sadistic and childish villain who wants to conquer the world, but is portrayed as much more innocent and naive than his anime counterpart.
His favorite hobby in his free time is to attempt to take over the world and playing with his Steve Squad. In episode 34, he accidentally says what he is secretly planning out loud in front of Joey and Tea. In episode 42, he was holding the Millennium Rod behind his back.
In "Marik's Evil Council of Doom", Marik is the only villain willing to follow the show's plot line and defeat Yugi with a children's card game. Whenever Marik says the f word, instead of bleeping it out, a voice yells "EFF!" instead, similar to Perfect Hair Forever. Marik believes there are no female characters in Yu-Gi-Oh and only girly looking men (he believes himself to be the girliest), and appears to have a relationship with Bakura. Though despite many gay references to himself he once offered to strip for the fangirls on one occasion. All of his council think he's gay. Though he denies it, it is heavily implied that he is gay and that he may have "feelings" for Bakura.
In the Zorc and Pals episode, Marik claims to be Zorc's wife.
He introduces himself to Yami in episode 28, where he claims that he is in charge of the most feared anime organization known to man, the Rare Hunters (though Yami believes that honor goes to the Samurai Pizza Cats). In the episode, he claims that his goal is to steal Yami's screen time and to destroy him "a little", though Yami originally believed that Marik was out to kill him and steal his Millennium Puzzle.
Marik's Millennium Rod, like in the original series, has the power to control whoever he wants, like forcing them to break dance against their will, though in the second "Marik's Evil Council of Doom", it is revealed it only works on people with the name Steve. So far, he controlled Bandit Keith (Whose middle name is Steve), the Rare Hunter who stole Joey's Red-Eyes Black Dragon (revealed to be named Steve), Arkana (whose full name is revealed to be Steve Arkana), Strings (Who is known as "Steve the Mime", "the most evil Steve in all of Stevedom", according to Marik), and Joey and Téa, who he tricked into legally changing their names to "Steve". He also claims to have "an army of celebrity Steves" at his disposal, including "Stone Cold" Steve Austin, Steve Jobs, Steve Guttenberg and Steve Buscemi. His latest mind slave was Steve The Mime, someone Marik called pretty "f-ed up" for having piercings and tattoos.
He lost when Yugi was able to take advantage of a glaring flaw in the Duel Monsters rulebook and Yugi took Slifer the Executive Producer as Marik promised the Rare Hunters would take his friends as he rode into the city on a motorbike (something that not even the band Boston would help look cool according to LittleKuriboh). Later, on he met Bakura, who claimed to have found in him the gay signal he was feeling lately. Marik replies that he likes women but Bakura does not believe him and ironically pointed out that he dresses like one, adding that Marik looks as masculine as a Square Enix character (famous for making very effeminate male characters), mocking him by asking to call him "Basch from Dalmasca". After a talk they decided to work together to defeat Yugi and possibly kill him (since Marik himself said his plan was evil but not well thought out) and also share beauty tips.
In the following episode he tries to trick Joey and Téa like in the original series by helping Bakura and pretending to be a nice guy, but he fails. First he can't think of a fake name and out of random thinking he says Malik (a reference to an alternate romanization of his name) instead of Namu like in the official anime. After that he accidentally says his evil plans out loud. When Joey points it out, he decides to take them by force with the Steves. Later on the pier, where Joey is trapped he is tricked into signing a contract in exchange for his freedom, but the contract was a legal paper that changed his name from Joey Wheeler to "Steve" Wheeler so Marik is able to control him.
In episode 39, he contemplates a fake name of "Malik Blishtar", and is annoyed when Odion (who everyone believes to be Marik) insults himself thus insulting Marik instead. When Joey claimed Marik (really Odion) was an asshole, Marik said "He might just be misunderstood." Odion then said "No I'm definitely an asshole", to which Marik replied "Not helping, Odion!" He also continues to yell his evil plans out loud, and tells Joey that he will kill him last (Joey takes this as a joke). In episode 40 he wants people to ignore him, specifically by screaming "Ignore me!."
At the end of episode 42, he is seen leaning over a table with his hands over his ears whilst the music to "Beverly Hills Chihuahua" is playing in the background, and saying: Great, now I can't get that [EFF!]ing song out of my head! Thanks Odion. Thanks a bunch!
At the end of episode 27, he mentions ordering 'Pornographic comic books' It shows a crudely drawn Marik holding a book with the word "Porno" on it. He says, "This pornography is really quite good..." and then is attacked by Dr. Octogonapus (from the Lazer Collection created by Dom Fera, which was referenced previously in the episode).
In episode 41, it was revealed that he has an ice-cube fetish.
In episode 42 it is revealed that he was seemingly evil right after being born, promptly shouting out "Excewwent!" and laughing evilly. He grew up to hate live-action Disney movies which he'd been forced to watch as part of the Tombkeepers' initiation ritual. Following the ritual he begins to exhibit insanity, for instance when Odion asks how he feels, he retorts "I've been tortured by my own father. I'm forced to live the rest of my life underground and I was forced to watch the worst Jamie-Lee Curtis movie since "Christmas with the Kranks". How the f*ck do you think I feel Binky-Boy?!" He seemingly inherited the penchant to calling people Binky-Boy after his father who once called Odion that (although stating in concrete giraffes that he "would never say- (binky boy)".
In the 2008 Christmas special, he held another meeting of his Evil Council but only Yami Bakura shows up. The pharaoh sent them a Christmas present, which turned out to be a time bomb.
In a movie rant about "X-Men Origins:Wolverine", he claims he's "fairly good at playing hopscotch", saying how one person's power is to use Kung-Fu and that he's a mutant.
During the third-year anniversary of Yu-Gi-Oh the Abridged Series, he's constantly trying to make up drinking games in accordance to people's catch phrases. The first involved taking a drink whenever Zombie Boy said "Brains" but true to his last appearance, he's stopped saying his catch phrase and insists on talking like a normal person. The second idea was taking a drink whenever Bandit Keith said "In America" but truthful to his undeniable Canadian heritage, he'd also stopped using his catch phrase. The third idea was taking a drink whenever he and Yami Bakura saw a crude stereotype, particularly Shadi and the Kaiba Corp. Nazis, but it turns out they were not invited to the party due to being too offensive. After discovering that the only remaining stereotype around, Bakura in this case, was taken to the hospital due to a near-fatal glomp injury, Marik begins ranting about how the world has conspired against him to ruin his ability to enjoy alcoholic beverages. Lastly when Naruto (from LittleKuriboh's take on Naruto Abridged) shows them a present sent to them by TeamFourStar, which was in fact a bomb, Marik gets the idea to take a drink every time everyone explodes and dies, but is abruptly cut off with the bomb exploding, killing him and everyone else at the party.
He also seems to be a large Lady GaGa fan, knowing the tune and timing of Bad Romance and also knowing there are no Lady GaGa songs that rhyme with shoes.
His full name is "Marik Sebastian Ishtar III".
In LK's "Marik plays bloodlines" Marik is playing with a Vampire character and acting as if he is very much inside the game itself. Most of the time, though, he rambles and sings about all kinds of subjects that come to him during the games, or makes fun of Bakura, who often grudingly offers comments in the background. It is in this series that Marik is literally spooked into admitting that he's gay in episode 6, a comment he hoped Bakura did not overhear. Bakura's apparent attraction towards Marik become also more pronounced through the episodes: In bloodlines 6, Marik accuses Bakura of staring at him instead of reading, as he claims he's doing. Bakura's flustered response tells this is most likely true. Later on Marik yells at the screen that doors WILL slam very hard, in which Bakura replies that he would like Marik to slam HIM very hard, a comment Marik chooses to ignore. In episode 7 Marik reveals that, apparently, Bakura wanted to take him to a romantic movie (The Notebook) which Bakura denies, telling he just wanted to replace the original film with 'Cannibal Holocaust'...though in his view this, too, is a 'romantic' movie. When Marik was finding similiar examples of best-buddies such as him and Bakura, Bakura offered the Tsubasa Chronicles pairing Kurogane and Fai, which Marik vehemently denies has nothing to do with anything. At the end of episode 7, Marik comments on how he is afraid that Mel Gibson would be watching him sleep, upon which Bakura asks if he's afraid of someone watching him sleeping. Marik confirms, and asks Bakura why he wants to know that, the latter replying: "No reason at all...", heavily implying that that is exactly what he does at night.
One of the main themes that the series makes fun of. Early in the series a running joke was to mock the horrible dubbing of the actual Yu-Gi-Oh! series. In Season 2 4Kids was the real antagonist directly acting against the characters. Throughout the series the characters believe 4Kids to be the censor of all things good. One thing that they censor are guns, which cause some characters to think they are using magical invisible guns. Some of the characters such as Marik believe it to be the cruelest and most ruthless organization known to man. In Cr@psule Monsters they want to capture Yami for usage in a "crappy spin-off show".
In episode 37, Marik talks about a prophecy that refers to 4Kids and that they will cause the end of the world. At the end of the episode, it is shown that 4Kids is aware of this prophecy, and that the downfall of Youtube.com is somehow crucial to their plans. In episode 40, when Yami Bakura says Disney, it is cut to 4Kids. They react to Bakura saying "the forbidden word" (Disney) by thinking about canceling Yu-Gi-Oh. They then say that there were specific instructions from their boss (Noah Kaiba) to not cancel it until the end of Season 2. Everybody stands up and says "Down with Disney! All hail 4Kids!" This may have a relation to the prophecy in Episode 37, for Disney being the world's largest media conglomerate and the prey for 4Kids to usurp for when they take over the world.
In Episode 45, Bakura revealed Melvin was an operative of 4Kids attempting to get the show canceled. In episode 46, Melvin'd, the two dueled to determine if the series would be canceled or not. Melvin won, thus "ending" the show. However, the ending to the episode revealed Noah and the Big Five as members of 4Kids planning to move ahead with their plans for Yugi and his friends, setting the six of them up as the villains in Season Three. This is further implied when Noah inquires on what to do about Yugi and his friends and Noah mocking Seto's catchphrase.
The true villain of the second season, Melvin is Marik's imaginary friend, to "give him all the hugs he ever wanted", created by him as a child to deal with years of abuse and live-action Disney movies. Yami is initially skeptical of Melvin's butting into the show, until Melvin proves himself more evil than Marik by revealing that he was the one who suspended Team Four Star, the creator of Dragonball Z Abridged.
Possibly as an exaggeration of Yami Marik's insanity, Melvin constantly offers to hug people but in truth just wants to stab them (possibly also a joke that in the dub the Millennium Rod's concealed dagger is edited out). In Episode 45, Melvin claims Marik invented him to deal with his loneliness, as Melvin "would give him all the hugs he'd ever need". Also, no matter what people say, he frequently claims he is controlling a person's mind.
He also has the habit of calling people "Binky-Boy", a habit Marik shared, and otherwise gives people bizarre nicknames, such as "whore-biscuit" for Mai, "chucklenuts" for Ishizu, and "Doctor Skuzzbucket" for Marik's father Hank. He is "your worst nightmare created in the flesh," and hates bad fan fiction where people "make him Yami Yugi's long-lost brother" and have no card games in it. Unlike Marik, Melvin does not have a special censor when he says the word "f***". When he says "f***", it gets censored the same way every other swear word gets censored.
In Episode 43 when dueling Mai, he asserts that Mr. Tweetums was his best friend ever.
In Episode 45, it is revealed that Melvin is actually working for 4kids, as he is the single most evil entity on the show. This is ironic as Marik despises 4Kids.
Melvin when trying to open the four digit code for a door tries to use the words "STAB", "KILL", "MUTILATE" and "PAIN" remarking that they are the only words he knows.
Noah is the villain of season three, appearing at the end of Season Two in Episode 46. Like his original counterpart he commands the Big Five, but in keeping with the parody, he is an executive of 4Kids seeking to control the world's media. However, Noah has trouble keeping track of the shows 4Kids dubs - he claims 4Kids has no intention to dub Season 4 of Yu-Gi-Oh! GX, is unaware that 4Kids lost the distribution rights to Pokémon and One Piece years ago, and is entirely oblivious to the existence of rival companies like Funimation. He is also known to often quote many famous movies and TV shows.
Noah is voiced by Chris "Kirbopher" Niosi.
Team 4Kids compose the top five executives at Kaiba's company. They have tried to kill Kaiba multiple times but have always failed. Team 4Kids seem to like standing up dramatically at the same time as a form of celebration. They appear in Season 3 as Noah's henchmen, claiming that once Kaiba defeated them in the Virtual World, 4Kids hired them to get rid of Yugi and his friends, also giving them new voices (to which, Tristan claimed was impossible). They seem to have embraced their new jobs well, reciting their own version of the Team Rocket motto from Pokémon when appearing before the heroes. The members of Team 4Kids are voiced by the cast of Team Four Star, punning the name itself.
The Members are:
Gansley: the leader of the group, voiced by GanXingba in Episode 46 and Hbi2k in Season 3. GanXingba's voice for Gansley sounds closer to LittleKuriboh's version while Hbi2k's version sounds like neither, instead sounding as shrill and squeaky. Gansley appears to be slightly bipolar, talking in a low voice for the most part but elevates his voice at random times. He considers Avatar: The Last Airbender to be anime, and chooses Yugi as his opponent, declaring the first thing to do with Yugi's body is to get a haircut. When Noah sends the Big Five to the darkest corners of the internet, he sends Gansley to Megaupload, which is completely empty due to it's lack of use.
Nezbitt: the head of 4Kids' merchandising, voiced by MasakoX. In the virtual world under the form of Robotic Knight,he goes by "Mecha Nezbitt", and as Perfect Machine King calls himself "Super Giga Mecha Nezbitt", boasting while in the form he has his own theme music. He duels Tristan, Duke, and Serenity for being the least marketable characters of the series, declaring his intent to take over theor bodies and turn them into "hip" characters that will be more appealing to children. He is defeated when a picture of Yuma Tsukumo overloads his logic circuits as he struggles to comprehend Yuma's hairstyle. When Noah sends the Big Five to the darkest corners of the internet, he sends Nezbitt to Chatroulette, where Naruto mistakes him for a naked girl.
Johnson: the head of 4Kids' legal department, voiced by KaiserNeko, He is responsible for having LittleKuriboh banned from Youtube twice. He tries to put Joey on trial for copyright infringement, as well as on being an awful person, with the intent to get the show banned again. He calls on a slew of "celebrity witnesses", including Bandit Keith, Weevil, Ghost Nappa, Baby Pharaoh, and Kuriboh. Joey makes the counterargument that the Abridged series supports the original show and has helped it build the fanbase it has today, and defeats Johnson with the Flame Swordsman empowered by the Yu-Gi-Oh! fanbase. When Noah sends the Big Five to the darkest corners of the internet, he sends Johnson to The Dangerous Box, where he comments to have never seen such slander.
Leichter: the head of 4Kids' localization, voiced by Lanipator. He associates localization with Americanization to rationalize the idea of changing Japanese cultural content to something more identifiable to western viewers (demonstrated by changing a rice ball to a hamburger, then a cheeseburger). As Jinzo he has the power to destroy internet memes, as demonstrated by him tricking Kaiba into saying "card games on motorcycles" and then blowing up Jack Atlas when he appears to repeat the phrase. He is defeated by Kaiba after he begins a new meme called "lolcalizations", turning Leichter's occupation into an Internet meme and causing him to destroy himself. When Noah sends the Big Five to the darkest corners of the internet, he sends Leichter to Fanfiction.net, where he comments on the grammar, the porn and all the un-American japanime.
Crump: the head of 4Kids' programming, voiced by Takahata101. He proudly proclaims to be the creator of Viva Piñata. He is even more perverted and depraved than his original incarnation, making lewd remarks about Tea and the Dark Magician Girl, and being obsessed with penguins to the point of a fetish, implying he eats them and has sex with them. He convinces Téa to duel him by declaring the firendship sucks and, unlike the original version, was able to defeat her and possessed her body. He spent most of his time flirting with Yugi to no avail, until Marik (who had previously taken control of her as Steve) kicked him out. When Noah sends the Big Five to the darkest corners of the internet, he sends Crump to 4chan, with lots of penguin images, much to his delight.
Anubis is the main antagonist of Yu-Gi-Oh: The Abridged Movie. Much like his real counterpart, Anubis only wants to destroy the world, but doesn't know why. When Yugi asks him why he wanted to do that, he said, "I don't understand the question." Yugi repeated the question and Anubis replied that he does have a reason. When Yugi asked him "Oh goody, do you feel like sharing it with the class?", Anubis simply replied "No.". In his first appearance, he was a "Naked man behind Kaiba". Kaiba accidentally saw his penis, despite the fact he did not wish to see it. Interestingly, Anubis seems to hate Disney and Yen Sid, like the 4Kids Entertainment. He tried to kill Téa because of her "Disney References", arising a possibility he may be associated with 4Kids, as they both seem to want to destroy the world and hate Disney and Yen Sid.
The main antagonist of Bonds Beyond Time Abridged Movie, Paradox is a master duelist send from the far future destroyed by a children's card game. He plots to rid the world of children's card games by killing Pegasus, despite the lack of context that surrounds his plan such as meaninglessly killing innocent people and playing Duel Monsters (which was the cause for the earth's destruction) to further his goals, causing Yami, Yusei and Jaden to call him a hypocrite. In spite of his antagonistic role, he wants to save the world, even though a world without card games, according to Yusei, is not worth living in. In abridged canon, he is the great, great grandson of Dartz and suffers from the same speech impediment as him and is often said to sound like Elmer Fudd. He shares the same laugh pattern as Mandark from Dexter's Laboratory. He also refers to the main characters as "pwotagonists".
Minor Antagonists
Edit
The father of Marik and Ishizu. He has an Eastern European accent and is, according to his wife, a giant douche, a description justified by his behavior towards Odion. He considers himself "the finest human being in the world". He solves his problems by whipping everybody within a 500 yard radius. Hank Isthar is also obsessed with snakes, having a "pet" snake Cornelius, that often bit him. The poisonous bites eventually lost their potency as Hank built up an immunity, which he himself theorizes might explain his bizarre behavior. He is killed by Melvin after trying to kill Odion, and sings about being stabbed in his lungs as Melvin does just that.
Rebecca's Teddy
Edit
Rebecca's Teddy is an evil teddy bear owned by Rebecca Hawkins.The teddy is portrayed as satanic, or as a "possessed" doll according to Joey, as it often makes claims and statements such as "your mother plays card games in Hell" and "you'll be the first to die" in a low demonic voice, although Rebecca denies this and claims that it's "just a regular teddy bear". It appeared on Marik's Evil Council of Doom 2 and 3, and in I'm on a Blimp.
The most seen of Pegasus's henchmen. Although he is known as "The Nameless Henchman" in the series, for writing purposes his original dubbed name is used. In the credits for Episode 46, he is referred to as "Hair Guy". Kemo has a tendency to yell "Attention Duelists!" followed by a remark about his hair every time he starts a conversation, even if there's only one other person with him or if he's not addressing duelists. When Kaiba asked why he does this, he replied angrily it's simply what he does.
Another of Kemo's traits is referring to his hair in some form or another, usually related to what he is actually doing. For example, in Episode 6, when attacking a duelist he shouts: "Attention Duelists! My hair is assaulting you!"and other things such as "My hair is being assaulted!" In the same episode, he also claimed that his hair gives him the power to defy gravity. And in another episode he told Kaiba that "My hair is definitely not leading you into a trap!" Kaiba then threatened to shave his hair off. Kemo then set an alarm and claimed "That's for threatening my hair!" His 'hair' has a crush on Mai Valentine.
Kemo has also apparently taken child-grabbing classes, and on occasion he refers to them, such as in Episode 13, he attempts to attack Kaiba, but Kaiba notices him, and stops the attack. Kemo then said that his child-grabbing classes were a waste of money. He is also the long lost father of Tristan due to the fact that they have a similar hair style as well as the fact that they both refer to their "hair" and "voice" as people.
According to LittleKuriboh's LiveJournal, he was emailed by one of the people running the UK tournament, asking him to come and announce the tournament, claiming they really needed someone capable of saying "Attention Duelists!".
After Pegasus's defeat, Kemo is then seen working for the Big Five in episode 21. However, he is written out of the show at the end of episode 21, where he called his mother (addressing her with "Attention Mother!") and asked to move in with her, saying "My hair is crying! I don't have anywhere else to go.".
He returns in Yu-Gi-Oh: The Other Abridged Movie, where he is once again using what he learned from his "child-grabbing" classes to kidnap Gary, only to be stopped by Joey, apparently arousing his hair. For reasons he himself doesn't really know, he's working for Kaiba instead of Pegasus and he lost his hair, though he still makes references to it. He also appears in the Star Trek: The Next Generation Opening of Episode 32 as Commander Worf, being attacked by the Borg and crying out about his hair.
In episode 35 he appears in the mass flash-backs, referencing his popularity with "Attention Duelists! My hair is an internet phenomenon!"
In Episode 50, it is shown that he has a brother named "Mullet Guy." His brother also shares the trait of saying "Attention duelists", but thinks that Kemo's child grabbing classes are a waste of time.
First appeared in Episode 12 - fittingly named 'Duel Of The Dead' - with his friends Sid and Zygor when they were spying on Yugi and his friends. They were helping Bandit Keith to lead the gang into a trap, in which Zombie Boy had to duel Joey in a graveyard themed duel arena. He was called a goth when he scared Joey for the first time. During the duel he appeared to be in the lead while Michael Jackson's Thriller was playing while devastating Joey's life points. He however did cameo in the duel against the Gay Clown.
He revealed that he dropped out of zombie school which is later revealed to be the Cambridge School for Zombies and was taught by Bandit Keith to become a duelist. He doesn't say anything except "BRAINS", but it is subtitled to be normal dialogue, which might be how the other characters can understand him. (The mummies in The Abridged Movie also had the same voice). In episode 37 it is revealed that in fact he can talk, only saying the word "brains" because that was the only line he got on the script. He also talked in the 3rd anniversary video. When asked why he didn't say "brains" he responded that he "doesn't do that anymore." He's considered to have "the voice of a zombie angel" by Zygor.
He later appeared in Marik's Evil Council of Doom (wanting the free tacos Marik had promised, but later found out they were a lie), and tried to come up with an evil plan that involved eating peoples' brains, but was shot down by Yami Bakura before he could explain. During the evil role call, he made a reference to the "I like turtles" YouTube meme.
In Marik's Evil Council of Doom #2, he thinks that Yami Bakura's favorite movie of all time is gross. Throughout the meeting, he was told by Marik to transcribe everything said. But Marik declared that he be fired for writing the word Brains repeatedly. Although Zombie Boy says he did transcribe what they said but was angry to be fired and decided to quit.
Zombie Boy returns in episode 37 apparently hiding in a graveyard were he, Sid and Zygor are stealing locator cards by dressing up as zombies (even though he already is one) and walking to anybody coming by very, very slowly. He gets into a duel with Yami Bakura and convinced that he will win because Bakura is not a main character, after Bakura took them to Silent Hill. Zombie Boy summons his Nemesis from the Resident Evil series only for the creature to fall in love with Bakura's monster (Pyramid Head). After this he surprisingly enough says he quits in English. Zombie Boy somewhat snaps and declares his making a stand (complete with an American flag behind him) about zombies not being respected anymore and replaced by "The Infected" but before he can finish his speech Bakura shoots him in the head with an invisible gun. He later reappeared in Evil Council #4, joining Dartz so that he can take revenge on Marik. However, even though he speeks normally, Dartz cannot seem to understand him, making him unpopular with the other members of Dartz's council.
He apparently enjoys George Romero's old zombie-flicks, but he hates the new ones.
After Marik struggles to pronounce "Akhnadin" on the 'evil roll call' In Marik's Evil Council of Doom,he decides to call him "Bob" for purposes of simplicity. Since Bob only mumbles incoherently, he's not taken seriously. In Marik's Evil Council of Doom 3, "Steve" Luna claims Bob is a sacrifice that the Island wanted (in reference to the TV series, Lost).Bob was later killed at some point.
First appeared in Episode 9 when Yami Bakura stated his intentions of turning Yu-Gi-Oh! into "Zorc & Pals". Unlike most villains, Zorc is depicted as being more idiotic than evil. He is obsessed with destroying the world (a laugh track plays every time he states this. He is aware of this, as he noted its absence in Marik's Evil Council of Doom). While this destructive nature is still present in his character, he is not as evil or cruel to others as in the original series. In Marik's Evil Council of Doom this point is proven as he actually talks and acts nicely towards the other villains present in the place (he even left a smiley face while saying hi to everybody in the spam messages in the CardGamesFTW account). He has an enormous dragon-esque being protruding from his crotch, which he reveals is his "willy". He and Yami Bakura live together and are the parents of an adopted daughter. Apparently in the Abridged Movie, Zorc managed to finally destroy the world. From there he went to Disney World, but didn't destroy it despite his original plan to do so, as he had a fun time there. Instead, he destroyed EuroDisney.
He also appeared for a short while on television in the Abridged Christmas Special and in Episode 17, he and his adopted daughter were suffering from a terminal disease, as one of the special Zorc and Pals episodes.
In Marik's Evil Council 2, when Rebecca and her teddy bear first appeared, he thinks the teddy bear is cute and wants to hug him (Which immediately caused the teddy bear to reply saying "Touch me and die, unclean one!")
In the Zorc and Pals bonus video (titled "The One With The Confusing Circumstances") he is visited by his mother who wanted him to become a lawyer so he lies about it with the help of Bakura, making Zorc's mother believe he is Zorc's wife. In the conversation it is revealed that he is 5 million years old and he was married once, but he destroyed his wife (Though this may have been a lie). At the end of the episode Bakura gets tired of the lie and tells that he is not Zorc's wife, in that moment Marik appears and claims to be Zorc's wife, surprising everybody. Upon this, Zorc is reminded that he did in fact get married, but forgot all about it.
After some time, Bakura decided to leave Zorc because he was tired of seeing Zorc blow up the world countless times. Zorc promptly takes his anger out on the studio audience (not that it really matters because they were all already dead).
In Episode 37, Bakura claims that Zorc destroyed the world over 12 times now. He finally stops destroying the world and destroys the Studio Audience. And Bakura decides to cancel Zorc & Pals. That could possibly be the final episode of Zorc & Pals. ("God, we are so canceled.")
In episode 46, it is revealed that he recently got himself a new job on a new TV show called "The Suite Life of Zorc & Cody", apparently replacing Zack who fell off the blimp in episode 41.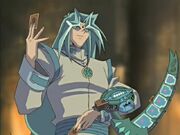 Dartz hates Marik for not inviting him and his "evil motorcycle-riding henchmen" to the Evil Council of Doom and decides to hold his own evil council to be 'much better', serving pizza rather than tacos. Like Marik, whenever he swears, an [EFF!] sound is heard instead of the traditional bleep. In his revenge he planned on spamming Marik's YouTube account, which apparently did not work. In his second attempt to get revenge, he tried the "is your refrigerator running?" prank call, which spectacularly failed as Marik told him he didn't even have a refrigerator (Although Marik hadn't realized it was a joke until Dartz hung up).
He also hates the habit of his henchmen for riding motorbikes, because when they do it, they don't pay attention to him.
Dartz and the others also apparently play Dungeons & Dragons according to the spam comments on Marik's YouTube account.
He reappears in Marik's Evil Council 3 where he is voiced by Takahata101, and his hair changes color whenever there is a different shot of him. He also speaks with a strong Cajun accent and tells his minions to duel Marik's Evil Council, to which they mistook it as to "do" Marik instead. Overall, his character is a combination of Coiffo, the main antagonist of Perfect Hair Forever, and Boomhauer from King of the Hill, in terms of appearance and mannerisms.
In Marik's Evil Council 4, he planned to tear up Yugi and Mai's decks, however his minions thought he said "d*ck" and were disturbed by his request. Also ironically, he can't understand anything that Zombie Boy says.
Appeared in Marik's Evil Council of Doom and Marik's Evil Council of Doom #2. He thinks that "Marik is so mean" and was happy to hear that Dartz wanted to set up his own evil council. After Dartz failed to successfully prank call Marik, he tells him '"We can't hear you boss! We're too busy riding our motorcycles!"' He speaks in an extremely high and childish voice similar to the Squeaky Voiced Teen from The Simpsons. Alister is also a big fan of Harry Potter as reveal in Kami-Con! (Not Comic-Con) when Rafael said that he refer everything to Harry Potter. In Marik's Evil Council of Doom #3, he goes to Marik and tells him that Dartz ordered him to "do" Marik, which Bakura then calls Marik gay. A recent videos shows that he has a small penis.
Valon has thus far appeared in Marik's Evil Council of Doom and Marik's Evil Council of Doom #2, in which he was deemed "a dork" to attend the meeting. He speaks entirely in complete non-sequiturs composed of stereotypical Australian slang in the first episode of the meeting. In the second he is only seen riding his motorbike with Alister and Rafael. In the 3rd Council of Doom, he speaks more normally, though still with his accent. He is known to hate Mai Valentine and unlike Alister, He is known to have a very large penis.
Rafael has appeared in Marik's Evil Council of Doom and Marik's Evil Council of Doom #2, in which he was deemed "a dork" to attend the meeting. The only thing he ever says is "ZUG ZUG!", a phrase used by Orc grunts in Blizzard's Warcraft series. Once again he says that phrase just after Dartz curses his henchmen, as Rafael was also riding his motorbike. In the third and fourth Evil Council and in the Kami-Con advertisment video, he talks normally, to which Dartz mentions that he preferred Rafael's "ZOOG ZOOG" because no one understood what he was saying and he wasn't such a b*tch. In those episodes, it is also implied that Rafael is the most rational out of Dartz's henchmen, pointing out that they (the Evil Council) couldn't be compared to the Beatles because they had four members, while the Evil Council had five; however, Dartz ignores that fact. He is also aware of the various idiotic flaws the other council members have and makes sarcastic remarks about them.
Other characters
Edit
Jaden Yuki (also known as Jaden-man) primarily appears in a separate abridged series based around the Yu-Gi-Oh! GX series (created by YouTube users ShadyVox and xthedarkone); he also appeared in several episodes made by LittleKuriboh. Jaden is often shown speaking in a stereotypical type of slang, potentially as an exaggerated jab at his portrayal in the English dub of GX. In the "10th Anniversary Movie Abridged Trailer", he teamed up with Yugi Muto and Yusei Fudo, referring himself and Yusei to be "Yugi's cheap imitations". In a special video, he had challenged Yugi to a rap battle to steal his title of "King of Games", before having his hair poked fun at by Yami Yugi on how it looks like a Kuriboh. Later during the video, he is accidentally run over by Yusei, further complaining about "breaking his coccyx" (a running gag in the original Abridged series) after Yugi casually states to Yusei that "it was only Jaden" he ran over, before being sternly told to "walk it off (you Mary Sue!)" He had made several cameo appearances throughout the main series, his most notable one during a scene where Joey Wheeler recalls a spinoff series titled "Yu-Gi-Oh! DMX", presumably a show about "rappers playing children's card games". In these appearances, he is voiced by LittleKuriboh; however, in all later appearances, his voice was played by ShadyVox. He also appeared in the Bonds Beyond Time Abridged Movie as a secondary protagonist (and a major nuisance to Yami and Yusei).
As opposed to his original anime and manga counterparts, he despises Duel Academy ("THIS PLACE IS CRAZY!") and hates his Winged Kuriboh card all the more ("WHAT THE F*CK YOU WANT FROM ME?!"), as his spirit repeatedly interrupts him when he is either thinking or speaking, and the fact that the card is overall useless in battle. He even tried to rid himself of the card more than once, such as trading it, selling it, yelling at it, and even mailing it to Australia, only to fail horribly, as the card somehow found its way back to Jaden each time.
In the GX abridged series, Jaden was initially a tame individual who had a high sense of pride and he acted merely for self gratification, but as the series progressed, he became more cynical, selfish, and aggressive, due to the lack of peace and order at his school. He also started to act more like a stereotypical black man, overusing slang terms, and even gaining a habit of rapping during random situations. He also is known in his series for relentlessly drinking alcohol, his common use of drugs such as marijuana (as seen when he hit Syrus under the influence of said drug), and his love for Cheetos. He also claims to have played Sonic games, which was said when he prevented Syrus from fleeing the school by the ocean, as well as Assassin's Creed, seen when he dodged Paradox's attacks by jumping from building to building.
It's also shown that Jaden and Syrus have little to no respect for one another, unlike their anime and manga counterparts. This can be first seen when they think to themselves that "[they'll be] stuck with a nerd" when they were assigned to Slifer Red. Syrus' dislike for Jaden is made more obvious when the latter peeked at the former's deck and found Japanese cards in there (which were banned at the Academy), prompting Syrus to take the deck back and run away crying, while stating that he hated Jaden. Jaden's disrespect for Syrus can be seen when he showed little to no concern about Chumley being taken from the Academy until Syrus threatened to beat him (Jaden) up. During Jaden's Duel against Jinzo, Jaden questioned his "friendship" with Syrus, with Syrus responding with "who said we were friends?" Despite their mutual disrespect, Jaden and Syrus have acknowledged their friendship on two separate instances, once when they were playing a card game in episode 15 and again when Jaden led Syrus through the hall to Yugi's deck in episode 16.
He also brings up the fact that he's the main character almost constantly; it's also his way of explaining how he's always seen without even a single cut after getting hurt (with guns being his one weakness) and how he always wins every duel. He also brought up the "Absolutely Flawless" recurring theme, in which whenever someone says "flawless" or "absolutely flawless" with the song "Flawless" by George Michael (with the line "Absolutely Flawless!") playing every time someone says it. Also, he took part of a remix of the song Leather Pants and his part is reminiscent of the first lyrics of Bleed It Out by Linkin Park. In the same series, Jaden also explains why he lost to Yami Yugi in the final episode of GX: he was crying because of the scent of onions, rather than the fact that he was losing. Because of his perky and somewhat annoying personality, he is often disliked by many of the characters.
Yuma is the main protagonist of Yu-Gi-Oh! ZEXAL. He barely appears in the series, and has only appeared several times, the first time being in the spin-off to the 5D's special (the spin-off titled "CARD GAMES IN SPACE~!") in a picture, and he also appears at the very end of the BBT Abridged Movie. Yuma also appears as an image that Duke shows to Nezbitt; however, the latter believes that it is a fake, until the former revealed that it was real, causing Nezbitt's logic circuits to be overloaded, due to Yuma's unusual hairstyle.
He is portrayed as a young, loud-mouthed, hyperactive, hipster-like person with a strange accent and a love for the extreme, skating down the side of Mt. Rushmore in one instance. He is often used by LittleKuriboh to insult Yu-Gi-Oh! ZEXAL, which he deems too silly for a parody ("It sort of makes fun of itself"). Yuma is also known in this series for his extremely strange hair, which causes confusion among the other characters, particularly Yusei ("What is wrong with his hair?").
Mako doesn't appear too often in the series, but he's known for his willingness to let people eat his fish ("Don't worry my friends, there's plenty more where that came from.") and an odd attachment to the ocean, going as far as marrying it in episode 17. Also in episode 17, he denies losing to Yugi, claiming to have used his giant squid monster to swallow Yugi's Dark Magician, "like the end of Pirates of the Caribbean 2, except it was satisfying!". To Yugi and his friends, he is a "Freaky Fish Guy" as he tried to stop Yugi by lobbing his spear at him, which causes Mako to say "I am not a freaky fish guy!". In his interview in episode 17, his screen caption reads 'Local Fisherman/Freaky Fish Guy'. He later married the ocean.
Mako returned in Episode 28 to choke Weevil Underwood. This led to him explaining to Weevil that nobody should play in the ocean "unless they wish to drown". He also revealed that he and his wife, the ocean, have a mutual understanding which allows him to date other large bodies of water, but the ocean is his one true love. This led to Weevil saying: "Dude, you scored with the ocean? What a freaky fish guy," which provoked Mako into strangling Weevil and threatening to murder his entire family for making such a remark.
In episode 33, it was revealed that he divorced the ocean and was now dating the Domino Aquarium. He blamed Joey for his failed marriage due to the fact that Joey called him a "freaky fish guy" who throws harpoons at people, prompting everyone he met afterward to point out such. After Joey realizes that Mako offers more than what other minor characters from season one have to give, he is also told he is not "a freaky fish guy" but "the freaky fish guy" while giving them a catchphrase, the two come to an understanding, prompting Mako to give his rarest card and locator cards to Joey (without even dueling). He also gets back together with the ocean.
Mako has an odd habit to lob harpoons at anyone. So far he has lobbed a harpoon at 3 people (Yugi, an audience member at the aquarium and Yugi's Grandpa).
Mako also made a cameo appearance in Naruto: The Abridged Series as Inari's step-father, allowing Inari to eat his fish just like in Yu-Gi-Oh: The Abridged Series, although he is quick to say that he learned his lesson and won't lob his spear like last time. Originally, Tazuna claimed that Mako was killed, but after Naruto proved that the story was fake (parodying Phoenix Wright), Tazuna said that he ran away because Inari's mother is a horrible wife.
Gary only appears in Yu-Gi-Oh: The Other Abridged Movie. He doesn't like card games, much to just about everyone's horror, claiming that he doesn't see the appeal in it and would rather study or do something else. Also he gets irritated because nobody listens to him. He is said to be Yugi's "cool" friend even though he has never ever met Gary before. But later Yugi considers him a wuss and Joey threatens to beat him up if he doesn't watch the duel between him and Kaiba. He changes his mind after watching Yugi and Kaiba's three-hour long duel. He was later sent by his parents to an island and ordered to kill all his classmates in a reference to Battle Royale and managed to return, only to be devoured by Godzilla.
Like Rebecca, Gary wasn't voiced by LittleKuriboh, but by LittleKuriboh's ex-wife, Safty.
His name is a reference to the male version of the character archetype Mary Sue, with his status of "Yugi's best friend" a reference to characters created in fanfiction. He is also gay.
Rebecca wants Grandpa's Blue-Eyes White Dragon, not only because she thinks he stole it, but also so that she can sell it on eBay. Just like the original, she's a really good duelist (to which Joey replied, "That's impossible. Only grown-ups are allowed to play children's card games!"). Also, just like the original, she talks to her teddy bear; however, in the Abridged Series, the teddy appears to be possessed by the devil, at one point saying, "Hail, Satan!" and "Your mother plays card games in hell!" (a reference to The Exorcist), as well as having the music from the film and from Psycho play near the end. She also listens to the "voices inside her head", implying that she may be mentally unstable, or also possessed. But overall her character is very similar to the original - at least in that point of the series - stubborn and hot tempered. At the end of episode 20, her grandfather claimed that Yugi could have won the duel and therefore won even though he actually surrendered, confusing her. Yugi gave her the card he won on Duelist Kingdom, saying he didn't want it. When she asks if she has become the King of Card Games due to obtaining the card, Yugi replies, "Hell no.".
In Marik's Evil Council 2, she is invited because of her teddy bear. There, she nicknames Yami Bakura "Kitty" which Marik begins using as well.
Unlike most other characters, she is not voiced by LittleKuriboh. Instead, she is voiced by LittleKuriboh's ex-wife, Safty.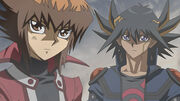 Yusei Fudo is the protagonist of Yu-Gi-Oh! 5D's. His first appearance was to deliver to his rival, Jack Atlas, the important message of "Card games on motorcycles!", starting what would eventually become a new Internet meme. In the "10th Anniversary Movie Abridged Trailer", he teamed up with Yugi Muto and Jaden Yuki to Duel against the antagonist, Paradox. He is heavily convinced that his motorcycle grants him super strength (as a reference to the second voice actor for Tristan Taylor in the original Yu-Gi-Oh! series; who voice acts for Yusei in 5Ds). In the rap battle between Jaden and Yugi, he arrives to accidentally run Jaden over, shortly afterward, declaring his reason for arriving was "to play a card game". He asks Yugi if he had run over Kuriboh prior to his arrival, by which Yugi casually insists that "it was only Jaden".
Yusei also appeared in the Yu-Gi-Oh 5Ds One Shot Parody Special, where he was shown to be very arrogant and selfish. He considered his Duel Runner as his girlfriend, and at one point considered making out with it. He, Jack and Crow were in a band called Team Satisfaction with a guy named Kiryu. They wanted to have the gayest name, but Coldplay was already taken. Unfortunately the band split during their first live concert, due to Jack's screaming during mic check, which caused the Zero Reverse. Also, due to his constant riding of his motorcycle, he has a medical condition where he has orgasms due to a different number of causes (excluding the sound of Akiza's voice).
In the Bonds Beyond Time Abridged Movie, Yusei seemed to hate Akiza when she says that motorcycles are smelly. Hearing this, he sternly demanded that she leave his house. He also shows extreme contempt towards Jaden (specifically his cheerfulness), tells him that he's going to "tear the happy from [his] soul", and keeps taking verbal potshots at him. On the other hand, he seems to have something of a sexual attraction towards Yami, though he quickly states "No homo." He also shows a concern for the space-time continuum, trying his best to prevent Jaden from accidentally destroying it by Jaden leaking spoilers to Yugi - something he ultimately fails at preventing. Also in the BBT movie, Yusei is shown to have a habit of questioning 'what is wrong' with Jaden's, Yugi's and Yuma's hair--noting their bizarreness, completely oblivious to the fact that his hairstyle is just as bizarre and questionable. Yusei also believes that he has won every duel he takes part in, saying "I totally won that duel," even when there isn't a duel going on. He is voiced by TheAzureCrow, whose most famous work is Gurren Lagann the Satire.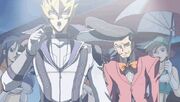 Jack Atlas appears as a major protagonist and as a rival to Yusei Fudo in Yu-Gi-Oh! 5Ds. His voice is highly reminiscent to that of Barney Gumble from "The Simpsons". Upon meeting Yusei in a video declaring there will be a new abridged series, he received the message "Card games on motorcycles!" from him, prompting him to repeat the phrase to every major and minor protagonist and antagonist throughout the Yu-Gi-Oh! franchise, but not limited to them. In the conclusion of the rap battle between Yami Yugi and Jaden Yuki, Jack made a cameo appearance after Yusei accidentally ran over Jaden with his Duel Runner, exclaiming the phrase "On motorcycles!" after Yusei explained his reason for arriving on the scene was "to play a card game".
As seen in the Yu-Gi-Oh 5Ds One Shot Parody Special, Jack believes that he has a great singing voice, but in reality, his singing is terrible. In the aforementioned special, Jack's singing voice is the cause of several explosions, including the Zero Reverse. Strangely, his voice also causes explosions even when Jack himself isn't physically present; when Jack did a mic check on Yusei's TV, the TV exploded, with Yusei saying that his friends owed him a new TV.
Jack is shown to be rather dumb, gullible and somewhat childish. He always yells simple words when talking, and spawned the meme "CARD GAMES ON MOTORCYCLES!" This allows Leichter to blow him up with his anti-meme powers in episode 52.
In the Bonds Beyond Time Abridged Movie he states that the movie Top Gun isn't gay. When first seeing Paradox, he says his hair is beautiful. When Yusei finds Paradox in a picture, he thinks it's Waldo who stole Yusei's Stardust Dragon. And then when reality is disintegrating, Jack thinks it snowing and there's no school today. When Yusei travels back in time, Jack shouts after him, "DON'T EAT THE YELLOW SNOW, IT'S PEE!!!"
She is always declaring herself Yusei's girlfriend, but Yusei finds girls smelly. As such, she hates the Yusei Go, which Yusei declares is his girlfriend. She is voiced by squeaky93, who works with TheAzureCrow on several of his projects.
Luna is Snarf from Thundercats, and calls Yusei Lion-O.
Appearing in Yu-Gi-Oh 5Ds One Shot Parody Special, Crow went into hiding after a video of him going crazy was posted on Youtube with 18,000,000 views. As shown in the Bonds Beyond Time Abridged Movie he thinks the movie Top Gun is gay.
Information

Main and recurring characters

Episodes

Cr@psule Monsters
Season Zero
Specials
Films
Music videos
Comment responses
Other