Welcome to the Yu-Gi-Oh! Wikia!
The Yu-Gi-Oh! Wikia is a free repository on all aspects of the Yu-Gi-Oh! franchise that anyone can edit. We've been around since May 26, 2005 — and in that time we've assembled a lot of information about the cards and other aspects of the Yu-Gi-Oh! phenomenon. See the news section for dates of upcoming Yu-Gi-Oh! TCG & OCG product releases, as well as anime air dates and manga book release dates.
Characters
There are a lot of characters in this long-running franchise. Here are some of the characters from the new show, Yu-Gi-Oh! VRAINS.
Trivia
Stats
Wanna know more about the kinds of information you can find here? Here's a breakdown of the 25,508 cards we're cataloguing, stat fans:

---
Card information
Set information
News
TCG

September 13 

September 28 

October 5 

October 19 

November 2 

November 6 

November 16 

OCG

September 8 

September 8 

September 21 

September 22 

October 13 

October 31 

November 10 

November 23 

December 22 

Anime

English air dates
Japanese air dates

Manga

English chapter dates
Japanese chapter dates
Latest set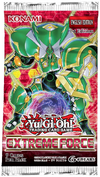 Extreme Force is a Booster Pack in the Yu-Gi-Oh! Official Card Game (OCG) and Yu-Gi-Oh! Trading Card Game (TCG). It is the third set in the OCG's 10th series.
This set contains contains members/support for: "Altergeist", "Archfiend", "Artifact", "Borrel", "Code Talker", "Ghostrick", "Guardian", "Hole", "Noble Knights", "Pendulum", "Rokket", "Watt", and "World Legacy" archetypes, as well as the Attribute Booster, "C", Cynet and D.D. series.
The TCG version includes members and/or support for the "F.A.", "Gem-", "Gem-Knight", "Lightsworn", "Metalfoes", "Noble Knight", "Qli", "Ritual Beast", "Ritual Beast Ulti-", "Steelswarm", "Vendread" and "Zefra" archetypes.
---
... further results
Latest episode
Episode 68: Secret Meeting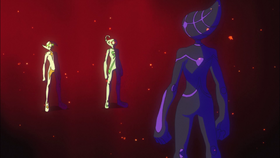 Ai suddenly disappeared from the Duel Disk. Having determined that another Ignis could be behind this, Playmaker heads into LINK VRAINS to search for Ai. There, he encounters the Light Ignis. Playmaker then learns about the Light Ignis' motive and the truth behind the Cyberse World's destruction!
... further results
Latest chapter
... further results
Related wikis
Set galleries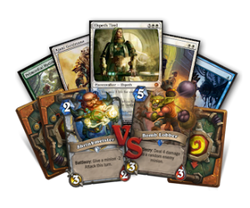 Collectible Card Games
Go to these sites for info or for help with your own wiki!
Badland Brawl • Clash Royale • Duel Masters • Girls X Battle • GWENT: The Witcher Card Game • Hearthstone: Heroes of Warcraft • Kaijudo • Legend of the Cryptids • Magic: The Gathering • Valkyrie Crusade • Yu-Gi-Oh! • Z/X -Zillions of enemy X-
Want your community included? See how!