Welcome to the Yu-Gi-Oh! Wikia!
The Yu-Gi-Oh! Wikia is a free repository on all aspects of the Yu-Gi-Oh! franchise that anyone can edit. We've been around since May 26, 2005 — and in that time we've assembled a lot of information about the cards and other aspects of the Yu-Gi-Oh! phenomenon. Please click here for dates of upcoming Yu-Gi-Oh! TCG & OCG product releases, as well as anime air dates and manga book release dates.
Characters
There are a lot of characters in this long-running franchise. Here are some of the characters from the current series, Yu-Gi-Oh! ARC-V
More characters from

ARC-V
ZEXAL
5D's
GX
DM
Trivia
Stats
Wanna know more about the kinds of information you can find here? Here's a breakdown of the 22,499 cards we're cataloguing, stat fans:

In addition, we have also begun to document individual card releases. We currently document 21 of these. You should also know that much of the information on this wiki initially came from other Yu-Gi-Oh! communities, and that many of these have since united at ygorganization.com.
---
Card information
Set information
News
TCG

October 6 

October 6 

October 20 

October 20 

October 29 

November 4 

November 17 

December 8 

January 13, 2017 

January 20, 2017 

February 10, 2017 

February 24, 2017 

March 17, 2017 

March 31, 2017 

OCG

October 1 

October 4 

October 4 

October 8 

October 21 

November 12 

November 21 

November 26 

December 17 

December 23 

January 14, 2017 

February 11, 2017 

February 25, 2017 

March 8, 2017 

Anime

English air dates
Japanese air dates

Manga

English chapter dates
Japanese chapter dates
Latest sets
The Dark Illusion is the ninth Booster Pack in the Yu-Gi-Oh! ARC-V era.
It introduces the "Metalfoes" and "Triamid" archetypes to the OCG/TCG. It also contains members/support for other archetypes, such as "Archfiend", "Blackwing", "Dark Magician", "Ninja", "Odd-Eyes", "Resonator", "Sphinx", "Toon" and much more!
The TCG version also introduces the "SPYRAL", "SPYRAL GEAR", "Subterror" and "Subterror Behemoth" archetypes, and the "Paleozoic" from the OCG. Also includes members of the "Ninjitsu Art" and "Number" archetypes, as well as the "Railway" series.
---
… further results
Latest episodes
Episode 128: Decisive Battle! Spirit Tech Force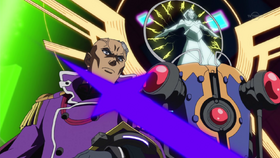 In order to accomplish his Revival Zero plan, Leo needs to

fuse Zuzu and the three girls who share her face. Yuya is filled with anger after hearing that, and Declan resolves to part ways with his father! In order to stop his ambition, the two of them challenge Leo to a Duel. As Yusho watches on, he feels that something is not right about Yuya…
… further results
Latest chapters
Chapter 15: "Zero"!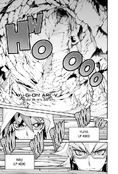 Reiji gets an early edge on Yuya, immediately overwhelming his defensive plays, while the story behind their fathers and "Genesis Omega Dragon" slowly surfaces.
… further results
Related wikis
Set galleries
Twitter
Facebook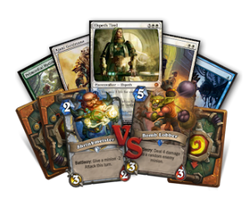 Collectible Card Games
Go to these sites for info or for help with your own wiki!
Clash Royale • Duel Masters • ElectroGirl • Gwent • Hearthstone: Heroes of Warcraft • Kaijudo • Legend of Minerva • Legend of the Cryptids • Magic: The Gathering • Order & Chaos Duels • Rage of Bahamut • Valkyrie Crusade • Yu-Gi-Oh! • Z/X -Zillions of enemy X-
Want your community included? See how!