"Mission That Must Be Accomplished" is the sixty-ninth episode of Yu-Gi-Oh! VRAINS anime. It aired in Japan on September 19, 2018.
In order to eliminate the Ignises, Varis launches an attack against Windy and others. Playmaker tries to talk some sense into Varis, but to no avail. Varis then begins his Duel against Windy.
Featured Duel: Varis vs. Windy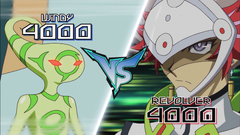 This Duel is conducted as a Master Duel.
Turn 1: Varis

Turn 2: Windy

Turn 3: Varis

Duel continues in the next episode.
Featured cards
The following cards appeared in this episode. Cards in italics debuted here.