Yu-Gi-Oh! VRAINS

Yu-Gi-Oh! VRAINS遊☆戯☆王 VRAINSYū☆Gi☆Ō Vureinzu

Anime series
Directed by

Shin Yoshida

Studio

Studio Gallop[1]

Network

TV Tokyo

Original run

May 2017 —
Yu-Gi-Oh! VRAINS[2] is the sixth Yu-Gi-Oh! anime series and the fifth main spin-off series. It will begin airing in Japan every Wednesday at 6:25 pm Japanese Standard Time in May 2017, following the end of Yu-Gi-Oh! ARC-V.
The series will star a new protagonist, Yusaku Fujiki, and takes place in a high-school setting, featuring Virtual Reality Duels in a cyberspace constructed with the latest technology called Link VRAINS. In this new kind of Duel, the players transform and Duel on some form of hoverboards. As with the previous three spin-off series, it introduces (and focuses on) a new type of Summoning. In this case, Link Summoning.
Story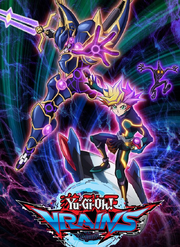 The sixth series focuses on Yusaku Fujiki, a high-schooler and a hacker who doesn't like standing out. However, he gets drawn into encounters with people as he tries out Dueling for once.
The show's theme is "Take a step forward, and try!", on the premise that kids should start to try things out instead of just giving up at the first try due to being overwhelmed by information.[3]
There is a city where network systems have evolved: Den City. In this city, with the advanced network technology developed by the corporation "SOL Technology", a Virtual Reality space called "LINK VRAINS" has been developed, and in this VR Space people became excited over the latest way to Duel.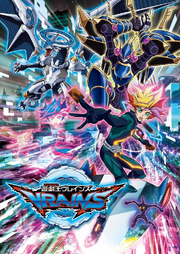 However, in "LINK VRAINS", a mysterious hacker group that hacks via Dueling has appeared: The Knights of Hanoi. Their goal is to destroy the "AI World" known as "Cyberse" that exists somewhere in the depths of the Network.
However, there is one Duelist who stands against the threat to "LINK VRAINS". His name is "Playmaker". He has become famous in the Network World for crushing the "Knights of Hanoi" in fierce Duels, without mentioning his name. But the true identity of "Playmaker" is ordinary high school student "Yusaku Fujiki", who pursues the "Knights of Hanoi" that appear in VRAINS in order to find out the truth of an incident that happened in the past.
Characters
Music
Opening themes
Japanese opening theme 1: With the Wind
Performer: Hiroaki "Tommy" Tominaga
Episodes: 001-???
Ending themes
Japanese ending theme 1: TBA
Performer: TBA
Episodes: 001-???
References
↑ YGOrganization Yu-Gi-Oh! VRAINS staff, cast and music information
↑ "The Organization | [Weekly Jump] Yu-Gi-Oh! VRAINS Revealed!". YGOrganization. February 16, 2017. https://ygorganization.com/sohowisthisnotstandingout/

. Retrieved February 16, 2017

.
↑ "The Organization". YGOrganization. December 17, 2016. https://ygorganization.com/jump-festa-2017-latest-information-stage/

. Retrieved December 17, 2016

.
Manga

Anime

Series
Films
Spin-offs

Storylines

Plot elements
Games
Others
Ad blocker interference detected!
Wikia is a free-to-use site that makes money from advertising. We have a modified experience for viewers using ad blockers

Wikia is not accessible if you've made further modifications. Remove the custom ad blocker rule(s) and the page will load as expected.