Yu-Gi-Oh! VRAINS

Yu-Gi-Oh! VRAINS遊☆戯☆王 VRAINSYū☆Gi☆Ō Vureinzu

Anime series
Original run

April 2017 —
Yu-Gi-Oh! VRAINS[1] is the sixth Yu-Gi-Oh! anime series and the fifth main spin-off series. It will begin airing in Japan in April 2017, following the end of Yu-Gi-Oh! ARC-V. Yu-Gi-Oh! VRAINS will air in Japan starting Wednesdays in April, at 6:25 Japanese Standard Time.
The series will star a new protagonist, Yusaku Fujiki, and takes place in a high-school setting, featuring Virtual Reality Duels in a cyberspace constructed with the latest technology called Link VRAINS. In this new kind of Duel, the players transform and Duel on some form of hoverboards. As with the previous spin-offs, it focuses on (and introduces) a new type of Summoning - this time, Link Summoning.
Story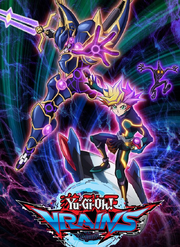 The sixth series focuses on Yusaku Fujiki, a high-schooler and a hacker who doesn't like standing out at school. However, he gets drawn into encounters with people as he tries out Dueling for once. The show's theme is "Take a step forward, and try!", on the premise that kids should start to try things out instead of just giving up at the first try due to being overwhelmed by information.[2]
References
↑ "The Organization | [Weekly Jump] Yu-Gi-Oh! VRAINS Revealed!". YGOrganization. February 16, 2017. https://ygorganization.com/sohowisthisnotstandingout/

. Retrieved February 16, 2017

.
↑ "The Organization". YGOrganization. December 17, 2016. https://ygorganization.com/jump-festa-2017-latest-information-stage/

. Retrieved December 17, 2016

.
Manga

Anime

Series
Films
Spin-offs

Storylines

Plot elements
Games
Others
Ad blocker interference detected!
Wikia is a free-to-use site that makes money from advertising. We have a modified experience for viewers using ad blockers

Wikia is not accessible if you've made further modifications. Remove the custom ad blocker rule(s) and the page will load as expected.