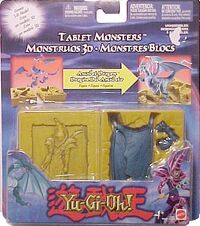 The Yu-Gi-Oh! Tablet Monsters are a series of articulated monster figures that were sold in construction pieces embedded in tablets. Each figure is a Fusion Monster from the Waking the Dragons arc, including "Amulet Dragon", "Tyrant Burst Dragon", "Dark Magician Girl the Dragon Knight", "Lord of the Red", "Mirror Force Dragon" and "Master of Dragon Soldier".
Galleries
Yu-Gi-Oh! Tablet Monsters
Ad blocker interference detected!
Wikia is a free-to-use site that makes money from advertising. We have a modified experience for viewers using ad blockers

Wikia is not accessible if you've made further modifications. Remove the custom ad blocker rule(s) and the page will load as expected.