Yu-Gi-Oh! LABO

遊☆戯☆王 VRAINS 徹底解剖! 遊☆戯☆王 LABO

Anime series
Network

TV Tokyo

Original run

April 5, 2017 — April 26, 2017

No. of episodes

5
This article is a stub. You can help the Yu-Gi-Oh! Wikia by expanding it.
Yu-Gi-Oh! LABO is a talk show and special for Yu-Gi-Oh! VRAINS. The show aired one month before the premiere of VRAINS as a special to promote the show before the premiere. The first episode of the show aired on April 5th, 2017.
Guest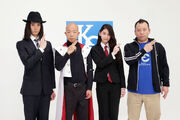 References
Series
Arcs
Duel terms
Technology
Groups
Abilities
Events
Ad blocker interference detected!
Wikia is a free-to-use site that makes money from advertising. We have a modified experience for viewers using ad blockers

Wikia is not accessible if you've made further modifications. Remove the custom ad blocker rule(s) and the page will load as expected.