This article is a stub. You can help the Yu-Gi-Oh! Wikia by expanding it.
TCG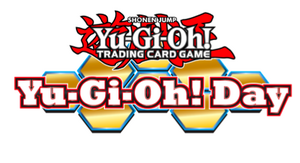 January 25, 2014
July 26, 2014
Japan
Yu-Gi-Oh! Day is celebrated in Japan during the 4th Sunday of each month. The first Yu-Gi-Oh! Day was celebrated on January 27, 2013. Some Duels that can be performed during this day are the following:
"Legendary Magician of Dark", "Legendary Dragon of White", "Creator of Hope", "Winning Formula", "Creator of Miracles", "Card of Last Will", "Grandopolis, The Eternal Golden City" and "E☆HERO Pit Boss" can be used during these Duels.
Gallery
References