The Yu-Gi-Oh! Capsule Monsters Collectible Figure Game is a game released by Mattel, based on the Capsule Monsters game from the Yu-Gi-Oh! Capsule Monsters anime series, which was partly based on Capsule Monster Chess from early issues of the Yu-Gi-Oh! manga.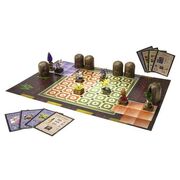 The object of the game is to defeat your opponent's King. The first player to reduce their opponent's King's Hit Points to 0 is the winner. The Game has two different levels, the Basic Game for beginners and the Advanced Game for more experienced players.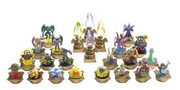 The game was little known and production was apparently discontinued after the release of just a two-player Starter Set and one Booster Pack.
See also
Monsters
Games
Chapters
Episodes
Video games
Other
Related

Yu-Gi-Oh! Capsule Monsters Collectible Figure Game
Ad blocker interference detected!
Wikia is a free-to-use site that makes money from advertising. We have a modified experience for viewers using ad blockers

Wikia is not accessible if you've made further modifications. Remove the custom ad blocker rule(s) and the page will load as expected.