Yu-Gi-Oh! - Episode 224
Page Help

0
68,658pages on
this wiki
Yu-Gi-Oh! - Episode 224

Kanji

光の中へ完結する物語

Rōmaji

Hikari no Naka e Kanketsusuru Monogatari

Japanese translation

The Story which Concludes inside the Light

English

The Final Duel - Part 4

Episode number

224

Japanese air date

September 29, 2004

English air date

June 10, 2006

Music
Japanese opening
English opening
Japanese ending
English ending
Chronology
Episode listing
Yu-Gi-Oh! episode listing (season 5)
Previous
The Final Duel - Part 3
Next
N/A
The Final Duel - Part 4 is the 224th and final episode of the Yu-Gi-Oh! second series anime.
This episode marks the end of the final Duel between Yugi Muto and Pharaoh Atem to determine the Pharaoh's fate.
Major Events
Summary
(NOTE: for steps in the Yami Yugi and Yugi Muto Duel please see the Featured Duel section below)
Yugi's Final Attack
Farewell Pharaoh Atem
In his final move of the Duel, Yugi uses "Silent Magician" to attack Atem directly and wins. Yugi falls to his knees in tears.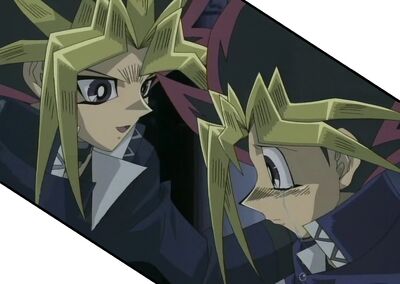 .
The Eye of Wdjat starts shining.
The Eye of Wdjat opens and reveals a door. Yami starts walking towards it.
Everyone: "Pharaoh!"
Téa Gardner: "Don't go!'"
Tristan Taylor: "So that's how it ends huh? Nice! You think you can just go up and change everybody's life and then just leave?"
Everyone starts crying.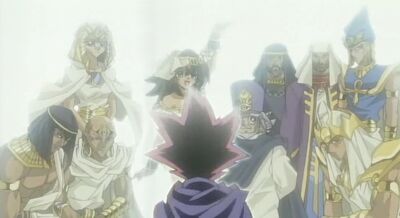 Yami enters the doorway and his clothes change to those of Pharaoh Atem. On the other side of the portal are his family, friends, and Sacred Guardians (left to right: Karim, Shada, Isis, Mana, Shimon, Aknadin, King Aknamkanon, Priest Seto, Mahad). The doorway closes behind him.
Téa Gardner: "He's gone.'"
Yugi Muto: "Well Pharaoh... goodbye."
Suddenly the ground and walls start to crumble. The Millennium Stone disintegrates and the Millennium Items fall down a chasm in the ground. As the group runs to safer ground towards the exit, the spirit of Shadi watches them leave as the walls continue to crumble.
A New Adventure?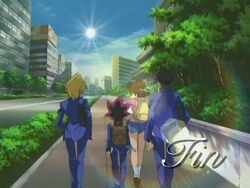 After the credits finish rolling, there is a scene with dialogue:
The scene continues with a Yugi voice-over:
Yugi Muto: (voice-over) "There is something special about a story about a Pharaoh, but everyone has his or her own story. And this is a story that ends in the light. And... my story is just beginning."
Featured Duel: Pharaoh Atem vs. Yugi Muto - Part 4
Duel continues from previous episode.
Turn 20: Yugi Muto

Turn 21: Pharaoh Atem

Turn 22: Yugi Muto

Turn 23: Pharaoh Atem

Turn 24: Yugi Muto

Turn 25: Pharaoh Atem

Atem draws.
"Dark Magician" attacks Yugi directly, but Yugi activates Trap Card "Magician's Circle" which allows both players to Special Summon a Spellcaster-Type monster that has at most 2000 ATK" from their Decks in Attack Position. Yugi Special Summons "Silent Magician LV0" (1000/1000) in Attack Position while Atem Special Summons "Dark Magician Girl" (2000/1700) in Attack Position.

A replay occurs, and Atem uses "Dark Magician" to attack Yugi's "Silent Magician LV0", but Yugi activates Quick-Play Spell Card "Spell Textbook", discarding his entire hand to draw a card and if it's a Spell Card, he can activate its effect immediately. Yugi has no cards at this point, so he just draws 1 card. Yugi draws "Card of Sanctity" and immediately activates it thanks to "Spell Textbook's" effect, forcing both players to draw until they have 6 cards in their hand.

Atem activates Spell Card "Monster Reborn" to Special Summon "Slifer the Sky Dragon"(X000/X000) in Attack Position. Since Atem has four cards in his hand, the ATK and DEF of "Slifer" both become 4000 ("Slifer the Sky Dragon": X000 → 4000/X000 → 4000). Atem intends to attack Yugi's "Silent Magician LV5" with "Slifer the Sky Dragon" right now in order to win the Duel.

The effect of Yugi's "Gold Sarcophagus" activates, revealing the face-down card Yugi selected to Atem. The card is revealed to be "Monster Reborn". Because Atem activated the same card Yugi removed via "Gold Sarcophagus", Atem's "Monster Reborn" is negated, therefore "Slifer the Sky Dragon" goes back to the Graveyard.
(Insert dialogue from Yugi's Final Attack Summary section above)
Turn 26: Yugi Muto

Yugi draws.
"Silent Magician" attacks Atem directly (Pharaoh Atem 200 → 0).
Yugi wins.
Trivia
In the English dub, when Yugi Muto reveals Monster Reborn, a passage in which Ishizu Ishtar says it's a "message to the pharaoh, that the dead doesn't belong in this world"
This is the 2nd episode in which a duelist is clearly playing a deck with more than 40 cards (the first being Yami Yugi in episode 138), because Yugi Muto still had cards left in his deck after it had been thinned by 40 cards.
Featured cards
The following cards appeared in this episode. Cards in italics debuted here.