Yu-Gi-Oh! - Episode 222
Page Help

0
63,805pages on
this wiki
Yu-Gi-Oh! - Episode 222

Kanji

三幻神を倒せ!

Rōmaji

Sangenshin wo Taose!

Japanese translation

Defeat the Three Phantom Gods!

English

The Final Duel - Part 2

Episode number

222

Japanese air date

September 15, 2004

English air date

May 27, 2006

Music
Japanese opening
English opening
Japanese ending
English ending
Chronology
Episode listing
Yu-Gi-Oh! episode listing (season 5)
Previous
The Final Duel - Part 1
Next
The Final Duel - Part 3
Major Events
Edit
(NOTE: for steps in the Yami Yugi and Yugi Muto Duel please see the Featured Duel section below)
A Pep-Talk for Destiny
Edit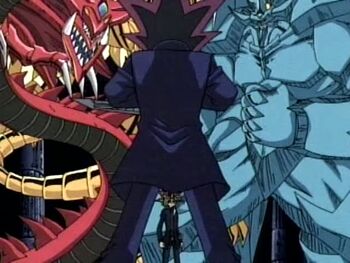 Ishizu's Prediction
Edit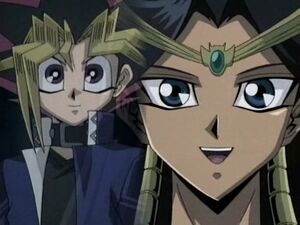 Featured Duel: Pharaoh Atem VS. Yugi Muto - Part 2
Edit
Duel continues from previous episode.

Turn 7: Pharaoh Atem

(Insert dialogue from A Pep-Talk For Destiny Summary Section Above)

Turn 8: Yugi Muto

"Beta the Magnet Warrior" is shown in Yugi's hand.

Turn 9: Pharaoh Atem

Uses "Obelisk the Tormentor" to attack Yugi directly.

Yugi activates the effect of "Mirage Ruler", sending it to the Graveyard in order to Special Summon all of his monsters that were destroyed during this turn's Battle Phase and increasing his Life Points by all the Battle Damage dealt to him. "Silent Swordsman LV4"(3500 ATK / 1000 DEF) and "Valkyrion the Magna Warrior"(3500 ATK / 3850 DEF) are Special Summoned back to the field in Attack Position. Yugi then pays 1000 Life Points as per the last effect of "Mirage Ruler" (Yugi: 900 > 3400 > 2400 Life Points).
Since the number of monsters on Yugi's side of the field changed, a replay is triggered. Atem decides not to attack with "Obelisk the Tormentor".
(Insert dialogue from Ishizu's Prediction Summary section above)

Turn 10: Yugi Muto

Inconsistencies with Previous Episodes
Edit
In this episode:
Featured cards
Edit
The following cards appeared in this episode. Cards in italics debuted here.