Yu-Gi-Oh! - Episode 173
Page Help

0
63,814pages on
this wiki
| | |
| --- | --- |
| | This article may require cleanup to meet this wiki's standards. |
"Fighting for a Friend - Part 5" is the one hundred and seventy-third episode of the Yu-Gi-Oh! second series anime. It first aired in Japan on October 1, 2003 and in the US on April 16, 2005.
Joey continues his Duel with Mai. Meanwhile, Yami, Téa and Tristan try to locate them. Kaiba is still dealing with the hordes of Orichalcos Soldiers using the combined power of both "Blue-Eyes White Dragon" and "Critias. However, not matter how many he blows up, they instantly regenerate.
| | |
| --- | --- |
| | This summary is currently incomplete. |
Mai keeps on Dueling Joey. When she's about to inflict a fatal final blow, she suddenly hesitates and stops her attack. Mai can't figure why she is hesitating as she fully knows that Joey will lose his soul when he loses. Joey, having been exhausted by the previous Duel, collapses and declares Mai the winner. His soul is stolen, but not before he can tear off the Orichalcos fragments Mai held.
Dartz is glad to have finally seized the soul of one of the "Chosen Duelists", but notices something is amiss nevertheless.
Free from Dartz's spell, Mai decides to go challenge him directly: she picks "Hermos" and heads over to Paradius Inc. Home Office. Once in there, she's confronted by someone whom she seems to know.
Both "Timaeus" and "Critias" come out and let out a mourning-like lament: they have obviously noticed the fall of their companion. Kaiba notices Critias's behavior and becomes surprised, although he doesn't realize the meaning of it.
Yami, Téa and Tristan finally stumble upon the soulless bodies of Joey and Valon and are shocked.
Featured Duel: Mai Valentine vs. Joey Wheeler - Part 2
Edit
Duel continues from previous episode.
Turn 6: Joey

Turn 7: Mai

Turn 8: Joey

Turn 9: Mai

Turn 10: Joey

Turn 11: Mai

Turn 12: Joey

Draws a card and subsequently sets it face-down.
Turn 13: Mai

Differences in adaptations
Edit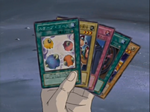 In the previous episode, "Vow of Tribe" and "Dark Dragon Ritual" was shown with a different artwork. For unknown reasons, these cards' artwork were completely changed. The International anime artwork of "Vow of Tribe" and "Dark Dragon Ritual" show the original first artwork.
Featured cards
Edit
The following cards appeared in this episode. Cards in italics debuted here.