Yokai (妖怪 Yōkai) is a Type of Monster Card in the Yu-Gi-Oh! GX manga. They were used by Bastion Misawa and are based on Yōkai creatures from Japanese folklore.
Bastion is the only character to play Yokai-Type monsters, and only in the Yu-Gi-Oh! GX manga. The Yokai's core strategy consists of Special Summoning Yokai from the Graveyard, which triggers their effects. Besides effects that allow the user to Special Summon their Yokai from the Graveyard, Yokai monsters and related cards also often have effects that send monsters to the Graveyard (like "Gozuki"), or that benefit from having Yokai monsters on the Graveyard (like "Enma's Judgment").
When the Yokai-Type monsters were released in the TCG/OCG, they were changed to be Zombie-Type monsters, making Yokai a Type exclusive to the manga.
Example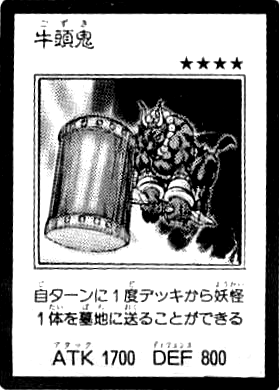 Ad blocker interference detected!
Wikia is a free-to-use site that makes money from advertising. We have a modified experience for viewers using ad blockers

Wikia is not accessible if you've made further modifications. Remove the custom ad blocker rule(s) and the page will load as expected.