Japanese:

XY-ドラゴン・キャノン

Romaji:

Ekkusuwai Doragon Kyanon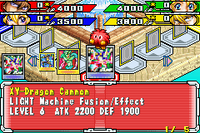 Other languages
Name
Lore
French
Canon Dragon XY
"Tête de Canon X" + "Tête de Dragon Y".
Cette carte ne peut être Invoquée que par Invocation Spéciale excepté en retirant du jeu les cartes ci-dessus depuis votre Terrain; puis vous pouvez faire l'Invocation Spéciale de cette carte depuis votre Deck Fusion (N'utilisez pas la carte "Polymérisation"). Défaussez 1 carte de votre main pour détruire 1 Carte Magie ou Piège face recto sur le Terrain de votre adversaire.
German
XY-Kanonendrache
"X-Kopfkanone" + "Y-Drachenkopf".
Diese Karte kann nicht als Spezialbeschwörung beschworen werden, außer indem du die oben genannten Monster auf deiner Spielfeldseite aus dem Spiel entfernst; dann kannst du diese Karte als Spezialbeschwörung aus deinem Fusionsdeck beschwören. (die Zauberkarte "Polymerisation" wird nicht benötigt). Diese Karte kann nicht als Spezialbeschwörung aus dem Friedhof beschworen werden. Wirf 1 Karte aus deiner Hand ab, um 1 offene Zauber- oder Fallenkarte auf der Spielfeldseite deines Gegners zu zerstören.
Italian
XY-Cannone Drago
"X-Testa Cannone" + "Y-Drago Testa".
Questa carta non può essere Evocata tramite Evocazione Speciale se non rimuovendo dal gioco i mostri sopra riportati sul tuo Terreno (non occorre la Carta Magia "Polimerizzazione"). Questa carta non può essere Evocata tramite Evocazione Speciale dal Cimitero. Scarta 1 carta dalla tua mano per distruggere 1 Carta Magia o Trappola scoperta sul Terreno del tuo avversario.
Spanish
XY-Dragón Cañon
"X-Cabeza Cañon" + "Y-Dragón Cabeza".
Este monstruo no puede ser Invocado mediante una Invocación Especial excepto retirando del juego los monstruos anteriores en tu Campo; entonces puedes Invocar mediante una Invocación Especial este monstruo de tu Deck de Fusión.(no necesitas la Carta Mágica "Polimerización"). Esta carta no puede ser Invocada mediante una Invocación Especial del Cementerio. Descarta 1 carta de tu mano para destruir 1 Carta Mágica o de Trampa boca arriba en el Campo de tu adversario.
Decks
Search categories
Ad blocker interference detected!
Wikia is a free-to-use site that makes money from advertising. We have a modified experience for viewers using ad blockers

Wikia is not accessible if you've made further modifications. Remove the custom ad blocker rule(s) and the page will load as expected.