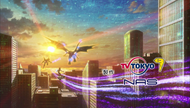 "Writing Life" is the second Japanese ending theme of the Yu-Gi-Oh! VRAINS anime, performed by Goodbye holiday. It replaces Believe In Magic in episode 25.
Lyrics (TV Size)
忌み嫌われた 下手な落書き人生に
君は瞳揺らした 「一人じゃないんだ」って
生きていて良かったな 本当に良かった
言葉に出来ないこと 言葉にしてきたよ
何度も押し潰した悲しみにも
強さのカケラはあった
誰にも奪えない 未来への光
ほんの数行の命の遠征記にとって
出会いも 残る後悔も 全てが群青色のダイヤ
いつだって一人で孤独と向き合う君と
今なら笑い合える きっと永遠に
ライティングライフ 目に見えない絆で
Imikirawareta heta na rakugaki jinsei ni
Kimi wa hitomi yurashita "hitori ja nai n da" tte
Ikite ite yokatta na hontō ni yokatta
Kotoba ni dekinai koto kotoba ni shite kita yo
Nando mo oshitsubushita kanashimi ni mo
Tsuyosa no KAKERA wa atta
Dare ni mo ubaenai mirai e no hikari
Hon no sūgyō no inochi no enseiki ni totte
Deai mo nokoru kōkai mo subete ga gunjō-iro no DAIYA
Itsudatte hitori de kodoku to mukiau kimi to
Ima nara waraiaeru kitto towa ni
RAITINGU RAIFU me ni mienai kizuna de
My life is like detestably bad graffiti
But when you looked at me, I felt I wasn't alone
I'm glad that I'm alive, I truly am
What I couldn't say before, I can say now
Within the sadness that I kept holding down
There were fragments of power
No one can take away my light to the future
The chronicles of life only has a few lines
People I meet, my regrets - they're all like ultramarine diamonds to me
You've always confront loneliness by yourself
I bet we can now laugh together, forever and ever
Writing Life with our invisible bond
Characters
Duel Monsters
Video
Trivia
In the tunnel, "Synchro" can been seen on the wall as graffiti, referencing 5D's. Above it, it says "Shining Draw", referencing ZEXAL.