Japanese:

ワイズマン

Romaji:

Waizuman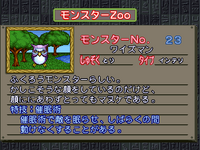 Monster Number

23

Group

Bird

Type

Smart

Owl monster.

Despite its respectable face,

its stupidity can vary through a wide range.

Special Ability: Hypnosis

Puts the enemy to asleep; for a while, it will not
be able to move.
Japanese:

ワイズマン

Romaji:

Waizuman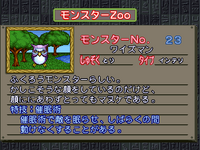 モンスターNo.

23

しゅぞく

とり Tori

タイプ

インテリ Interi

ふくろうモンスターらしい。

かしこそうな顔をしているのだけど、

顔ににあわずとってもマヌケである。

特技: 催眠術

催眠術で敵を眠らせ、しばらくの間
動けなくすることがある。
Ad blocker interference detected!
Wikia is a free-to-use site that makes money from advertising. We have a modified experience for viewers using ad blockers

Wikia is not accessible if you've made further modifications. Remove the custom ad blocker rule(s) and the page will load as expected.