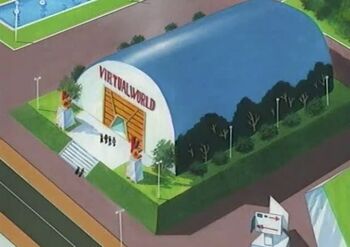 Virtual World Facility is somewhere located in Kaiba Land. It also called an imaginary world, a computer-generated alternate world.
The place was dangerous, as people who have entered that world, have never come back. This was the place where Jaden and Aster have to go, in order to confront Sarina. It was also the place, where Syrus and Hassleberry were held captive.
This article is a stub. You can help the Yu-Gi-Oh! Wikia by expanding it.
Ad blocker interference detected!
Wikia is a free-to-use site that makes money from advertising. We have a modified experience for viewers using ad blockers

Wikia is not accessible if you've made further modifications. Remove the custom ad blocker rule(s) and the page will load as expected.