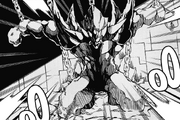 The Ultimate God (究極神, Kyūkyoku-shin) is a being in the Yu-Gi-Oh! 5D's manga. Both the Skeleton Knight and Rex Goodwin's true plans involve ressurecting and controlling this being.[1]
The Ultimate God is located at the bottom of the Sky Fortress Seibal, and is sleeping since ancient times. In the past, rituals were conducted between Duel Priests, in order to combat and seal this being, who people feared. It is said that may a Duel Priestess lose the ritual Duel, the Ultimate God shall awaken.[2]
Rex Goodwin and the Skeleton Knight use Sect Ijuin and Akiza Izinski as the Duel Priests in the present to conduce a ritual Duel once more in an attempt to revive the Ultimate God. For that purpose, Goodwin always planned on Akiza's defeat.[2]
References
Edit
↑ Yu-Gi-Oh! 5D's Ride 34: "Resolve...!!"
↑ 2.0 2.1 Yu-Gi-Oh! 5D's Ride 40: "Ritual of the Sun and Moon!!"
Main
Supporting
Minor