Japanese:

本田ヒロト

Kana:

ほんだヒロト

Romaji:

Honda Hiroto

Translated: Hiroto Honda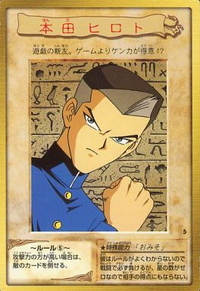 Card type
Lore

Yugi

's close friend. Specialized in fighting more than in games?!

Ability

Beginner

Since he does not know the rules, he is always defeated in battle. But since his number of stars is zero, he won't score any points for your opponent.

Rule

~Rule ➄~

If your monster's ATK is higher, your opponent's monster is destroyed.
Japanese:

本田ヒロト

Kana:

ほんだヒロト

Romaji:

Honda Hiroto

Translated: Hiroto Honda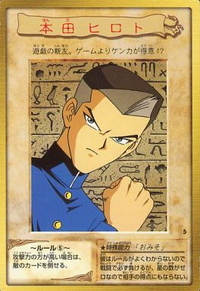 Sets