Treeborn Frog

Corresponding card
Names
English

Treeborn Frog

Japanese

黄泉ガエル

Appearances
Video game debut
Personal
Gender
Deck
WC 2007
Treeborn Frog is a character version of the card "Treeborn Frog". It appears briefly in one of the Duel Monsters Spirit World dimensions, attacking a group of Garuda the Wind Spirits that had been harassing weaker monsters.[1]
Non-canon appearances
Treeborn Frog appears in the video gameYu-Gi-Oh! World Championship 2007 as a Level Two Theme Duelist. Tt challenges the player to Special Summon 10 or more times from the Graveyard during a Duel. By beating it, the player gets closer to unlocking Level Three Theme Duelists and a new Booster Pack.
Deck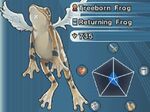 In World Championship 2007, Treeborn Frog plays a revival Deck titled "Returning Frog".
References
↑ Yu-Gi-Oh! GX episode 132: "A New World Order"
Duel Opponent

Level 1
Level 2
Level 3
Level 4
Level 5
Level 6

Limited Duel Opponent

Level 1
Level 2
Level 3
Level 4
Level 5
Level 6

Theme Duel Opponent

Level 1
Level 2
Level 3
Level 4
Level 5
Level 6

Ghost Duelists

Nightmare Troubadour
Spirit Caller
Download
Misc. Download
Survival Mode

Recipe Duel Opponent
Duel Puzzles Opponent
Tutorial Opponent