Japanese:

ドクラー

Romaji:

Dokurā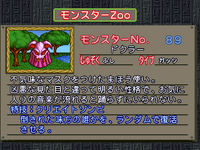 Monster Number

89

Group

Undead

Type

Gutsy

A wizard who wears a creepy mask.

Despite his dreadful appearance, he's actually got a sunny personality.

Whenever music plays, he can't help but dance.

Special Ability: Create Zombie

He randomly revives one of his slain allies.
Japanese:

ドクラー

Romaji:

Dokurā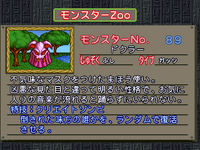 モンスターNo.

89

しゅぞく

ふし Fushi

タイプ

ガッシ Gasshi

不気味なマスクをつけたまほう使い。

凶悪な見た目と違って明るい性格で、お気に

入りの音楽が流れると踊らずにいられない。

特技: クリエイトゾンビ

倒された味方の誰かを、ランダムで復活
させる。
Manga and anime
Ad blocker interference detected!
Wikia is a free-to-use site that makes money from advertising. We have a modified experience for viewers using ad blockers

Wikia is not accessible if you've made further modifications. Remove the custom ad blocker rule(s) and the page will load as expected.