Ad blocker interference detected!
Wikia is a free-to-use site that makes money from advertising. We have a modified experience for viewers using ad blockers

Wikia is not accessible if you've made further modifications. Remove the custom ad blocker rule(s) and the page will load as expected.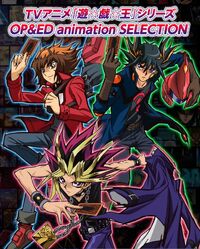 TV Size Yu-Gi-Oh! series OP&ED animation SELECTION (TVアニメ「遊☆戯☆王」シリーズ OP&ED animation SELECTION) is a special DVD containing the opening and ending animations for the Yu-Gi-Oh! Duel Monsters, Yu-Gi-Oh! GX and Yu-Gi-Oh! 5D's anime series. It also comes with a special Playmat.
Information
Release Date: February 15, 2012
Disks: 1
Format: DVD
Running Time: 42 minutes
Contents
Yu-Gi-Oh! Duel Monsters
OP
ED
Yu-Gi-Oh! GX
OP
ED
Yu-Gi-Oh! 5D's
OP
ED
References