Japanese:

真崎杏子

Kana:

まざきあんず

Romaji:

Mazaki Anzu

Translated: Anzu Mazaki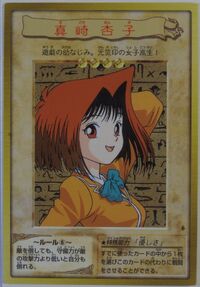 Card type
Level
Lore

Yugi

's childhood friend. The classic vigorous high school student!

Ability

Kindness

You can choose 1 of your cards that has been already used so that it battles instead of this card.

Rule

~Rule ➅~

Even if you destroy the opponent's monster, if the DEF of your monster is lower than the ATK of your opponent's monster, your monster is also destroyed.
Sets
Ad blocker interference detected!
Wikia is a free-to-use site that makes money from advertising. We have a modified experience for viewers using ad blockers

Wikia is not accessible if you've made further modifications. Remove the custom ad blocker rule(s) and the page will load as expected.