Syrus Truesdale, known as Sho Marufuji (丸藤翔, Marufuji Shō) in the Japanese version, is a character in the Yu-Gi-Oh! GX manga.
Biography
Syrus is a much better Duelist than his anime counterpart, although he is hampered by his desire to not cause pain to his opponents. In the past, he had forfeited a Duel when his friend was in tears, despite victory being in his hands, prompting his brother to consider him too kind to be a Duelist. In the English adaptation, Syrus refers to Jaden Yuki as "bro" which is a play off what his use of the term "aniki" in the Japanese. Jaden questions why Syrus does despite them not being brothers, and Syrus responds that Jaden reminds him of when his real brother taught him do.
This version of Syrus considers this brother's lack of regard for his abilities as something to overcome, rather than proof of his inferiority. He is determined to be acknowledged as a good Duelist. He ends up having to face Jaden in a Duel in order to stay at the academy, and despite losing, the entire thing was revealed to be a mix-up. It was thought that Syrus had gotten a zero on a test, but it was actually Jaden that had failed. Syrus participates in the tournament to determine who will earn the right to face his brother, and he loses to David Rabb in the preliminaries. Despite this, he makes it to the to eight, but is defeated there by Chazz Princeton, who originally considered Syrus to be weak. Chazz ultimately wins the tournament, and later finds himself paired with Syrus against James Crocodile Cook and Axel Brodie in a Tag-Team Duel. Syrus wins them the Duel, and he earns Chazz's respect in the process, with Chazz acknowledging Syrus as another rival he'll need to overcome.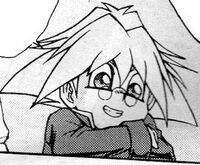 Syrus would be matched against Jesse Anderson in the singles matches for the tournament. He gains an early lead, but Jesse defeats him with "The Tripper Mercury" after being briefly possessed by Tragoedia. He witnesses Jaden and Chazz defeat Tragoedia, and watches Jaden's match against Koyo Hibiki years later.
Deck
Syrus plays a Vehicroid Deck, focusing on bringing out various powerful monsters such as "Armoroid", "Barbaroid, the Ultimate Battle Machine" and "Solidroid γ", while using swarming and stalling tactics.
Image
Information
Armoroid | Armoroid Gaidengo (アーマロイドガイデンゴー Āmaroido Gaidengō)

Level

8 ★★★★★★★★

ATK

0

0

0

0

2700

DEF

0

0

0

0

2000

Carrierroid | Navyroid (ネイビィロイド Neibyiroido)

Level

4 ★★★★

ATK

0

0

0

0

1000

DEF

0

0

0

0

0

800

Dreiroid (ドライ・ロイド Dorai Roido)

Level

3 ★★★

ATK

DEF

Einroid (アイン・ロイド Ain Roido)

Level

1 ★

ATK

0

0

0

0

0

200

DEF

0

0

0

0

1800

Fünfroid (フュン・ロイド Fyun Roido)

Level

5 ★★★★★

ATK

DEF

Gyroid (ジャイロイド Jairoido)

Level

3 ★★★

ATK

0

0

0

0

1000

DEF

0

0

0

0

1000

Heliroid (ヘリロイド Heriroido)

Level

4 ★★★★

ATK

0

0

0

0

1500

DEF

0

0

0

0

1300

Launcher Roid (ランチャーロイド Ranchāroido)

Level

3 ★★★

ATK

0

0

0

0

0

500

DEF

0

0

0

0

1500

Missile Roid | Missileroid (ミサイルロイド Misairuroido)

Level

4 ★★★★

ATK

0

0

0

0

1000

DEF

0

0

0

0

0

200

Satelliteroid (サテライト・ロイド Sateraito Roido)

Level

5 ★★★★★

ATK

0

0

0

0

2100

DEF

0

0

0

0

1800

Shovelroid (ショベル・ロイド Shoberu Roido)

Level

3 ★★★

ATK

0

0

0

0

1000

DEF

0

0

0

0

1500

Shuttleroid (シャトルロイド Shatoruroido)

Level

4 ★★★★

ATK

0

0

0

0

1000

DEF

0

0

0

0

1200

Stealthroid (ステルスロイド Suterusuroido)

Level

4 ★★★★

ATK

0

0

0

0

0

400

DEF

0

0

0

0

2000

Strikeroid (ストライクロイド Sutoraikuroido)

Level

4 ★★★★

ATK

0

0

0

0

1600

DEF

0

0

0

0

0

400

Tankroid (タンクロイド Tankuroido)

Level

4 ★★★★

ATK

0

0

0

0

1500

DEF

0

0

0

0

1900

Tankroid (タンクロイド Tankuroido)

Level

4 ★★★★

ATK

0

0

0

0

1500

DEF

0

0

0

0

1900

Turboroid (ターボロイド Tāboroido)

Level

4 ★★★★

ATK

0

0

0

0

1400

DEF

0

0

0

0

1800

Vierroid (フィア・ロイド Fia Roido)

Level

4 ★★★★

ATK

DEF

Zweiroid (ツバァイ・ロイド Tsubāi Roido)

Level

2 ★★

ATK

0

0

0

0

0

700

DEF

0

0

0

0

1000

Barbaroid, the Ultimate Battle Machine | Valbaroid, the Ultimate Battle Machine King (極戦機王ヴァルバロイド Kyokusenkiō Varubaroido)

Level

12 ★★★★★★★★★★★★

ATK

0

0

0

0

4000

DEF

0

0

0

0

4000

Solidroid α (ソリッドロイドα Soriddoroido Arufa)

Level

7 ★★★★★★★

ATK

0

0

0

0

2600

DEF

0

0

0

0

1800

Solidroid β (ソリッドロイドβ Soriddoroido Bēta)

Level

7 ★★★★★★★

ATK

0

0

0

0

2500

DEF

0

0

0

0

1900

Solidroid γ (ソリッドロイドγ Soriddoroido Ganma)

Level

7 ★★★★★★★

ATK

0

0

0

0

2700

DEF

0

0

0

0

2000

Dimension Fusion (次元融合 Jigen Yūgō)

Card type

Spell Card

Escape (脱出 Dasshutsu)

Card type

Spell Card

March of the Roids | March of Roid (マーチ・オブ・ロイド Māchi obu Roido)

Card type

Spell Card

Negate Attack | Attack Nullification (攻撃の無力化 Kōgeki no Muryokuka)

Card type

Spell Card

Old Model to the Frontline (旧型出陣 Kyūgata Shutsujin)

Card type

Spell Card

Stop Defense | "Defense" Sealing (『守備』封じ "Shubi" Fūji)

Card type

Spell Card

Support Mission (援軍出撃 Engun Shutsugeki)

Card type

Spell Card

Transformation (変身 Henshin)

Card type

Spell Card

Tune Up (チューンナップ Chūnnappu)

Card type

Spell Card

Ultimate Machine Union (超機合体 Chōkigattai)

Card type

Spell Card

Loaner Delivery (代車納入 Daisha Nōnyū)

Card type

Trap Card

Mechanic's Soul (メカニック魂 Mekanikku Damashī)

Card type

Trap Card

Return Ticket | Spare Car (スペアカー Supea Kā)

Card type

Trap Card

Roid Reinforcements | Roid Supplies (ロイド納入 Roido Nōnyū)

Card type

Trap Card

Trap Hole | Pitfall (落とし穴 Otoshiana)

Card type

Trap Card
Duels
References