Japanese:

スウィータ

Romaji:

Suwīta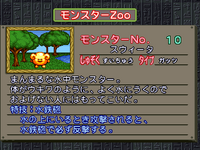 Monster Number

10

Group

Underwater

Type

Gutsy

A perfectly round underwater monster.

Because it has a body like a swimming ring,

it is quite useful to those who can't swim because it floats on water.

Special Ability: Water Gun

When it is attacked on the water,
it always counters with a water gun.
Japanese:

スウィータ

Romaji:

Suwīta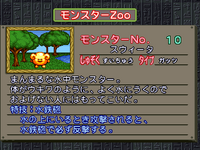 モンスターNo.

10

しゅぞく

すいちゅう Suichū

タイプ

ガッシ Gasshi

まんまるな水中モンスター。

体がウキワのように、よく水にうくので

およげない人にはもってこいだ。

特技: 水鉄砲

水の上にいるとき攻撃されると、
水鉄砲で必ず反撃する。