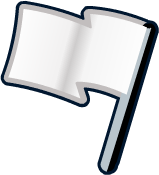 Surrendering, informally known as "scooping", refers to a player giving up or forfeiting a Duel to their opponent.
In the TCG a player can surrender the Duel at any time. The opponent must accept the surrender regardless of conditions (such as the opponent having a face-up "Victory Dragon").
If a player forfeits the Duel (not the Match) when facing an opponent's "Victory Dragon", it is possible for the opponent to call the player on unsporting behavior. It is up to the Head Judge whether to then charge the player.
In the OCG, the opponent may surrender the Duel at any time, but the opponent has the option to not accept the surrender. If the opponent does not accept the forfeit, you may then offer to forfeit the Match.
In the anime, a player surrenders by placing their hand over their Deck. However, in the Battle City arc, the player surrenders the Duel by placing their hand over their Duel Disk, as was the case with Marik. This is not accepted in real-life Duels, the player must make a vocal declaration that they are conceding the Duel.
In most of the recent Yu-Gi-Oh! video games, you can only surrender the Duel after ten turns have passed. The game will not allow you to surrender beforehand.