Ad blocker interference detected!
Wikia is a free-to-use site that makes money from advertising. We have a modified experience for viewers using ad blockers

Wikia is not accessible if you've made further modifications. Remove the custom ad blocker rule(s) and the page will load as expected.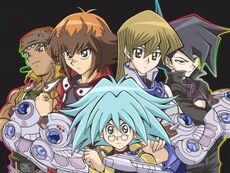 "Sun" (Taiyou), is the third Japanese ending theme to Yu-Gi-Oh! GX. The song is sung by a Japanese group called Bite the Lung. It debuted in Japan on October 11, 2006. It is followed by "Endless Dream".
Characters
Version One
Version Two
Featured cards
In both versions, Tyranno Hassleberry, Syrus Truesdale, Chazz Princeton and Alexis Rhodes are shown spreading out cards from their Decks on a table.

While Jaden Yuki is standing, his cards are shown in the background, including those from previous seasons.

Each character is shown drawing or holding a card.
Lyrics
Romaji
rashinban no nai funanotta boku no jishin ni tayoritakatta
dareka to kurabete isogu tabi wa darenimo meiwaku kakenakatta
Kaze ni fukare BARANSU kusuzu aranami ni nomare umi ni ochiru
kurushii!... kasuka ni mieta taiyou
mugamuchuu de oikaketanda

furishibore jibun no inochi kokyuu awasete mugen no chikara
kare ga boku wo terasu kara mae ni susumenda
hora ikiattari battari ja naku kibishiki kidou
hazusazu susume
kare wa sekaijuu terashite ima ikiteru

rashinban no te ni ireta kara jishin wa kakushin ni natteiku
kinou no jibun makenai jibun darenimo makenai jibun ni naru
yowasa kowasa yakitsukusu honoo okubyou na kimi wa UZA ito iu
mabushi sugite me wo sorasu kara fuan futeifuman wo GECHI runda

furishibore jibun no inochi kokyuu awasete mugen no chikara
boku mo kimi terasu kara mae ni susumunda
hora ikiattari battari ja naku
tsumaranakute mo futekusarenaide
kare mo sekaijuu terashi)(te tomo ni ikiteru

itsu no jidai mo mirai eienou hitori hitori no tame furisosogu
sore wo kimi ni tsutaenakucha kizuite nai kara tsutaenakucha
gokai henken hibou chuushou chiisai koto dayo warai tobase
rikai! Ketusi!... Yoru ga akeru yagate kao dashi noboru taiyou
noboru taiyou

furishibore jibun no inochi kokyuu awasete mugen no chikara
kare ga boku wo terasu kara mae ni susumenda
hora ikiattari battari ja naku kibishiki kidou
hazusazu susume
kare wa sekaijuu terashi te ima ikiteru

furishibore jibun no inochi kokyuu awasete mugen no chikara
boku mo kimi terasu kara mae ni susumunda
hora ikiattari battari ja naku
tsumaranakute mo futekusarenaide
kare mo sekaijuu terashi te tomo ni ikiteru