Japanese:

速攻のブラック・ニンジャ

Kana:

そっこうのブラック・ニンジャ

Romaji:

Sokkō no Burakku Ninja

Translated: Swift Black Ninja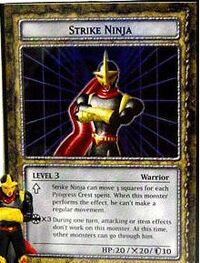 Tribe
Level

3

HP / ATK / DEF

20 / 20 / 10

Strike Ninja can move 3 squares for each

Progress Crest

spent. When this monster performs the effect, he can't make a regular movement.
Sets
Ad blocker interference detected!
Wikia is a free-to-use site that makes money from advertising. We have a modified experience for viewers using ad blockers

Wikia is not accessible if you've made further modifications. Remove the custom ad blocker rule(s) and the page will load as expected.