Spiria
English name

Japanese name
Japanese
Rōmaji

Other language names
German
Spanish

Gender
Anime debut

Yu-Gi-Oh! episode 202: "The Intruder - Part 1"

Spiria
Spiria (スピリア Supiria) is a spirit ka in the Yu-Gi-Oh! anime.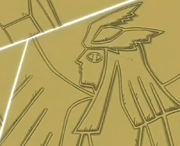 Spiria was a ka used by Isis. She had the ability to project a forcefield.
Other appearances
This article is a stub. You can help the Yu-Gi-Oh! Wikia by expanding it.