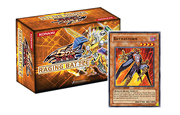 A Sneak Peek, also known as a Sneak Preview, is an event that takes place with the release of a new Yu-Gi-Oh! Trading Card Game Booster Pack.
Cards are available at Sneak Peeks before they are sold in shops. At each Sneak Peek there is one promotional card which is given to each participant. Each participant is also given five Booster Packs for 20 dollars that are being released.
Players are encouraged to make Decks of 20 (or more) cards using the cards they were given and face other people using it. They are given a scorecard to record their results. A scorecard with 5 duels marked on it can be traded in for a sixth pack.
Aside from the competition and distributed cards, people often attend to trade and discuss the game with other players.
Logos
Posters
See also