| | |
| --- | --- |
| | This is not a content page. It is only in the mainspace for testing purposes. |
The Arabic, Albanian, Bulgarian, Croatian, Czech, Dutch, Estonian, Irish, Greek, Polish, Swedish and Thai names given are not official.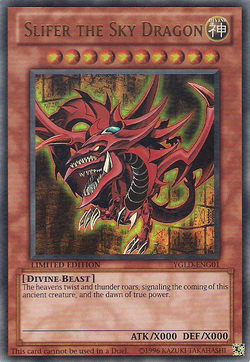 DIVINE

Full card type

This card cannot be used in a Duel.
Names and lores:
Name
Slifer, le Dragon Céleste
Lore
Les cieux se déchirent et le tonnerre gronde, annonçant la venue de cette ancienne créature, et l'aube du vrai pouvoir.
Name
Slifer der Himmelsdrache
Lore
Der Himmel erzittert und Donner hallt, um die Ankunft dieser uralten Kreatur und den Anbruch wahrer Macht zu verkünden.
Name
Slifer il Drago del Cielo
Lore
Il cielo si contorce e il tuono ruggisce, segnalando l'arrivo di questa creatura antica, e l'alba del vero potere.
Name
Slifer, o Dragão Celeste
Lore
Os céus se turvam e os trovões rugem, anunciando a vinda desta criatura antiga, e a alvorada do verdadeiro poder.
Name
Slifer el Dragón del Cielo
Lore
Los cielos se estremecen y los truenos rugen, señalando la llegada de esta criatura antigua y el amanecer del verdadero poder.
Name
オシリスの天空竜
Kana
オシリスのてんくうりゅう
Base
オシリスの天空竜
Romanization
Oshirisu no Tenkūryū
Translated
Celestial Dragon of Osiris
Lore
天空に雷鳴轟く混沌の時、連なる鎖の中に古の魔導書を束ね、その力無限の限りを誇らん。
Name
오시리스의 천공룡
Lore
천공에 천둥이 울리는 혼돈의 시기. 쇠사슬 속에 고대의 마도서를 하나로 묶으니, 그 힘은 무한의 한계를 자랑할지어다.
Search categories
Ad blocker interference detected!
Wikia is a free-to-use site that makes money from advertising. We have a modified experience for viewers using ad blockers

Wikia is not accessible if you've made further modifications. Remove the custom ad blocker rule(s) and the page will load as expected.