Ad blocker interference detected!
Wikia is a free-to-use site that makes money from advertising. We have a modified experience for viewers using ad blockers

Wikia is not accessible if you've made further modifications. Remove the custom ad blocker rule(s) and the page will load as expected.
The Shonen Jump Championship Nashville 2010 was a Shonen Jump Championship which was held on February 27th and 28th, 2010 in Nashville, Tennessee.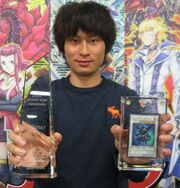 Overview
Close to about 1000 people participated in the tournament.
Satoshi Kato won the Shonen Jump with Zombie/Lightsworn against Adric High, who was also running Zombie/Lightsworn.
Details
Tournament type: Shonen Jump Championship
Location: Nashville, Tennessee
Date: February 27-28, 2010
Prize card: Dark End Dragon
Winner: Satoshi Kato
Dec 2004–Jul 2005
Aug 2005–Apr 2006
May–Dec 2006
Jan–Jul 2007
Aug 2007–Feb 2008
Mar 2008–Jan 2009
Apr 2009–Apr 2010