Seaside Muramoto
Page Help

0
63,767pages on
this wiki
Seaside Muramoto

Names
English

Maki

Japanese

シーサイド村本

English 

(Asia)

Seaside Muramoto

Appearances
Video game debut
Personal
Gender
Deck
Tag Force 5
Seaside Muramoto is a character appearing in the Yu-Gi-Oh! 5D's Tag Force games.
In the English version, her name is changed to Maki, who is a character from the previous Tag Force games, known as Maki Kirioka in the Japanese version.
Appearances
Edit
Tag Force 4
Edit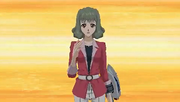 In the first event of Tetsu Trudge's story, she duels against the Player and Trudge with Misty Tredwell. She is a fashion designer who designed Misty's dress and admires Trudge.
Tag Force 5
Edit
Her appearance has changed a great deal in Tag Force 5.
In Yu-Gi-Oh! 5D's Tag Force 5, Seaside uses a WATER Deck called "Ending Girls Marine Look" (ガチ・マリンルック, Gachi Marinrukku).