Sadie

Names
English

Sadie

Japanese

セイコ

Rōmaji

Seiko

English 

(Asia)

Seiko

Appearances
Anime debut

Yu-Gi-Oh! GX Episode 4: "Raring To Go"

Video game debut
Personal
Gender
Loyalty
Affiliation
Occupation

Card shop clerk

Deck
Tag Force
Tag Force 2

Starting to Duel
Learning to Duel
A New Duelist

Voice actors
Japanese
Sadie, known in Japan as Seiko, is a young lady who works in Ms. Dorothy's card shop. Her personality is generally cheerful and unassuming. Her name is never given in the English version of the anime, but she is named in the video games. The Japanese credits of episode 4 do name her. She claims to have little knowledge of how to Duel, but can be faced as a opponent in the GX Tag Force series, in which she is usually a tough opponent.
Biography
Edit
Sadie works at Duel Academy's card shop alongside Ms. Dorothy. She is pulled into alternate dimension with the rest of Duel Academy. She and Dorothy take responsibility for rationing the food during the ordeal.
Non-canon appearances
Edit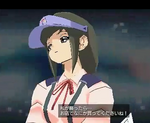 In Yu-Gi-Oh! GX Tag Force the player must beat the game with at least five different Tier 1 characters, before they can duel Sadie. Playing through Story Mode in Tag Force, Tag Force 2 and Tag Force 3 with Sadie as your partner unlocks the Booster Pack containing the majority of the most powerful burn cards, matching her playing style.
Tag Force
Edit
In Yu-Gi-Oh! GX Tag Force, Sadie plays an aggressive Burn Deck called The Duel Has Begun!, focusing on dealing damage through cards such as "Solar Flare Dragon" and "Stealth Bird", while stalling with cards such as "Gravity Bind" and maintaining field control with "Swarm of Scarabs" and "Swarm of Locusts"
Tag Force 2
Edit
In Yu-Gi-Oh! GX Tag Force 2, Sadie runs three Decks similar to the one she runs in the first game, with a bit more emphasis on Spell and Trap negation and destruction.
Tag Force 3
Edit
Protagonists
Supporting
Main antagonists
Minor antagonists
Other