Summer

Names
English

Summer

Japanese

サチ

English 

(Asia)

Saichi

Alternate names

Friend B

Appearances
Anime debut

Yu-Gi-Oh! ZEXAL Episode 5: "Flipping Out, Part 1"

Personal
Gender
Voice actors
English
Summer, known as Saichi in the Japanese version, is a recurring character from Yu-Gi-Oh! ZEXAL and is often seen hanging around with Tori Meadows and Jen.
Biography
Edit
World Duel Carnival
Edit
During Yuma Tsukumo's duel with Striker, a hologram of Summer and Jen as cheerleaders appeared beside Tori via the effect of the "Stadium of Dreams" Field Spell Card. They later disappeared after Yuma defeated Striker.[1]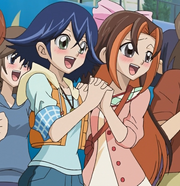 On the third morning of the World Duel Carnival, Summer was watching Nelson Andrews' duel with Nistro. When ever Nelson was in trouble, she screamed, but was overjoyed when he came out on top. However, she was ultimately shocked when Nelson lost. When he left the area, she followed with joy in her eyes alongside the rest of his fan girls.[2]
She, along with Jen, is also a boy crazy fan of Shark. When having to decide if she favors Shark or Quattro more, she sides with the former. Despite this, she instead cheered for Yuma when he was Dueling Shark.[3]
When she, Jen and Tori saw Caswell and the Disciplinary School squad, they began to scream when he threw cards at them and told them that their skirts were against the school's dress code. They threw their shoes at him, while saying that the skirts are part of the school's uniform.[4]
Non-canon appearances
Edit
In Aim For Number 1 in the World!, she is seen doing gymnastics.
References
Edit
Main
Supporting
Minor
This article is a stub. You can help the Yu-Gi-Oh! Wikia by expanding it.