Ad blocker interference detected!
Wikia is a free-to-use site that makes money from advertising. We have a modified experience for viewers using ad blockers

Wikia is not accessible if you've made further modifications. Remove the custom ad blocker rule(s) and the page will load as expected.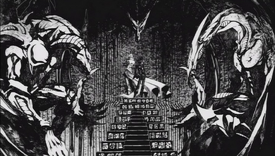 START
was the Japanese closing theme to
Yu-Gi-Oh! 5D's
for episodes
1
-
26
. It was replaced in
episode 27
by
CROSS GAME
. The beginning instrumental is very similar to
OVERLAP
by Kimeru.
It is performed by Nakagauchi Masataka and has been released on the CD START / Sun will shine away
Recording Credits
Performed by: Nakagauchi Masataka (中河内雅貴)
Lyrics by: Kosaka Naomi (こさかなおみ)
Composed by: Ueda Kōji (上田晃司)
Arranged by: Masubuchi Azuma (中河内雅貴)
Record Label: Marvelous Entertainment(マーベラスエンターテイメント)
Characters
Duel Monsters
Featured cards
Lyrics (TV Size)
Nani wo tsukameru no ka? Nani ga dekiru no ka?
Fumidasu bokura de mitsukeru kitto
Tomerarenai kimochi atsui mune no kodou

Shinjitsu no koe ga kikoetanda
Kizutsuiteshitta yo
Tsuyoku nareru basho wo
Tenohira no yume kasane

Itsuka kimi ni tsunageyou
Sutaato no aizu sakebe kokoro motomeru mama
Kyuukutsu de hanpa na nichijou wa tobikoeteyaru
Dasshu shite kagayaku mi ai zenbu te ni ireru sa
Shinjiteru kizuna wo idaite kakateyuku ashita he

What are you grasping for?
What good will it do you?
We're moving forward and we'll make sure to discover what

Never-ending sentiments
the passionate beats of our hearts
and the voice of truth are all what we heard

We got busted up and we learned
of where we can get stronger
I'll search through the dreams in my hand
and one day I'll lead them all to you

Shouting the signal for the START
we'll do what our hearts want
and vault over our cramped
and mediocre lives

We'll make a DASH
and attain every bit of our brilliant futures
Embracing the bonds we so believe in
we'll race toward tomorrow