Ryoga Kamishiro (manga)
Page Help

0
63,631pages on
this wiki
Ryoga Kamishiro

Names
English

Ryoga Kamishiro

Japanese

神代凌牙

Rōmaji

Kamishiro Ryōga

Nicknames

Shark

Appearances
Manga debut
Personal
Age

14

Gender
Loyalty
Occupation
Deck
Manga
Ryoga Kamishiro, nicknamed "Shark", is one of the main characters in the Yu-Gi-Oh! ZEXAL manga and is one of Yuma Tsukumo's rivals.[1]
Appearance
Edit

Shark has dark blue eyes, pale skin and dark purple hair, which resembles tentacles hanging down, referencing his
Deck
theme of aquatic creatures. His accessories include a grey, shark tooth-shaped pendant, and two grey rings on his right hand. He also owns a grey and green
Duel Gazer
with a red lens and a yellow spike. He also wears a large red jeweled, yellow pendant that resembles a
Barian Emblem
. His attire includes a dark purple jacket over a black shirt and dark pants with white, green-gems shoes. When in his school attire, he wears a white shirt with green-lined sleeves, tie and a collar.
Personality
Edit
Ryoga has been shown to be extremely cruel, shown when he snatched Tetsuo's Deck and then snapped Yuma's pendant just to show Yuma that he was powerless.[1] Despite this, he is shown to keep his word as he gave Yuma Bronk's Deck after he was defeated.[2]
Biography
Edit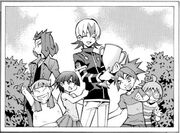 Shark is an orphan, and was raised in an institute, together with
Kyoji Yagumo
. He and Kyoji were like light and shadow there, but they weren't on bad terms.
Once, both he and Kyoji entered a national tournament. There, Kyoji wanted to steal the Deck of the person who was most likely to win the tournament, but failed, and Shark took the blame for it.[3]
Yu-Gi-Oh! ZEXAL
Edit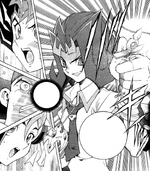 One day after school, Shark had a Duel with
Tetsuo Takeda
, which was watched by
Yuma Tsukumo
and
Kotori Mizuki
. When Shark defeated Tetsuo, he took his
Deck
. Tetsuo revealed that Shark and his friends had taunted Tetsuo to the extent that he bet his Deck on the
Duel
. Yuma attempted to defend Tetsuo, but Shark took Yuma's
pendant
and snapped it. He then told Yuma to challenge him to a Duel in front of the
Heartland train station
in order to win Tetsuo's Deck back, but he must put his Deck on the line.
[1]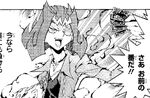 Shark overpowered Yuma during the Duel, but when Yuma decided to believe in himself, his broken pendant restored itself, and Yuma uses it to open
the door
of his dreams. When he does so, a dark card, called a "
Number
", possessed Shark, making him even stronger. However, at the same time, a mysterious entity, called
Astral
appeared before Yuma, and told him to "stand up and win".
[4]
Astral then helped Yuma during the Duel, but they find out a "Number" can only be destroyed by another "Number", and when two of them battle, they do to consume each other.
[5]
Astral gave Yuma a "Number" as well, and they managed to defeat Shark. As Shark gave Tetsuo's Deck back, Yuma said that the Duel was fun, and that they should Duel again. Shark said that he won't forget that, and leaves.
[2]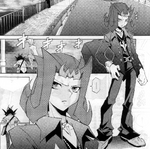 Shark later appeared after Yuma was almost defeated by
Kaito Tenjo
, looking annoyed at how Yuma was behaving because of his defeat.
[6]
After Yuma defeated Cologne, Shark walked down an alleyway, and was approached by a stranger, hiding her identity beneath a cloak.[7]
She soon revealed herself as Luna, and said that Shark can call her an emissary from the moon. Shark replied that she looks like something straight out of a fairy-tale, not that he hates them. Luna replied that she doesn't have any ill will against him, but she must face him. They then began a Duel.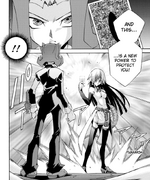 The Duels ended quickly, with Shark defeating Luna in an
OTK
. After he won, Shark asked Luna if she is alright; she is impressed that Shark could Summon three
Xyz Monsters
at once during the Duel, and said that she wasn't wrong. Luna revealed she is a
Numbers Hunter
whose goal is to eliminate the "Numbers", and says that Shark is the only one who can stop
Dr. Faker
, and for that he needs the power to do so - a "Number". Shark declined, saying that he was already once possessed by a "Number", and that he cannot do so. However, Luna replied that he knows how terrifying a "Number" can be, and that this is just why it would be okay. She further explained that "Numbers" are mirrors that reflect the hearts of the people, and at that time, his heart was full of darkness, but
Yuma
and
Astral
freed him from that darkness. She then gave Shark
a mysterious card
, and said that it's a new power that will protect him
[8]
Later, Shark Duels a self-made store owner, whose business was going well because of the power of a "Number" card. Shark won easily using the new "Number" Luna gave him, "Number 47: Nightmare Shark", and obtained the store owner's "Number 63: Shamoji Soldier". Then, Yuma and Astral appear, and meet him. Before they could say anything, Kaito Tenjo appeared as well. Shark recognized Kaito, and Kaito says that as Shark knows his name, he seems to have became rather famous. Luna then appeared, and told Kaito that's because she told Shark the truth. Later, when Kaito tried to use his Photon Hand on Luna, she put her hand over the amulet on her chest, which created a kind of barrier covering her, Shark, Yuma and Astral, and reflecting the Photon Hand. The four are then instantly transported to the outskirts of Heartland City. Yuma and Shark stared at each other for a moment, and Shark told him that he would wipe out his "Numbers" as well one day, as he turned to leave with Luna. [9]
Yu-Gi-Oh! D Team ZEXAL
Edit

In the spin-off manga Yu-Gi-Oh! D Team ZEXAL, Shark is a delinquent who leads Team Shark.[10]
Tokunosuke wanted to enter Shark's Dueling Team, but he said he'd only accept Tokunosuke if he defeated the leader of Team ZEXAL, Yuma Tsukumo. However, Tokunosuke failed to do so, and rushes up, but he is despised by Shark's Team.[11]
Shark called Team ZEXAL weak, and challenged Yuma to a Duel under some conditions: first, they will bet their teams' badges, which symbolizes the pride of the team; and second, if Yuma lose, Tokunosuke will enter Shark's team as a slave who does every work. With no other option, Yuma accepted the Duel.[12]
Astral instructed Yuma on how to Duel, but Yuma didn't listen to him, which led to his loss. However, when Shark attempted to take his badge, he sees Yuma's cards, and noted that Yuma could have won. Because of that, he declared the dispute as invalid, and told Yuma that the next time they Duel, he'd use his true strength.[13]
Ryoga uses a "WATER" Deck with a large focus on Xyz Summoning.
References
Edit
↑ 1.0 1.1 1.2 Yu-Gi-Oh! ZEXAL Rank 1: "The Name's Yuma!!"
↑ 2.0 2.1 Yu-Gi-Oh! ZEXAL Rank 4: "The Light of Hope!!"
↑ Yu-Gi-Oh! ZEXAL Rank 21: "Kyoji Yagumo!!"
↑ Yu-Gi-Oh! ZEXAL Rank 2: "A Mysterious Life-Form?!"
↑ Yu-Gi-Oh! ZEXAL Rank 10: "New Enemies!!"
↑ Yu-Gi-Oh! ZEXAL Rank 18: "Kaito, Again!!"
↑ Yu-Gi-Oh! ZEXAL Rank 19: "Messenger from the Moon!!"
↑ Yu-Gi-Oh! ZEXAL Rank 20: "A Three-Way Battle!!"
↑ Yu-Gi-Oh! D Team ZEXAL Chapter 2: "An Instant Turnaround by Magic!!"
↑ Yu-Gi-Oh! D Team ZEXAL Chapter 3: "The Trap of the Counterattack!!"
↑ Yu-Gi-Oh! D Team ZEXAL Chapter 4: "Conclusion of the Fierce Fight!!"
Main characters
Supporting characters
Antagonists
Minor characters
Main
Supporting
Antagonists
Minor