Ren
Names
English

Japanese
Japanese

蓮

Base
Furigana

れん

Rōmaji

Personal
Gender
Manga Deck
Appearances
Manga debut

Yu-Gi-Oh! ARC-V Scale 10: "The Entertainment Ends!"

Ren
Ren is a mysterious character appearing in the Yu-Gi-Oh! ARC-V manga.
Design
Appearance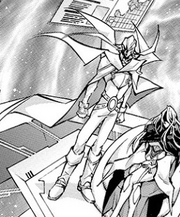 Ren has the same hairstyle as Reiji but longer that he tied two sides. He wears a mask with different colors on each side and a symbol that fully hides his face. His attire consists of a Riding Duel suit, two capes, white trousers, and a pair of driving gloves that hides a burnt scar on his right hand.
Abilities
Ren is an extremely skillful Turbo Duelist. He is knowledgeable of Duel Runners and their various types, and claims to own several kinds of Duel Runners, being able to pick his Duel Runners to match his opponent's regarding performance for a balanced match. He is easily able to ride at 300 km/h in a complex course while Dueling.[1]
Etymology
The character that composes Ren's name literally means "lotus flower", but it also has references to paradise and reincarnation.
Biography
Ren was first seem at an unknown place watching Sora's Duel with "Phantom" alongside Eve. Upon the former's loss, Eve requested him to retrieve Sora and search Yuya's memories, which he abided by. Ren appeared on the building Sora was Dueling through a portal while riding his Duel Runner, rescuing the boy.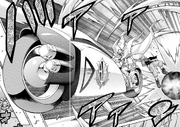 After those events,
Yugo
and his other counterparts were surprised by the sudden appearance of some intruder in Yuya's memories. Yugo decided to go catch the intruder alone with his Duel Runner.
[2]
Yugo found Ren on his Duel Runner, with Ren surprised about how quick Yugo found him. Ren said he expected Yugo to show up, surprising the latter for knowing his name, and claimed that he also knew Yuya's father, Yusho Sakaki, and Leo Akaba, who triggered the "World Illusion" event, further shocking Yugo, who asked him who he is. Ren told him his name and nothing else. He then proposed they settle things in a Riding Duel, which Yugo agreed to.[1]
As the duel began, Ren recalled his memories of Yugo. According to him, Yugo was a City Champ for Turbo Dueling, but Ren was the one who made it to the top of something called the Continental Circus.
Deck
Ren uses a "White" Deck, using complex tactics to gather Synchro Materials to Synchro Summon while distracting the opponent. Ren claims that the use of complex tactics is a basic Turbo Duel strategy, since the more distracted and worked up the opponent gets, the more mistakes they commit.
The main feature of Ren's monsters is the ability to Special Summon themselves back as Tuner monsters when they are destroyed, which Ren calls "Reincarnation Synchro". This allows him to keep Summoning stronger Synchro Monsters as his monsters are defeated.
Duels
References
Yuya and his personalities
Reiji's group
Eve's group
Other characters
Ad blocker interference detected!
Wikia is a free-to-use site that makes money from advertising. We have a modified experience for viewers using ad blockers

Wikia is not accessible if you've made further modifications. Remove the custom ad blocker rule(s) and the page will load as expected.