Reggie MacKenzie (レジー・マッケンジー, Rejī Makkenjī) is an American Duelist that accompanies David Rabb and Zane Truesdale to Duel Academy in the Yu-Gi-Oh! GX manga.
Biography
She participates in the on-going tournament hosted by Duel Academy and her first major opponent is Alexis Rhodes whom she effortlessly defeats. She later questions Alexis about Jaden Yuki, seeming to be interested in his ability to see Duel Spirits. Towards the end of the tournament, she is defeated by Bastion Misawa, although she could have won with the cards in her hand.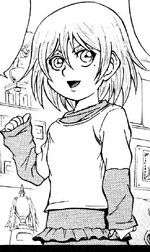 She has more sense than David Rabb to participate in a public Shadow Game, though she is eventually approached by Midori Hibiki who wishes to learn the truth about her brother. Despite having the upper hand, Midori prolongs the Duel to try and reveal more, but loses to Reggie's Shadow Game. She, like David, acts at the behest of Tragoedia; her defeat at the hands of Jaden frees her from his influence. Unlike David, it would appear that Tragoedia had little to no control over Reggie's actions as she covets Chazz's "Light and Darkness Dragon" as a means of defeating it, and is also disgusted by David's sadistic tendencies, though she is apparently perfectly capable of her own. Also, before Dueling Hibiki, she notes that Tragoedia was weakened by "Light and Darkness Dragon", so she can Duel by her own will. She is the one responsible for putting Koyo Hibiki into a coma but has no knowledge of what happened to him or how to fix it.
Deck
Reggie plays a Mythology oriented Angel Lord Deck. It focuses on Special Summoning her monsters without Tributes and increasing their ATK. Her Deck also focuses on decreasing the opponent's monsters ATK via "The Splendid Venus", her Legendary Planet.
Image
Information
Archlord Kristya | Archangel Christia (大天使クリスティア Daitenshi Kurisutia)

Level

8 ★★★★★★★★

ATK

0

0

0

0

2800

DEF

0

0

0

0

2300

Athena (アテナ Atena)

Level

7 ★★★★★★★

ATK

0

0

0

0

2600

DEF

0

0

0

0

1800

Hecatrice (ヘカテリス Hekaterisu)

Level

4 ★★★★

ATK

0

0

0

0

1300

DEF

0

0

0

0

1000

Iofiel (イオフィル Iofiru)

Level

4 ★★★★

ATK

0

0

0

0

1000

DEF

0

0

0

0

0

800

Divine Spirit Parmal | Sacred God Parmal (聖神パーマル Seishin Pāmaru)

Level

1 ★

ATK

0

0

0

0

0

200

DEF

0

0

0

0

0

300

Divine Spirit Parmal | Sacred God Parmal (聖神パーマル Seishin Pāmaru)

Level

1 ★

ATK

0

0

0

0

0

200

DEF

0

0

0

0

0

300

Seraphim Blaster | Seraphim Gunner (セラフィムガンナー Serafimu Gannā)

Level

4 ★★★★

ATK

0

0

0

0

1800

DEF

0

0

0

0

1200

Shatiel (シャティエル Shatieru)

Level

5 ★★★★★

ATK

0

0

0

0

0

500

DEF

0

0

0

0

2000

Tethys, Goddess of Light (光神テテュス Kōshin Tetyusu)

Level

5 ★★★★★

ATK

0

0

0

0

2400

DEF

0

0

0

0

1800

The Splendid Venus (The Splendid VENUS Za Supurendiddo Vīnasu)

Level

8 ★★★★★★★★

ATK

0

0

0

0

2800

DEF

0

0

0

0

2400

Tiny Angel (タイニィ・エンジェル Tainī Enjeru)

Level

1 ★

ATK

0

0

0

0

0

200

DEF

0

0

0

0

0

100

Mighty Angel Virch | Strength Angel Vach (力天使ヴァーチ Ryokutenshi Vāchi)

Level

6 ★★★★★★

ATK

0

0

0

0

2200

DEF

0

0

0

0

1800

Zeriel (ゼリエル Zerieru)

Level

1 ★

ATK

0

0

0

0

0

300

DEF

0

0

0

0

0

200

Angel Bow (エンジェル・ボー Enjeru Bō)

Card type

Spell Card

Angelic Choir | Angel Sing (エンジェル・シング Enjeru Shingu)

Card type

Spell Card

Angel's Ring | Angel Ring (エンジェル・リング Enjeru Ringu)

Card type

Spell Card

Court of Justice (コート・オブ・ジャスティス Kōto Obu Jasutisu)

Card type

Spell Card

Divine Sanctuary | Holy Sanctuary (ホーリー・サンクチュアリ Hōrī Sankuchuari)

Card type

Spell Card

Heaven's Lost Property (天の落とし物 Ten no Otoshimono)

Card type

Spell Card

Light of the Master | Light of the Lord (主からの光 Shukara no Hikari)

Card type

Spell Card

Light to the Temple (神殿への光 Shinden e no Hikari)

Card type

Spell Card

Mystical Space Typhoon | Cyclone (サイクロン Saikuron)

Card type

Spell Card

Swords of Revealing Light | Protective Seal Swords of Light (光の護封剣 Hikari no Gofūken)

Card type

Spell Card

Valhalla, Hall of the Fallen | Castle of the Gods - Valhalla (神の居城-ヴァルハラ Kami no Kyojō - Varuhara)

Card type

Spell Card

Advent of the Goddess (女神の降臨 Megami no Kōrin)

Card type

Trap Card

Angel's Tear (エンジェル・ティア Enjeru Tia)

Card type

Trap Card

Angel's Mercy | Angelic Mercy (天使の慈悲 Tenshi no Jihi)

Card type

Trap Card

Heaven's Judgment (ヘブンズ・ジャッジメント Hebunzu Jajjimento)

Card type

Trap Card

Mirror Force | Holy Barrier - Mirror Force - (聖なるバリア -ミラーフォース- Seinaru Baria ‐ Mirā Fōsu -)

Card type

Trap Card

Sacred Revelation (聖なる天啓 Seinaru Tenkei)

Card type

Trap Card

Saint Aura (セイント・オーラ Seinto Ōra)

Card type

Trap Card
Duels
Trivia
References
↑ 1.0 1.1 Yu-Gi-Oh! GX Volume 9 character profiles