Ran Kobayakawa
Page Help

0
63,837pages on
this wiki
Ran Kobayakawa

Names
English

Ran Kobayakawa

Japanese

小早川ラン

Rōmaji

Kobayakawa Ran

Appearances
Manga debut

Yu-Gi-Oh! 5D's Ride 7: "Queen of Queens"

Personal
Gender
Deck
Manga

Orchid
Ran Kobayakawa is a Queen's Duel Academy student, appearing in the Yu-Gi-Oh! 5D's manga.
The name "Ran" comes from the Japanese word "ran" (らん), meaning "orchid", which is the theme of her Deck.
Biography
Edit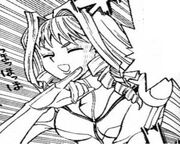 Ran faced Akiza Izinski in a Turbo Duel in the hopes of taking her title, "Queen of Queen". However Akiza won and Ran toppled off her Duel Runner into a rose bush. She says that she'll get Akiza next time and Akiza accepts the challenge.[1]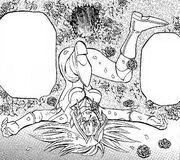 Ran attended the D1 Grand Prix and watched Akiza's Duel against Sherry LeBlanc.[2]
Ran plays an Insect Deck, containing "Orchid" monsters.
References
Edit
↑ Yu-Gi-Oh! 5D's Ride 7: "Queen of Queens"
↑ Yu-Gi-Oh! 5D's Ride 12: "Psychic Duelists!!"