Ran Kobayakawa is a Queen's Duel Academy student, appearing in the Yu-Gi-Oh! 5D's manga.
The name "Ran" comes from the Japanese word "ran" (らん), meaning "orchid", which is the theme of her Deck.
Biography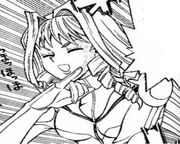 Ran faced Akiza Izinski in a Turbo Duel in the hopes of taking her title, "Queen of Queens". However Akiza won and Ran toppled off her Duel Runner into a rose bush. She says that she'll get Akiza next time and Akiza accepts the challenge.[1]
Ran attended the D1 Grand Prix and watched Akiza's Duel against Sherry LeBlanc.[2]
Deck
Ran plays an Insect Deck, containing "Orchid" monsters.
Image
Information
Orchid Mantis (オーキッド・マンティス Ōkiddo Mantisu)

Level

4 ★★★★

ATK

0

0

0

0

1200

DEF

0

0

0

0

0

800

Orchid Moth (オーキッド・モス Ōkiddo Mosu)

Level

 ???

ATK

0

0

0

0

1400

DEF

0

0

0

0

0

0

0

0
Duels
References
↑ Yu-Gi-Oh! 5D's Ride 7: "Queen of Queens"
↑ Yu-Gi-Oh! 5D's Ride 12: "Psychic Duelists!!"
Ad blocker interference detected!
Wikia is a free-to-use site that makes money from advertising. We have a modified experience for viewers using ad blockers

Wikia is not accessible if you've made further modifications. Remove the custom ad blocker rule(s) and the page will load as expected.