This article is about the clothing. For the character named "Race Queen" in some Japanese games, see
Showgirl
.
Race queen is an item of clothing worn by female characters in some video games. The male alternative to it is the wild style outfit.
In Yu-Gi-Oh! 5D's Tag Force 4 and 5, it is worn by the Showgirls.
In Yu-Gi-Oh! 5D's World Championship 2010: Reverse of Arcadia, it can be purchased from Chihiro at the cost of 5 Star Chips.
This set can also be found in
Yu-Gi-Oh! 5D's World Championship 2011: Over the Nexus
.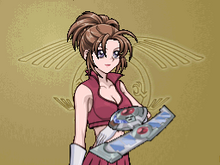 Ad blocker interference detected!
Wikia is a free-to-use site that makes money from advertising. We have a modified experience for viewers using ad blockers

Wikia is not accessible if you've made further modifications. Remove the custom ad blocker rule(s) and the page will load as expected.