For the term named "Quick Effect" in Japanese, see
Fast effect
.
Quick Effect

Japanese

誘発即時効果

Japanese (romanized)

Yūhatsu Sokuji Kōka

Japanese (translated)

Immediate Trigger Effect

English

Quick Effect
Formerly: Multi-Trigger Effect

Other names

French: Effet Rapide
Formerly: Effet Multi-Déclencheur
German: Schnelleffekt
Formerly: Mehrfach-Trigger-Effekt
Italian: Effetto Rapido
Formerly: Effetto Multi-Innescato
Korean: 유발 즉시 효과 (誘發卽時效果) Yubal Jeuksi Hyogwa
Portuguese: Efeito Rápido
Formerly: Efeito de Múltiplos Gatilhos
Spanish: Efecto Rápido
Formerly: Efecto Multi-Disparo
Chinese: 誘發即時效果 Yòufā Jíshí Xiàoguǒ / Jau5 faat3 Zik1 si4 Haau6 gwo2
A Quick Effect, formerly called a Multi-Trigger Effect, and called an Immediate Trigger Effect (誘発即時効果 Yūhatsu Sokuji Kōka) in Japan, is a type of monster effect that is Spell Speed 2 (and is the only Spell Speed 2 monster effect).
It is the only type of monster effect that can be activated in Summon negation window, and the only one that can be chained to another activation (excluding SEGOC). As such, monsters effects that negate the activation or Summon of something are all Quick Effects.
For cards with Problem-Solving Card Text (PSCT), starting in Maximum Crisis: Special Edition, Quick Effects are noted by mention of "Quick Effect" in the text. Prior to Maximum Crisis: Special Edition, for cards with PSCT, Quick Effects are normally noted by "During either player's [turn/Phase/Step]" in the activation timing, or "(this is a Quick Effect)" at the end of the effect if that wording is not applicable.
For cards without PSCT, Quick Effects are more difficult to identify. They can be identified by text which indicates the same timing as the PSCT standard. Some Quick Effects can only be determined to be that way due to rulings.
Unless otherwise specified (e.g. "Light and Darkness Dragon"), the same Quick Effect can be activated multiple times during the same Chain, as long as it meets its activation timing in each case.
Chain example
The player controls a face-up "Horus the Black Flame Dragon LV8", and it is currently the opponent's Main Phase 1.
Since Chains resolve backwards, the Chain would resolve as follows:
Example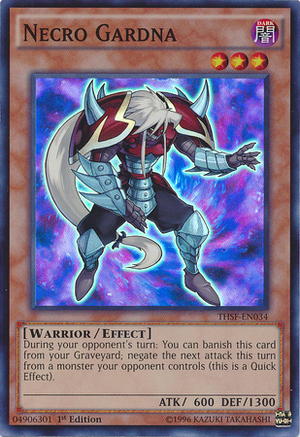 List of OCG/TCG monsters with Quick Monster Effects
 
Japanese name
Rank
Level
Attribute
Type
Card type
ATK
DEF
?ATK
?DEF
A-Team: Trap Disposal Unit
トラップ処理班 Aチーム
2
FIRE
Machine
Monster Card
Effect Monster
300
400
A-to-Z-Dragon Buster Cannon
AtoZ-ドラゴン・バスターキャノン
10
LIGHT
Machine
Monster Card
Fusion Monster
4,000
4,000
ABC-Dragon Buster
ABC-ドラゴン・バスター
8
LIGHT
Machine
Monster Card
Fusion Monster
3,000
2,800
Absolute King Back Jack
絶対王 バック・ジャック
1
DARK
Fiend
Monster Card
Effect Monster
0
0
Abyss Dweller
深淵に潜む者
4
WATER
Sea Serpent
Monster Card
Xyz Monster
1,700
1,400
Accel Synchron
アクセル・シンクロン
5
DARK
Machine
Monster Card
Synchro Monster
Effect
500
2,100
Achacha Chanbara
アチャチャチャンバラー
3
FIRE
Warrior
Monster Card
Effect Monster
1,400
400
Aegaion the Sea Castrum
魔海城アイガイオン
8
WATER
Machine
Monster Card
Xyz Monster
3,000
?
Aleister the Invoker
召喚師アレイスター
4
DARK
Spellcaster
Monster Card
Effect Monster
1,000
1,800
Ally of Justice Cycle Reader
A・O・J サイクルリーダー
3
DARK
Machine
Monster Card
Effect Monster
1,000
1,000
... further results
Ad blocker interference detected!
Wikia is a free-to-use site that makes money from advertising. We have a modified experience for viewers using ad blockers

Wikia is not accessible if you've made further modifications. Remove the custom ad blocker rule(s) and the page will load as expected.