| | |
| --- | --- |
| | This is not a content page. It is only in the mainspace for testing purposes. |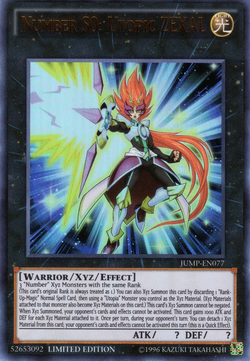 Names and lores:
Name
SNo.0 ホープ・ゼアル
Kana
シャイニングナンバーズ0 ホープ・ゼアル
Base
SNo.0 ホープ・ゼアル
Romanization
Shainingu Nanbāzu Zero Hōpu Zearu
Translated
Shining Numbers 0: Hope ZEXAL
Lore
同じランクの「No.」モンスター×3
ルール上、このカードのランクは1として扱う。このカードは手札の「RUM 」通常魔法カード1枚を捨て、自分フィールドの「希望皇ホープ」モンスターの上に重ねてX召喚する事もできる。①:このカードのX召喚は無効化されない。②:このカードのX召喚成功時には、相手は効果を発動できない。③:このカードの攻撃力・守備力はこのカードのX素材の数×1000アップする。④:相手ターンに1度、このカードのX素材を1つ取り除いて発動できる。このターン相手は効果を発動できない。
Search categories
Ad blocker interference detected!
Wikia is a free-to-use site that makes money from advertising. We have a modified experience for viewers using ad blockers

Wikia is not accessible if you've made further modifications. Remove the custom ad blocker rule(s) and the page will load as expected.