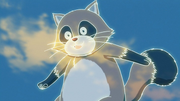 The Number Guardians, known as the Numbers Guardians (ナンバーズのガーディアン Nanbāzu no Gādian) in the Japanese version, are the spirits of the ""Mythyrian Number"" cards in the "Number" ruins within the Yu-Gi-Oh! ZEXAL anime, assigned with the duty of protecting them. In order for a Duelist to obtain their cards, he or she must Duel against their respective guardian to see if he or she is worthy of wielding the "Number". After a guardian is defeated, they usually disappear. They are also related to the Legendary Figures or the cards themselves.
Guardians
This article is a stub. You can help the Yu-Gi-Oh! Wikia by expanding it.
Anime
Manga
Arcs
Video games
Duel Terms
Items
Technology
Abilities
Tournaments
Groups
Characters' Decks
Other
Ad blocker interference detected!
Wikia is a free-to-use site that makes money from advertising. We have a modified experience for viewers using ad blockers

Wikia is not accessible if you've made further modifications. Remove the custom ad blocker rule(s) and the page will load as expected.