| | |
| --- | --- |
| | This is not a content page. It is only in the mainspace for testing purposes. |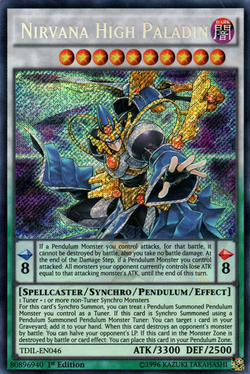 Names and lores:
Name
Grand Paladin Nirvana
Lore
Effet Pendule
Si un Monstre Pendule que vous contrôlez attaque, il ne peut pas être détruit au combat par ce combat, et aussi, vous ne recevez aucun dommage de combat. À la fin de la Damage Step, si un Monstre Pendule que vous contrôlez a attaqué : jusqu'à la fin de ce tour, tous les monstres actuellement contrôlés par votre adversaire perdent une ATK égale à l'ATK du monstre attaquant.

---

Effet de Monstre
1 Syntoniseur + 1 Monstre Synchro non-Syntoniseur ou plus
Pour l'Invocation Synchro de cette carte, vous pouvez traiter 1 Monstre Pendule Invoqué par Pendulation que vous contrôlez comme un Syntoniseur. Si cette carte est Invoquée par Synchronisation en utilisant un Monstre Pendule Syntoniseur Invoqué par Pendulation : vous pouvez cibler 1 carte dans votre Cimetière ; ajoutez-la à votre main. Lorsque cette carte détruit un monstre de votre adversaire au combat : vous pouvez diviser par deux les LP de votre adversaire. Si cette carte dans la Zone Monstre est détruite au combat ou par un effet de carte : vous pouvez placer cette carte dans votre Zone Pendule.
Name
Hoher Nirvana-Paladin
Lore
Pendeleffekt
Falls ein Pendelmonster angreift, das du kontrollierst, kann es für den Kampf nicht durch Kampf zerstört werden, zusätzlich erhältst du keinen Kampfschaden aus dem Kampf. Am Ende des Damage Steps, falls ein Pendelmonster, das du kontrollierst, angegriffen hat: Alle Monster, die dein Gegner derzeit kontrollierst, verlieren bis zum Ende dieses Spielzugs ATK in Höhe der ATK des angreifenden Monsters.

---

Monstereffekt
1 Empfänger + 1 oder mehr Nicht-Empfänger-Synchromonster
Für die Synchrobeschwörung dieser Karte kannst du 1 als Pendelbeschwörung beschworenes Pendelmonster, das du kontrollierst, als Empfänger behandeln. Falls diese Karte als Synchrobeschwörung beschworen und dabei ein als Pendelbeschwörung beschworenes Empfänger-Pendelmonster verwendet wird: Du kannst 1 Karte in deinem Friedhof wählen; füge sie deiner Hand hinzu. Wenn diese Karte ein Monster deines Gegners durch Kampf zerstört: Du kannst die LP deines Gegners halbieren. Falls diese Karte in der Monsterzone durch Kampf oder einen Karteneffekt zerstört wird: Du kannst diese Karte in deine Pendelzone legen.
Name
Alto Paladino Nirvana
Lore
Effetto Pendulum
Se un Mostro Pendulum che controlli attacca, per quella battaglia, esso non può essere distrutto in battaglia, inoltre tu non subisci danno da combattimento. Alla fine del Damage Step, se un Mostro Pendulum che controlli ha attaccato: tutti i mostri attualmente controllati dal tuo avversario perdono ATK pari all'ATK di quel mostro attaccante, fino alla fine di questo turno.

---

Effetto Mostro
1 Tuner + 1 o più mostri Synchro non-Tuner
Per la Synchro Evocazione di questa carta, puoi considerare 1 Mostro Pendulum Evocato Pendulum che controlli come un Tuner. Se questa carta viene Synchro Evocata utilizzando un Mostro Pendulum Tuner Evocato Pendulum: puoi scegliere come bersaglio 1 carta nel tuo Cimitero; aggiungila alla tua mano. Quando questa carta distrugge un mostro dell'avversario in battaglia: puoi dimezzare i LP del tuo avversario. Se questa carta nella Zona Mostri viene distrutta in battaglia o dall'effetto di una carta: puoi mettere questa carta nella tua Zona Pendulum.
Name
Alto Paladino Nirvana
Lore
Efeito de Pêndulo
Se um Monstro Pêndulo que você controla atacar, para essa batalha, ele não pode ser destruído em batalha e, além disso, você não sofre dano de batalha. No final da Etapa de Dano, se um Monstro Pêndulo que você controla atacou: até o final deste turno, todos os monstros que seu oponente controla atualmente perdem ATK igual ao ATK do monstro atacante.

---

Efeito de Monstro
1 Regulador + 1 ou mais monstros Sincro não-Reguladores
Para a Invocação-Sincro deste card, você pode tratar 1 Monstro Pêndulo Invocado por Invocação-Pêndulo que você controla como um Regulador. Se este card for Invocado por Invocação-Sincro usando um Monstro Pêndulo Regulador Invocado por Invocação-Pêndulo: você pode escolher 1 card no seu Cemitério; adicione-o à sua mão. Quando este card destruir um monstro do oponente em batalha: você pode diminuir pela metade os PV do seu oponente. Se este card na Zona de Monstros for destruído em batalha ou por um efeito de card: você pode colocar este card na sua Zona de Pêndulo.
Name
Alta Paladín del Nirvana
Lore
Efecto de Péndulo
Si un Monstruo de Péndulo que controles ataca, por esa batalla no puede ser destruido en batalla, y además tú no recibes daño de batalla. Al final del Damage Step, si un Monstruo de Péndulo que tú controlas atacó: hasta el final de este turno, todos los monstruos que tu adversario controle en este momento pierden tanto ATK como el ATK de ese monstruo atacante en este momento.

---

Efecto de Monstruo
1 Cantante + 1 o más Monstruos de Sincronía que no sean Cantantes
Para la Invocación por Sincronía de esta carta, puedes tratar como si fuera Cantante a 1 Monstruo de Péndulo Invocado por Péndulo que controles. Si esta carta es Invocada por Sincronía usando un Monstruo de Péndulo Cantante que haya sido Invocado por Péndulo: puedes seleccionar 1 carta en tu Cementerio; añádela a tu mano. Cuando esta carta destruye a un monstruo de tu adversario en batalla: puedes dividir a la mitad los LP de tu adversario. Si esta carta en la Zona de Monstruos es destruida en batalla o por efecto de una carta: puedes poner esta carta en tu Zona del Péndulo.
Name
涅槃の超魔導剣士
Kana
ニルヴァーナ・ハイ・パラディン
Base
涅槃の超魔導剣士
Romanization
Niruvāna Hai Paradin
Lore
P効果
①:自分のPモンスターが攻撃する場合、そのモンスターはその戦闘では破壊されず、その戦闘で発生する自分への戦闘ダメージは0になる。②:自分のPモンスターが攻撃したダメージステップ終了時に発動する。相手フィールドの全てのモンスターの攻撃力はターン終了時まで、攻撃したそのモンスターの攻撃力分ダウンする。

---

モンスターの効果
チューナー+チューナー以外のSモンスター1体以上
このカードをS召喚する場合、自分フィールドのP召喚したPモンスター1体をチューナーとして扱う事ができる。①:このカードがP召喚したPモンスターをチューナーとしてS召喚に成功した場合、自分の墓地のカード1枚を対象として発動できる。そのカードを手札に加える。②:このカードが戦闘で相手モンスターを破壊した時に発動できる。相手のLPを半分にする。③:モンスターゾーンのこのカードが戦闘・効果で破壊された場合に発動できる。このカードを自分のPゾーンに置く。
Name
니르바나 하이 파라딘
Lore
펜듈럼 효과
①: 자신의 펜듈럼 몬스터가 공격할 경우, 그 몬스터는 그 전투로는 파괴되지 않으며, 그 전투로 발생하는 자신에게로의 전투 데미지는 0 이 된다. ②: 자신의 펜듈럼 몬스터가 공격한 데미지 스텝 종료시에 발동한다. 상대 필드의 모든 몬스터의 공격력은 턴 종료시까지, 공격한 그 몬스터의 공격력만큼 내린다.

---

몬스터의 효과
튜너 + 튜너 이외의 싱크로 몬스터 1장 이상
이 카드를 싱크로 소환할 경우, 자신 필드의 펜듈럼 소환한 펜듈럼 몬스터 1장을 튜너로 취급할 수 있다. ①: 이 카드가 펜듈럼 소환한 펜듈럼 몬스터를 튜너로 하고 싱크로 소환에 성공했을 경우, 자신 묘지의 카드 1장을 대상으로 하여 발동할 수 있다. 그 카드를 패에 넣는다. ②: 이 카드가 전투로 상대 몬스터를 파괴했을 때에 발동할 수 있다. 상대의 LP를 절반으로 한다. ③: 몬스터 존의 이 카드가 전투 / 효과로 파괴되었을 경우에 발동할 수 있다. 이 카드를 자신의 펜듈럼 존에 놓는다.
Search categories
Ad blocker interference detected!
Wikia is a free-to-use site that makes money from advertising. We have a modified experience for viewers using ad blockers

Wikia is not accessible if you've made further modifications. Remove the custom ad blocker rule(s) and the page will load as expected.