Japanese:

イカニンジャ

Romaji:

Ika-Ninja

Translated: Squid Ninja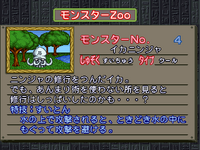 Monster Number

4

Group

Underwater

Type

Cool

A squid with ninja training.

But it's hard not to notice that it

doesn't use many techniques.

Maybe it failed its training.

Special Ability: Suiton

If it is in water and gets attacked, sometimes it hides
in water to evade the attack.
Japanese:

イカニンジャ

Romaji:

Ika-Ninja

Translated: Squid Ninja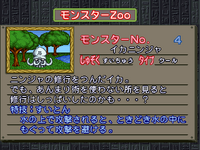 モンスターNo.

4

しゅぞく

すいちゅう Suichū

タイプ

クール Kūru

ニンジャの修行をつんだイカ。

でも、あんまり術を使わない所を見ると

修行はしっぱいしたのかも・・・?

特技: すいとん

水の上で攻撃されると、ときどき水の中に
もぐって攻撃を避ける。
Manga and anime
| | |
| --- | --- |
| Japanese | イカニンジャ |
| Romaji | Ika-Ninja |
| Translated | Squid Ninja |
| Game | |
| Level | 2 |
| Abilities | |
| Appearances | |
| | |
| --- | --- |
| Japanese | イカニンジャ |
| Romaji | Ika-Ninja |
| Translated | Squid Ninja |
| Game | |
| Level | 2 |
| Abilities | |
| Appearances | |