Japanese:

ケンタウロス

Romaji:

Kentaurosu

Translated: Kentauros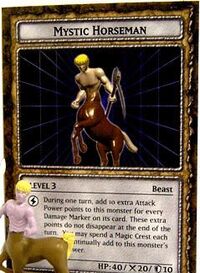 Tribe
Level

3

HP / ATK / DEF

40 / 20 / 10

During one turn, add 10 extra Attack Power points to this monster for every

Damage Marker

on its card. These extra points do not disappear at the end of the turn. You may spend a

Magic Crest

each turn to continually add to this monster's Attack power.
Sets
Ad blocker interference detected!
Wikia is a free-to-use site that makes money from advertising. We have a modified experience for viewers using ad blockers

Wikia is not accessible if you've made further modifications. Remove the custom ad blocker rule(s) and the page will load as expected.