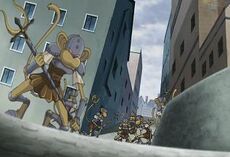 The monkey troop are Zeman the Ape King's soldiers.
They serve as guards and servants at Zeman's castle[1] and hunters who scout the spirit's world for spirits to take as prisoners.[2]
The troop are armed with staffs with Cursed Needles at the top.
References
↑ Yu-Gi-Oh! 5D's episode 49: "Mark of the Monkey, Part 3"
↑ Yu-Gi-Oh! 5D's episode 48: "Mark of the Monkey, Part 2"
Series
Video games
Story arcs
Duel Terms
Artifacts & Items
Technology
Abilities
Groups
Tournaments
Characters' Decks
Other
Ad blocker interference detected!
Wikia is a free-to-use site that makes money from advertising. We have a modified experience for viewers using ad blockers

Wikia is not accessible if you've made further modifications. Remove the custom ad blocker rule(s) and the page will load as expected.