Japanese:

ヒトデマサ

Romaji:

Hitodemasa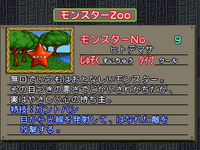 Monster Number

9

Group

Underwater

Type

Cool

A monster that is always quiet and gentle.

While its eyes always have a nasty look to them.

it's quite kind-hearted.

Special Ability: Gun Fire

By firing light from its eyes, it attacks
far-away enemies.
Japanese:

ヒトデマサ

Romaji:

Hitodemasa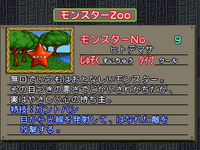 モンスターNo.

9

しゅぞく

すいちゅう Suichū

タイプ

クール Kūru

無口でいつもはおとなしいモンスター。

その目つきの悪さでごかいされがちだが、

実はやさしい心の持ち主。

特技: ガントバシ

目から光線を発射して、はなれた敵を
攻撃する。
Ad blocker interference detected!
Wikia is a free-to-use site that makes money from advertising. We have a modified experience for viewers using ad blockers

Wikia is not accessible if you've made further modifications. Remove the custom ad blocker rule(s) and the page will load as expected.